This fourth part of our series is all about "the search"of sport jobs. Since the majority of sport jobs is not published in mass media and hence not easy to find, we will give you some tips how to find the right sport job.
1. Connections

"If you want to land a great job you need to have connections" my parents always used to say. For sure there is some truth about this statement since it is always beneficial to know a human resources manager, but that doesn´t mean that you soon will have the best sport job ever. A German survey that interviewed 15000 companies states that only one quarter of the jobs have been given to private contacts – fortunately there is still hope for all of us who don´t have influential friends.
2. Social Media
Great hope to find a sport job lies in social media. To maintain profiles on career networks like LinkedIn definitely is advisable since a lot of companies are searching actively for candidates on these platforms and offer their sport jobs in diverse groups. Furthermore these kind of profiles can be found easily via Google, which can be really good self-promotion because every business is trying to get as much information as possible about a potential employee. Moreover it is always a good idea to regulary check the Google+ and Facebook profiles of the companies you prefer since quite often they are publishing their sport job offers as well on their social media profiles.
3. Homepages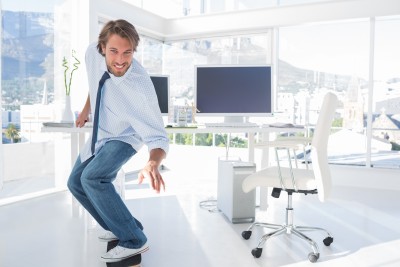 Sport jobs are not only offered on social media platforms but also almost every company has its own "jobs" or "career" section on its homepage. Usually sport jobs are first published on the own website and afterwards spread via job boards and other platforms. A few businesses are exclusively working with job boards like Sportyjob.com so that you will have to apply via the platform. Nevertheless, it is always a good thing to sweep through the latest sport job posts on homepages.
4. Special Interest Magazines / Blogs
Special interest magazines and blogs might offer interesting sport jobs as well. Companies tend to publish sport jobs in field-related media since it guarantees to address the right target audience.
5. Trade Fairs
Sport trade fairs or career fairs established by universities will always provide you with useful industry contacts. Some fairs even offer the opportunity to apply directly on site for a sport job which is a good chance to directly land a sport job.
6. Being speculative
Sending a speculative application always is a possibility. Of course this costs some effort but there is nothing that can go wrong. If there is no available sport job, the company at least knows you are existing and interested in working for them.
7. Job boards
A lot of job boards offer sport jobs. A few are initialized by universities that offer sport specific studies and in every country there are as well a few huge job boards which usually don't offer many sport jobs since companies want to address 100% sport enthusiastic people. That's why very few platforms have specialized on specific topics. An important one is Sportyjob, which daily offers new sport jobs and sport internships in all imaginable disciplines throughout Europe.
You are currently looking for a new job?
Then have a look at the latest sport job offers: https://www.sportyjob.com/en/search-a-job
We keep our fingers crossed for you to find the right sport job!
Photo: 
Wavebreak Media Ltd
©123RF.com