Find qualified candidates on the pulse of the sports & outdoor industry
Post your job ads during ISPO Munich & OutDoor by ISPO to reach targeted candidates with experience in the sports industry.
Present yourself as an attractive employer in the sports industry and increase the reach of your job advertisements
Finding suitable applicants is often not that easy, because often job ads either generate too few applications or do not reach the right applicants.
By placing their job ads on Sportyjob during ISPO Munich and OutDoor by ISPO, your sports jobs are in the focus of the sports industry. This way, they not only reach more candidates, but also applicants with a professional background in the sports industry directly.
With the ISPO Job Wall, you benefit from the well-founded mix of online job portal and offline job display for active job seekers, targeted multiposting on selected partner sites and active sourcing of employees who already work in the industry.
With our ISPO Job Wall offer you reach
With your presence on Sportyjob
All advantages at a glance

PROMOTE
your job offers at OutDoor by ISPO and ISPO Munich trade fairs and reach numerous sports-related candidates

POST
your job ads simultaneously on Sportyjob and our partners for 30 days to access our regular network of candidates in the sports industry

REACH
150,000+ candidates online on Sportyjob, ISPO Job Market and other partner platforms, plus visitors of the trade fairs

PRESENT
your company as an attractive employer in the sports industry
What does the ISPO Job Wall look like?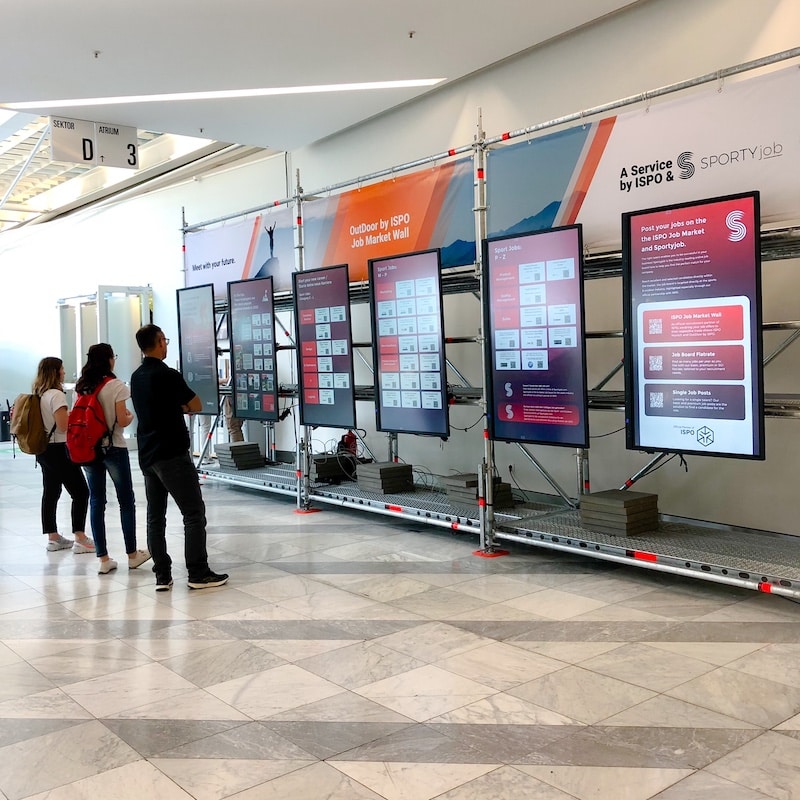 On several digital screens, we present your job ads in an informative format so that interested trade visitors will see the company, location and job title at a glance. Via a QR code, they can reach the complete job ad online on Sportyjob, where they can apply directly online via smartphone or tablet, share the ad or save it for later.
As an official partner of ISPO, our joint Job Wall is a prominent part of the fair.
Each job ad also includes the option to create a custom employer profile to share more information about your brand, vision, mission, employee benefits, achievements and more.
Please note: The final design of the Job Wall may differ from the example.
Reserve your job ads for the ISPO Job Wall
Next date: ISPO Munich 2022 – Messe München – 28 – 30.11.2022
Display of your job advertisement(s) at ISPO Munich or OutDoor by ISPO
Display on digital screens on the Job Wall in presentable position on the exhibition grounds
Compact format with logo, company, job title and location
QR code for easy application process online
Online job ad(s) on Sportyjob, ISPO.com and other partners
Online for 30 days
Any extension of the advertisement for applicant guarantee
Premium positioning on Sportyjob and ISPO Job Market during the trade fair days
international employer profile on Sportyjob.com
Get up to 30% discount on the Job Wall

Combine your participation in the Job Wall with one of our Job Flatrates. With a Subscriptions, you publish an unlimited number of job ads for one year on Sportyjob and our partners, with around 150,000 visitors per month. When you book one of our subscriptions, you will receive between 10% and 30% discount on your job ads on the Job Wall.
Let's talk directly about your job placement at ISPO Munich & OutDoor by ISPO
Leave us your contact details and we will get back to you.