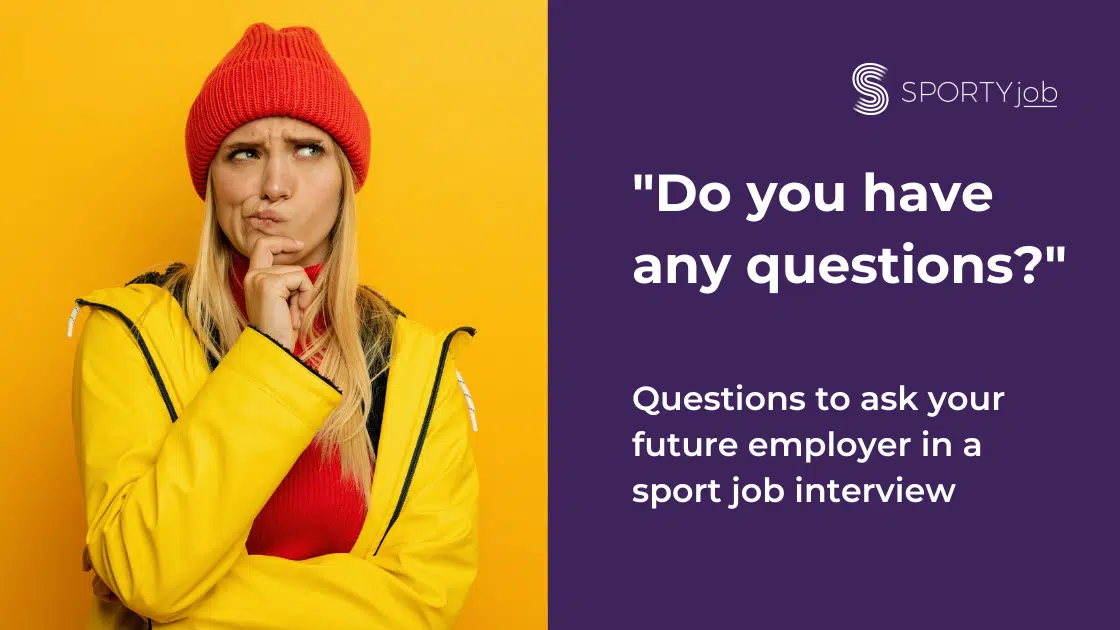 In every interview in the sports industry there is a moment when you have the opportunity to ask questions yourself. Although this may seem like a potential hurdle, another checkpoint, this point in the interview is a good chance for you to clarify any doubts you may have about the job or employer, or to set yourself apart from the competition. So see this question as an opportunity.
In this blog we explain which questions are useful and how to prepare for the most famous question of all interviews: "Do you have any questions?".
Classic questions for the sports job interview: About the job
Questions that work for any job and are actually useful for you to clarify in advance are questions about the role itself. These include:
Why is the job vacant?
How is the team set up?
What criteria do you use to measure the success of an employee in the team?
What are the biggest challenges for someone in this position?
What do you like most about working at the company?
Which people would you work with most and why?
Engaging questions for the job interview: On skills and qualities
There are also questions that show that you are thinking about how you can contribute to the company. These not only clarify for you any details of the job, but also show the recruiter that you are committed:
What are the biggest challenges you/your team are currently facing and how could I help overcome them in the next 6 months?
What qualities of the previous employee did you particularly value in this role and would you like to retain?
What are the key skills and qualities you should have for the job?
In your experience, what is the biggest challenge for new employees and what is your advice for handling it?
Evaluative questions: What do you expect from the job?
As already mentioned, the interview questionnaire is not only a tool to assess you, but also to give you an insight into the job and whether it meets your expectations. In the end, every interview is also a test for you to see if the company matches your values and expectations. Here it is important that you make clear to yourself in advance what your employer should bring with them so that you feel comfortable working with them, what motivates you in the job and what kind of culture you would like to work in.
These include questions on
Working environment (open-plan office? Individual office? Personal workstations?)
Working hours and locations (what is the company's position on remote arrangements, what are the core working hours)
Everyday work (what is the division between operational and strategic work content, is there project-related work, what does a classic working day in this position look like)
Further development and promotion opportunities (What further training measures does the company offer? What career opportunities are there within the company that could result from this position? )
Work culture (What are the values of the team? What has the company done for its employees during COVID-19 to improve their daily work and personal lives? How has this changed the work culture in the company?)
Individual interview questions for your future employer
While the previous questions work for most sports jobs, it's the individual questions that set you apart from other candidates in the job interview. After all, you are certainly not the only candidate who has previously searched for possible questions in a search engine and possibly made a similar selection as you.
The best thing you can do is research your potential future employer. On the one hand, you have questions that deviate from the standard repertoire, on the other hand, you show your interview partner deeper interest. In the best case, you will also find other points that make the job even more attractive to you, or on the other hand, you will find out things that are perhaps a no-go for you. You can only gain from extensive research.
In addition, HR managers like to ask applicants what they know about the company, so this is in itself part of any preparation for a job interview.
"When I read about [x], I asked myself the following …"
Normally, you can find out about the corporate culture, values and current projects on the company website. Alternatively, it is also worth taking a look at the news via Google or concrete platforms such as Sporting Goods Intelligence Europe. Questions that pop into your head while reading the articles can be useful questions in the interview – especially if they are in some way related to the position you are applying for.

Two examples:
General: "How do you support the personal development of your employees? "
Specifically: "On your website you mention that you provide on-demand training for your employees. In relation to the advertised role, what specific opportunities do you offer in the area? "
General: "How do you advocate for a sustainable business model? "
Specifically: "A few weeks ago I came across an article in which you present your project on the topic [x], a topic that moves me personally. What possibilities would I have as an employee to get involved in such projects? "Or "What other projects do you support? "
Better to avoid: Personal questions about the interviewer
Even if you have something in common, you should avoid personal questions about your interview partner. Information that you found on social media profiles, for example, has no place in an interview. This applies in both directions, by the way. If the interviewer asks you questions about your personal life, you can refuse the information in a friendly but firm manner.
Exceptions are topics that are opened up in the interview itself, for example about sporting hobbies. For a running shoe brand, for example, asking whether your interviewee likes jogging or trail running, whether these are activities that you will also do together in the team, is completely legitimate. And it shows that you are interested in being part of a team.
Conclusion
As much of a headache as the question part of the interview may be, it is quickly solved through good preparation. In the end, there are two things that you can prepare with a little commitment that will give you meaningful questions:
Define what you want from the job and what is important to you.
Research the company, its values and current projects
This way you are ideally prepared for the question "Do you have any other questions? ".
Further advice to rock your sport job interview
Do you want to prepare even better for your future interview in the sports industry? We've got some more advice to help you prepare for your next interview: