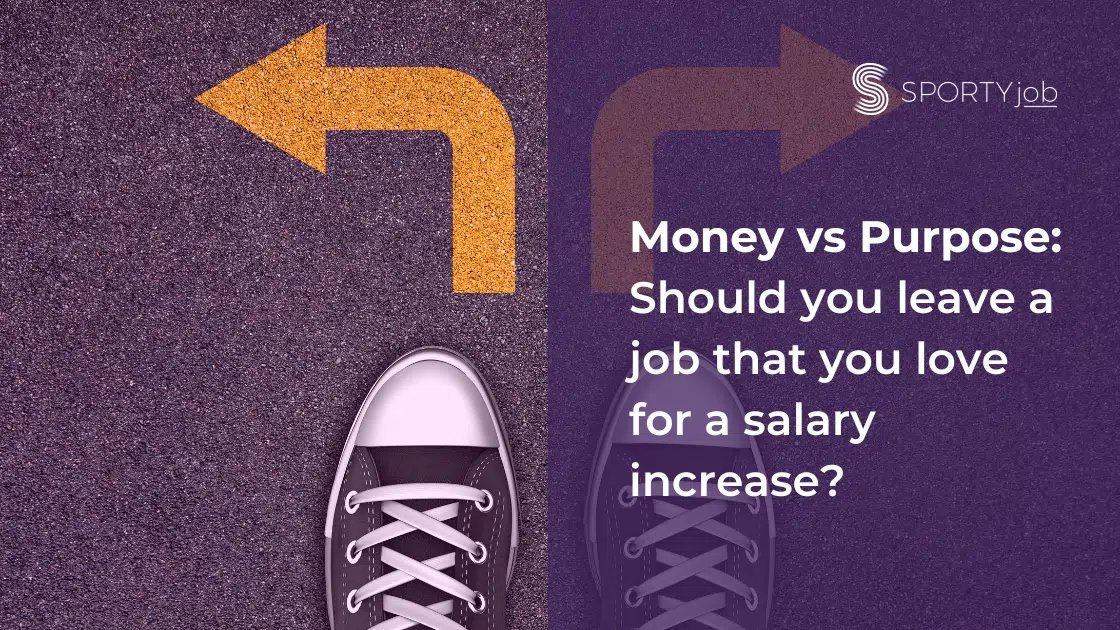 You feel like you've found your dream job: You enjoy the work and it challenges you, you get along well with your team and the company culture is great. Now you get a job offer with new tasks at a company you don't know yet. The biggest temptation: you can expect a salary that is significantly higher than your previous one.
What do you choose?
We try to get to the bottom of the possible solution to the (lifelong) question of purpose vs money and perhaps help you make a decision if you ever find yourself in such a situation.
If you already have an opinion or view on this, feel free to leave your thoughts in the comments – we'd love to know what you think.
What's in it for the money?
Money, money, money. Anyone who says that money doesn't make you happy is lying. Because money can eliminate quite a few worries and also fulfil quite a few things that are otherwise not possible for us. Whether it's a bigger flat, financial security, enough money for your sports equipment or other hobbies. A high salary brings you many advantages.
Financial security for the future
First and foremost, having a well-paid job means that you can set yourself up financially for bad times, old age or a job change. It means that in the future you can do a job just for the pleasure of it – because you might not have to worry about money any more. Or take a relaxed 1 year off to explore the world. Or even retire early on.
Better negotiating basis for future jobs
Your current earnings are always the basis for new salary negotiations. This gives you the chance to earn even more in the future. Whether that is with your current employer or with another one. If for some reason your job no longer fulfils you, you can change jobs and ask for the same salary with good reason. Or you can argue for better benefits with a lower pay. For example, more home office, more flexible working hours, fewer hours per week, more holiday time.
More salary is definitely a good thing!
From this point of view, the conclusion is that financial security and the worries it solves transcend any job fulfilment.
But is that really the case? Let's look at the other side of the coin:
What's in favour of taking the job that fulfils you
At the current times, many applicants are looking for an employer with whom they can identify. Sustainable or purposeful jobs are more in demand than ever. In employer marketing, employers formulate their corporate culture around meaning and purpose.
In personal development, a job that satisfies you is part of the "search for happiness". After all, who is not completely exhausted at the end of the day when you spend at least 8 hours a day doing something that seems completely pointless, even if the pay is good?
The meaning of life is having a good life
And not money. If you have a job that makes you happy and challenges you and that you think will continue to do so for years to come, then by all means stick with it. Because if your only drive is to make money, a day at work can feel very long very quickly. Instead, if you have a fulfilling job, you have a good reason to get up in the morning in a good mood and go home in the evening with enough energy and motivation to occupy yourself with your other interests.
By the way, if you're already dreading Mondays on Sundays, you don't have that job yet, which means you can follow the money trail with a clear conscience. Or find a job that you love – this is how you do it.
Normally, you will also earn more money in your existing job in time, because there you can develop professionally and negotiate salary increases based on experience, good performance or high motivation.
The team factor as a decision point
Of course, the insight into the new working environment is missing in every job interview, but the interview itself at least shows you whether the chemistry with the supervisor is right – or whether your potential supervisor is absolutely awful. If they are terrible, you can be sure that even if the team is not, they will definitely quit sooner or later. And you'd still be stuck with this person.
This means that if you are already working in a team with absolutely GREAT colleagues, you might want to think about whether you really want to jeopardise that. Because a job with really nice and motivated colleagues and at best managers is so much more valuable than one with manipulative, toxic energy vampires. No salary can compensate for that.
The basic rule for every job: time is added value
Although there is a lot to be said for one thing or the other, there is really only one basic rule to follow when choosing a job. For in any career path, you should either earn well or get something that outweighs the monetary value. In the best case, of course, an employer offers you the all-inclusive package. After all, if you're going to spend a lot of your limited time on one thing, it should be worth it in some way.
So basically, the rule "time is money" should be "time is added value". Because added value is not always financial, but can be related to other things, such as professional or personal development, learning new (soft and hard) skills, extreme amounts of free time for other things that make your life better, as long as there is money to live on.
If at the end of the day, month or year you can look at a positive added value, you have a job that enriches your life in the truest sense of the word. And not just for survival. If you don't see this, it's time for a career change.
And who knows, maybe we'll find IT: the holy grail of all jobs. That incredibly well-paid job, with development opportunities, in an intellectually stimulating work environment with a really nice team and managers in a company that is successful, profitable and sustainable. And, of course, in the sports industry.