FIND STUDENTS & PROMOTE YOUR EDUCATION PROGRAM WITH SPORTYJOB
In 2018, we decided to be more than a classic job board. The idea evolved to facilitate the entrance into the sports industry for students and graduates and becoming a patron for new talents in Europe. We started with offering free internship listings to companies, as well as publishing universities and degree courses with a focus on sports business & science.
Our goal is supporting universities & schools in reaching a wider audience, and offering their students free access to internships, traineeships and career entry positions. We also created a Career Entry Portal, giving advice on how to find the right job, advice on how to apply by professional recruiters and an option to contact our recruiters with questions any time.
We're specialised on the sports business
Making us the best partner to enhance the visibility of your programme to be found by prospective students with or without professional background with a high interest in the sports business.
We're official partner of ISPO
As official recruitment partner of ISPO, we have a strong network and setting in the sports business. We also offer you the possibility to present yourself at ISPO Munich & OutDoor by ISPO.
We're international
We offer you the opportunity to present your school in english, german and french when your own website can't. With an international audience, we are also a good partner to additionally address exchange students.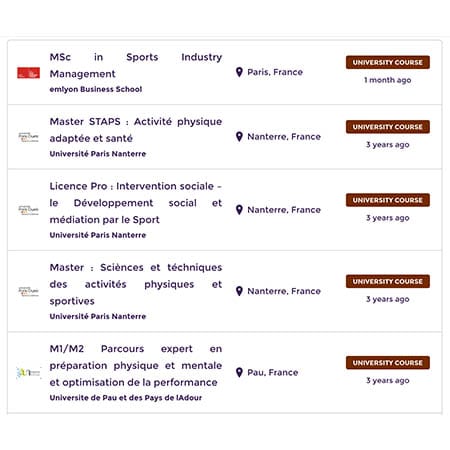 Present your school & programme to future students
Introduce your university & school to possible students around the world. On Sportyjob we create a directory for sport related courses of studies and the associated schools. This way, students have the option to find the perfect school for their interests – and this could be yours.
Use our university & private school overview to give detailed information about your profile, history, contacts and conditions. Moreover, our course directory will list your sport related courses to help students find all necessary information.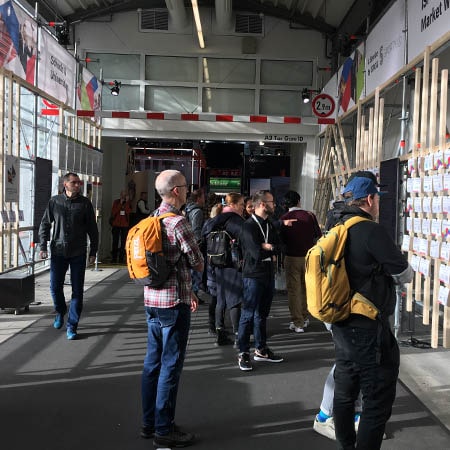 Get listed during ISPO Munich & OutDoor by ISPO
Apart from being listed online on our website, we also offer you the option to reach out sports students during the 4 days of ISPO Munich & OutDoor by ISPO in Munich. As official recruitment partner of ISPO, we attend both events each year with our 25+ meter job corridor, containing a job display as well as a presentation wall for employers and schools.
Depending on your needs, you can
present a high-quality A2 print on forex on our university & school wall
add job offers if you need to expand your team
highlight your programme through our digital displays (TVs)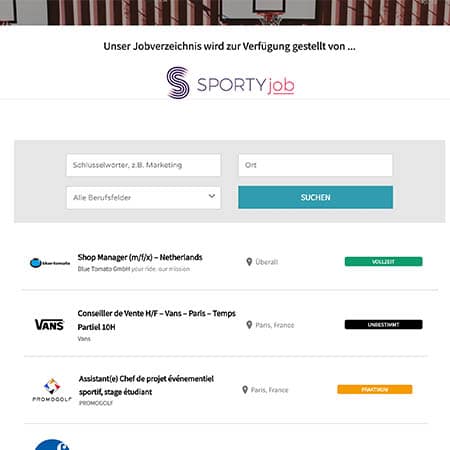 Integrate our job ticker in your website
Integrate our job ticker in your websiteWith our job ticker, you can easily inform your students about career possibilities in the sports industry. Not only will it show all possible jobs and internships, but it stays up to date automatically. This way, you'll save the time of maintaining any listings and keep track of the availability.
If you're interested in implementing the ticker on your website, we'll individualise the design according to your CI.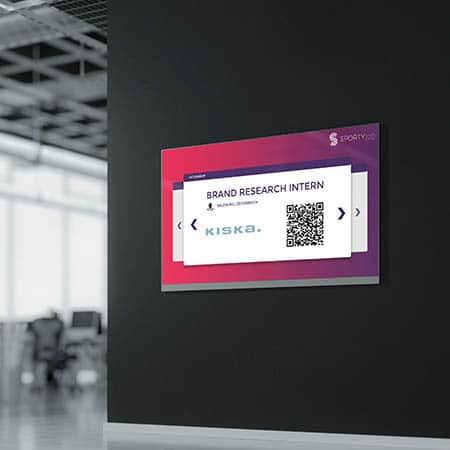 Job displays on campus
Facilitate the job search for your students by presenting our job ticker with internships, traineeships and career entry positions on screens on campus. We offer the technical realisation through an always up-to-date online live feed. As we individualise the screen according to your needs, we can also integrate other slides containing relevant informationen from your side (i.e. event notifications, news, etc.)
If you're interested in knowing more about our programme, please leave us your information in the contact form underneath, so our team can get back to you.