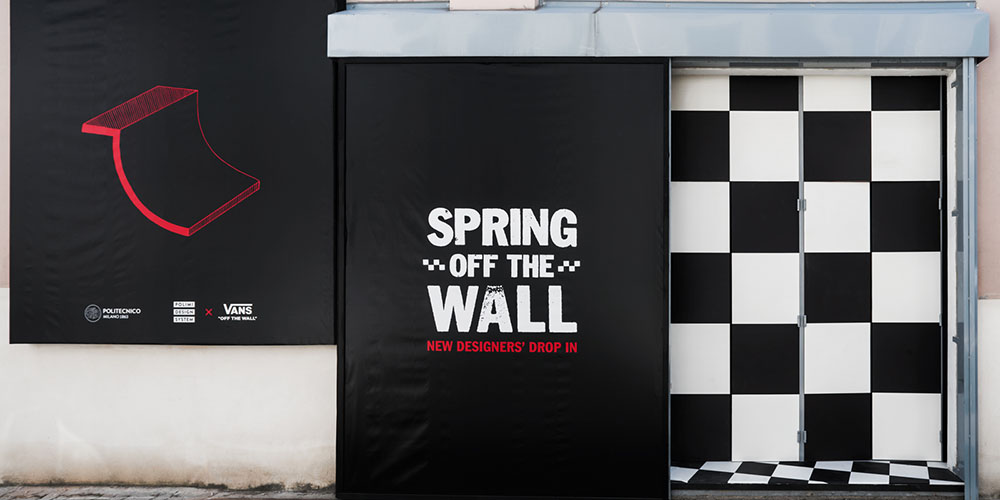 Coming up with new ideas in a well established company can be tough - especially with everyone in the team living up to their specific role. Over the years the way a brand is experienced is clearly defined and established in everyones minds, taking its toll on creativity and innovation. So how do you bring your team to overcome their own mindset and practice forward-thinking?Back in April, the Original Actions Sports brand
Vans off the Wall
just showed the world how. In collaboration with the 
Design School of Politecnico di Milano
, they launched the event
Spring off the Wall
at the biggest design program of the world, the Milano Design Week. An event which let people experience Vans off the Wall in an exciting, interactive way.Under the motto of 
Speed, Balance and Vertigo,
visitors of the Milano Design Week could live the sensations of skateboarding by jumping into a foam pit, surfing through clouds like a Silver Surfer or walk on huge unstable foam waffle soles. What you'd expect to be the creation of a great event management / brand marketing team, was actually an idea born in a completely unorthodox way. 
Dirk Jacobs, Creative Director Vans EMEA
, allowed us to take a peak in the concept behind Spring off the Wall and his way of engineering creative thinking.
Dirk: "Evey year I get my team together to come up with projects that don't necessarily have anything to do with the work priorities, but with personal development. I mean, Vans' purpose is enabling creative expression, not just for consumers, but also for the people behind the brand. We, me and my team, get to see the personal side of professional skills. In the process, I skip all regular titles, everyone could do what they want instead of what they normally do -  I saw creativity and leadership in people that I've never seen in a creative field."
From the pool of projects, Dirk chooses one every year that will come to life. In 2018, the idea was to collaborate with the design school of Milano to have their students bring to life their own brand experience in a creative way.
Dirk: "We have our Brand, we have our Brand Pillars: Action Sports, Music, Art, Street Culture - all the students fit the profile of our consumer. I found it interesting to talk to the perfect target group to see how they perceive Vans, what they think about it. Also, they have an amazing reputation, so I was really intrigued by it! About 2000 students applied for the project, which was obviously too many. So we asked them in a survey about their knowledge of the brand and action sports and their personal story with Vans. I had a hundred of applications and I was going through all of them for three weeks - it was my evening lecture. Some of the stories were very personal, some were almost like poetry. I really liked them. In the end, we chose about 120 [students] and we coached them in a workshop about our brand and gave them the challenge to show what "Off the Wall" means to them."
At the same time, the decision was made to open up Spring of the Wall to design week. Bringing the project to another level, the collaboration was turned into a mentoring program for the students. Vans rented out a space for designers coaching and encouraging the project teams on expressing themselves in a professional matter. The group was divided into teams that each were composed of students from different design disciplines: Fashion, Communication, Architecture, graphic design, etc.What came out of it, was the creation of possible spaces for the design week that were a physical expression of the brand. Giving them space, time and freedom to express themselves, with the necessary guiding through industry professionals, the students came up with ideas far away from the regular communication of Vans. Instead of focusing on a stiff presentation, the students laid their focus on creating a space of participation, letting people experience the brand with all of their senses. In the next step, they separated the groups another time and chose a number of students for a final group, gave them a feedback and another week to update their idea. In the end, there were 20 students and one concept.
Dirk: "These 20 students, they wanted to talk about skateboarding. I mean I love it to death, but it was never our way to speak to a broader, more lifestyle consumer. They wanted to talk about the experience of skateboarding. But how do you explain it to someone who has never skated, taking the skateboard away? The drop in in a bowl, the importance of balance, the feeling of height"

[gallery columns="4" size="medium" ids="32008,32026,32017"]
The students of the Design School of Milano dared to address a topic close to the brand, but far away from their regular communication. Even though Vans is originally associated with skateboarding, their main audience is situated in the lifestyle section: "Vans is a nostalgic brand, and everyone has their own personal Vans story or Vans memory, like the pair you wore when you gave your first girlfriend a kiss". The innovative concept showed a great approach to being authentic and back to the roots of Vans while at the same time being forward-thinking and very unusual for the brand.  Something that was taken in positively by both the audience and the company itself.
Dirk: "The response was amazing! We had about 10.000 people for the drop in. You jumped out of a shoebox into a foampit. At first, I thought it was childish, but people did it two or three times. The jump was 2 meters high. I don't know what it was - the simplicity brought the child out in people. People went crazy!"[gallery columns="4" size="medium" ids="32011,32014,32029"]