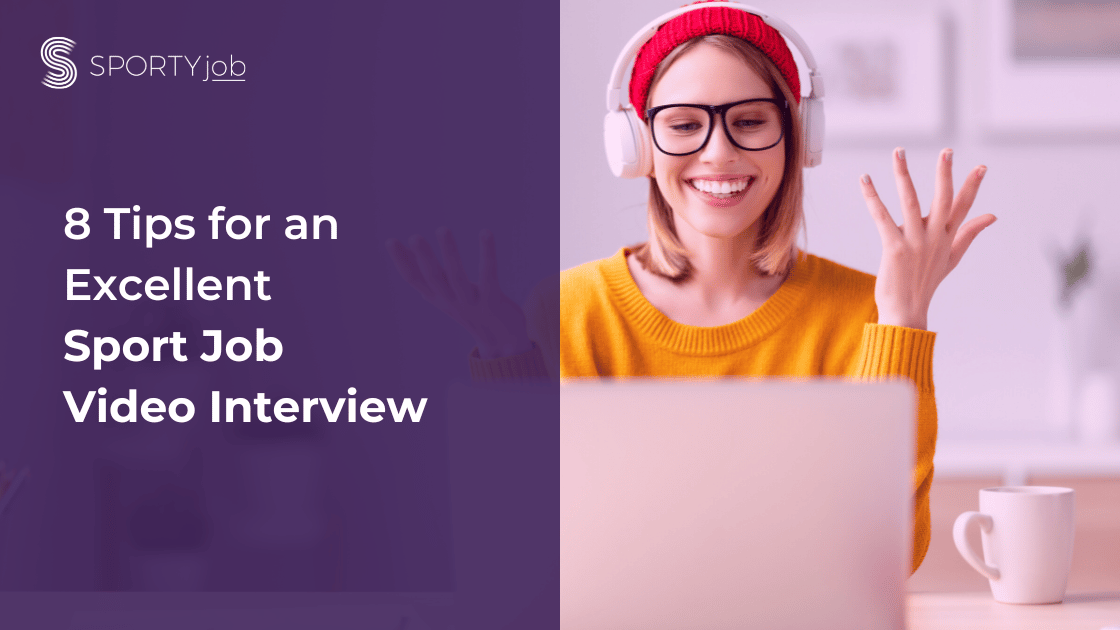 Video interviews are now common practice in the sports industry. Mainly due to the developments of the last few years, video interviews have become established in many companies. While it was an interim solution for some, the advantages have convinced many recruiters to continue offering it at least an an additional option for candidates.
So it's about time for our guide to the video interview, which shows you the right preparation and how you can best present yourself via the digital format.
Tip No. 1: Always test the technology in advance.
Does the video tool work for you?
Your interviewer will tell you in advance what software they are using for the interview: Zoom, Microsoft Teams, Skype, Google Hangouts or something else entirely, the list is almost endless.
It is best to download the software in advance and test how it works so that you can start the call relaxed. You may need to define your output and input devices (i.e. loudspeaker, microphone and camera) beforehand. If you have already installed the programme, make sure you have the latest version installed or that your browser is compatible with the online version of the tool.
Is your internet connection stable?
Test your Wi-Fi in advance. In case the internet doesn't work, have your smartphone ready and charged. This way you can activate your hotspot and use it as an alternative connection. Most videocall providers also allow you to dial in via a phone number if your internet is not working.
Is your camera ready for the interview?
Whether you use a built-in camera in your notebook or an additional camera, make sure the camera lens is clean (if not, clean it gently with a soft cloth, preferably an eyeglass cleaning cloth).
Does your microphone work?
It is best to use an external microphone, as the quality of the built-in microphone in your notebook or tablet is often not good. A headset or headphones with a microphone work best. Nowadays, in-ear headphones are the common practice as they are almost invisible and usually come with a good microphone for calls. Don't worry if you prefer on-ear headphones instead: the important thing is that the recording quality is good and they are comfortable for you to wear. Besides, the classic line about pilots or Mickey Mouse can also break the ice at the beginning of the conversation.
Additional tip: If you use Bluetooth headphones, make sure all other digital products that could connect are switched off so you don't accidentally connect to your TV or phone instead of answering the call!
Tip no. 2: Prepare the call location
Choose a room where the internet works well and is quiet to minimise disturbances during the conversation.
Thanks to the blur filters offered by most video call programmes, your background is no longer as important. If you have the opportunity to sit in front of a wall or a room that provides little distraction, we would still advise you to do so. Because even if your background is blurred, this creates additional calm in the picture.
Another important point is whether you have enough light to see your face well. Avoid sitting in front of a window or a light source (light in the back), otherwise you will appear as a shadow. It is best to have a light source in front of you, preferably behind your notebook, so that your face is well lit.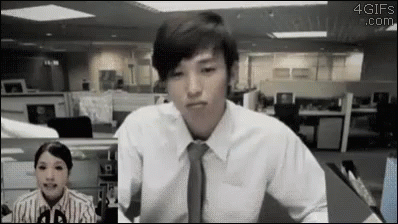 Tip no. 3: Wear trousers or a skirt, even if they are not visible
We've all seen the meme material circulating on the internet in which well-dressed people stand up and voila – no pants! Even though it is more comfortable to dress only the visible half of the body, it is best to choose a complete outfit. Even if the style of dress depends on the company culture (sporty, casual, business), you should always dress neatly and make sure your clothes are clean and not wrinkled.
Looking your best also helps to put you in the right frame of mind and gives you the confidence to shine in the interview.
Tip No. 4: Make sure there's no unexpected disturbance during your call
Not that a cat sitting in front of the camera couldn't be entertaining for your interviewer, but it could throw you off your interview game – so you should prepare as much as possible to avoid distractions during your digital interview. This doesn't just apply to pets, but also to children and things like your phone (mute it, put it out of sight or activate 'do not disturb' mode), noise (close windows, don't have the interview in a crowded place), surprise visitors (inform housemates, family members and others who might be visiting).

Tip #5: Make sure your physical needs are met beforehand
What we are saying: Go to the toilet 5 minutes before the conversation so you have to during the conversation, get some tissues in case you have to sneeze, and a glass of water to moisten your mouth and throat during the conversation.
Additional tip: You urgently need to pee during the conversation or your nose is tingling? Don't be afraid to ask for a break and briefly explain why you need to interrupt. Recruiters are (mostly) only human.
Tip no. 6: Communication: looks, facial expressions and gestures
First of all, even if you feel very tempted to check your own appearance on the screen, do not make a habit of doing so during the conversation. Instead, keep eye contact with the camera instead.
As far as your communication is concerned, talk just like you would in a normal conversation, but without informal slang that you might use with friends. Authenticity usually comes across better in a conversation than artificial formulations – which will fall by the wayside in the day-to-day work anyway. Otherwise, show emotions, smile, look determined, depending on the topic, and use your hands (not excessively, of course). This is how you radiate energy, enthusiasm and self-confidence and create a good rapport with your conversation partner.
Tip no. 7: Think about how you can answer questions about yourself and your expectations of the sports job.
While many questions vary from company to company and recruiter to recruiter, there are a few standard questions that are usually part of every interview. Two of them are usually a variation of "Tell us about yourself" and "What do you expect from this job/employer? ". Think about how you want to answer these questions beforehand – but without memorising the answers. You need a rough direction, not a pre-formulated answer (authenticity).
By the way, you can find a complete list of classic interview questions in sports business and how to answer them on our blog here: 8 common questions in sport job interviews and how to answer them
Tip #8: Prepare a list of questions about the company.
Take the opportunity to show your interest in the job and your confidence by asking questions yourself! This not only shows that you are curious about the job and the company, but also that you meet the recruiter at eye level.
Conclusion
All in all, online job interviews are usually a bit more informal than official ones, which is mainly due to the comfort of your own 4 walls. Take advantage of this, because nothing is more convincing to an interviewer than calmness in a stressful situation and a healthy self-confidence. Last but not least, keep in mind that in any dialogue, netiquette = etiquette, i.e. always let your counterpart finish. You'll do it! Good luck for your next online job interview!