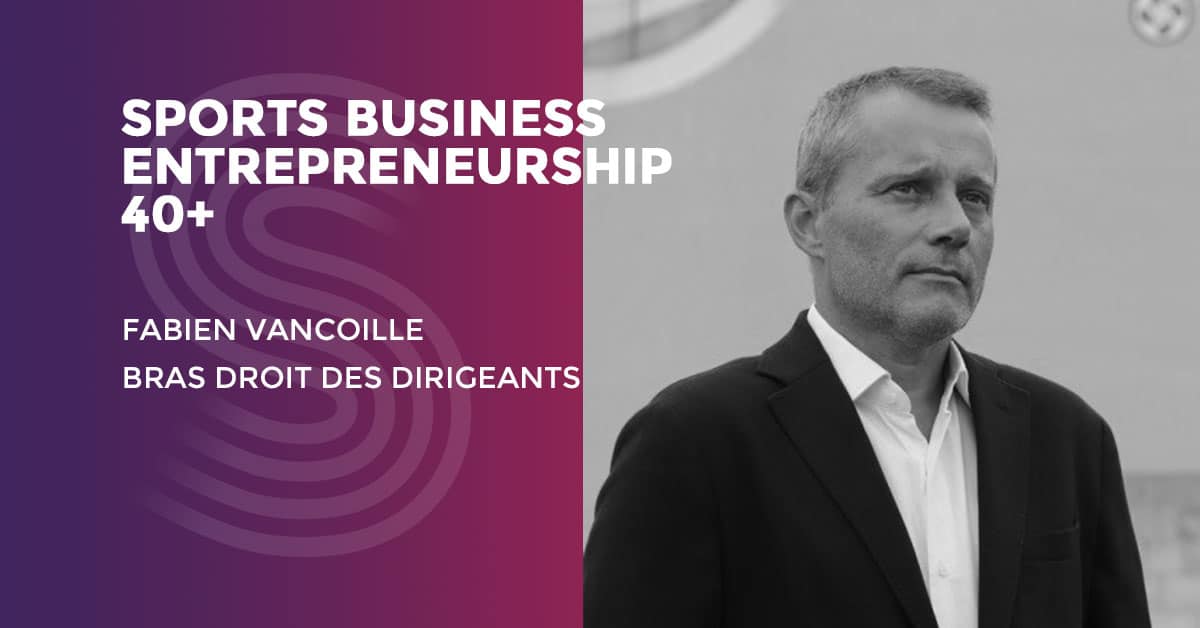 "Determination, commitment and resilience are, in my opinion, the keys to an entrepreneur's success."
What motivates someone to found his own business while having a successful and steady career? Fabien Vancoille has worked in leading positions for companies like Nike, Disney and O'Neill . But instead of continueing his career there, he decided to start his own business. The motivation behind it is actually very human, a desire that can be found in almost each one of us: To pass on his knowledge to someone else. In his case, start-ups needing help in developing their commercial activity. His skills and knowledge collected in more than 20 years of working defined the base for his own company which needed exactly his range of experience, proving once more why there's a big need for Entrepreneurs 40+. Meet Fabien Vancoille.
Introduction
Your Job / Company Name:
Sales Director Outsourced / Franchise at BRAS DROIT DES DIRIGEANTS Sales Management
Your Field of Profession:
Operational support for VSE/SME/Start UP managers wishing to structure and/or develop their commercial activity.
BRAS DROIT DES DIRIGEANTS in 2 or 3 sentences :
The Managers of VSEs, SMEs & Start-Up tend to have a technical background and thus, focus primarily on production. They have little time and have neither the skills to manage their business development nor the drive to manage their salespeople. My time-sharing intervention then consists in helping these companies to structure themselves, to define their commercial strategy and the associated action plan, to improve their commercial discourse, and to manage their sales team.
Careerwise, what have you been doing before you got self-employed?
I have had the chance to evolve within major American and French groups: 10 years at Nike, 4 years at Disney, 5 years at O'Neill and 3 years at Hungaria (Royer Group). After having started commercially in the field, I was able to progress and hold various positions such as Product Manager, Key Account Manager, Sales Director, Marketing and Sales Director, Country Manager, Brand Director.
That's been an impressive career that could probably have continued similarly. What was your motivation to found your own business instead?
I had already intended to create my own company about 5 years ago, without defining at the time the activity that would suit me. When I became an entrepreneur, I felt like I had regained my freedom. Moreover, working with several companies from different fields of activity to whom I can pass on my commercial and managerial knowledge is a real motivation.
With your experience as an Entrepreneur: How do you actually move from an idea to execution?
Every idea must be the object of a thorough analysis … which must lead to a structured plan. Once the feasibility has been assessed, the actions defined and the schedule determined … all that remains is to work, work, work!
How does your daily life differ being an entrepreneur?
One of the advantages and one of the satisfactions of my activity is that I never experience two identical days. Indeed, I split my working time between business assignments in the companies of clients (time sharing because I work an average of 1 day per week in each company), prospecting (search for future assignments) and prescription (business clubs, various events, …), social network management, and so on.
What's the biggest reward(s) of having your own business?
To be able to manage my agenda alone and according to my own preferences … and to have the luxury to choose the companies I want to work with !
What, in your opinion, makes a successful entrepreneur?
Determination, commitment and resilience are, in my opinion, the keys to an entrepreneur's success.
How do you think is it different to start an entrepreneurship 40+ than in your twenties? *
Of course, I have learned a lot throughout my professional career, which has been rich in experiences, projects and encounters. This career path is an invaluable foundation and an undeniable asset on which I can rely today – and which I did not have when I was young!
For a lot of people, the fear of failure is the reason not to start their own business. What would you say to someone to convince them to go through with it anyway? Which impact did fear have on you?
To me, it seems to be a normal reaction to be afraid to take the first step. Nevertheless, it is precisely this fear that should allow you to reflect well on your project and thus to structure it well. Personally, this fear stimulates me and pushes me to be even better and better prepared.