The year in which ISPO Munich became a recruitment event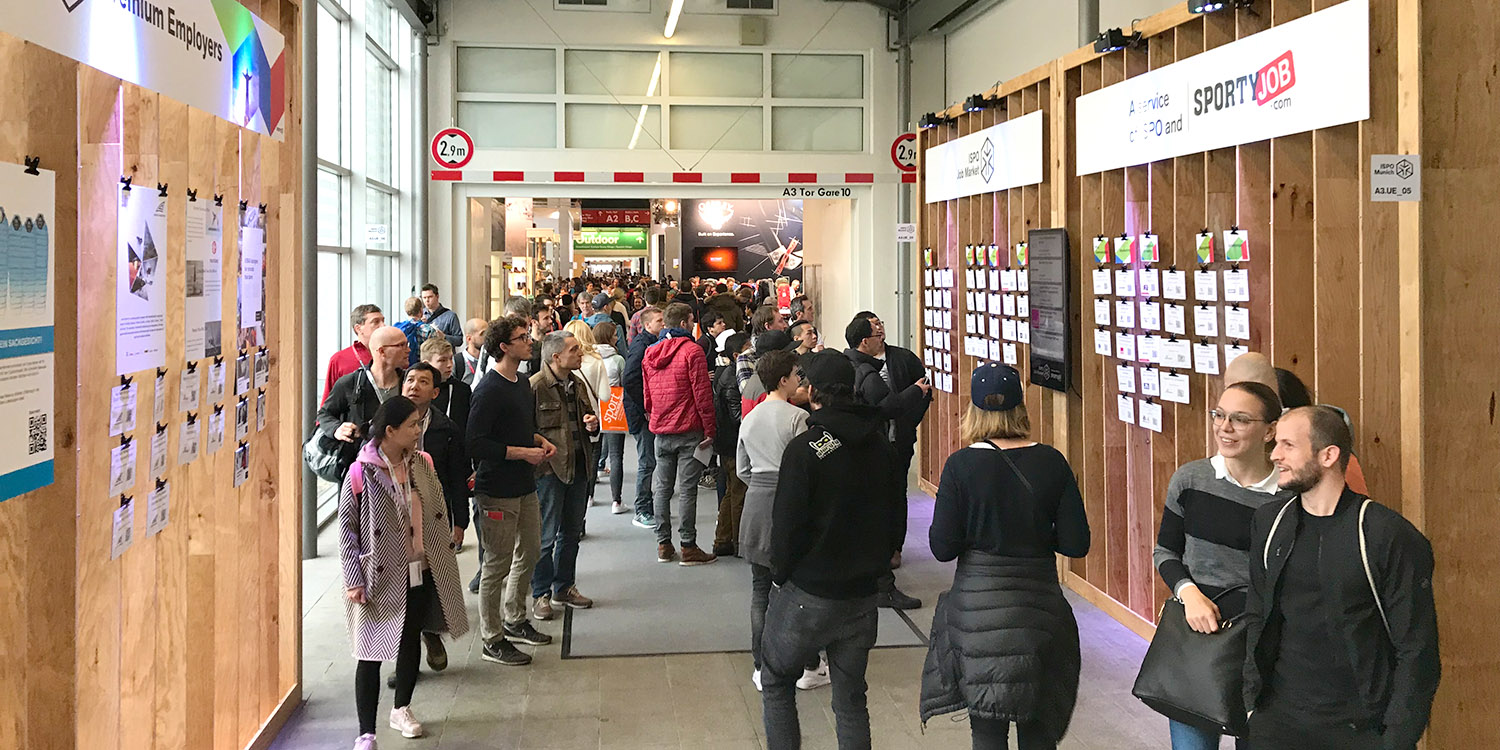 You can never predict how an event like ISPO Munich 2018 might change the path of your career. Visitor's of the professional fair know how it is a platform to establish strong contacts and if you're persistent enough, even end up with an employment offer. However, this year's ISPO Munich offered a direct approach of connecting companies and talents.
By simply using the halls walls to place attractive job offers from the european sports industry, the digital ISPO Job Market had its own "booth" at the trade fair. And probably one of the most seen. Since tracking all passers-by would have been impossible in a transitional space, we are trusting our guts that the international job offers, company and university profiles have been passed by most of all visitors.
A remarkable success
In the 4 days between the 28th and 31st of January, 84.000 visitors from 120 countries visited the trade, noticibly increasing the internationality of the event. After all, they had a lot to see: 2.801 exhibitors showcased the new trends from wintersports, outdoor, fitness and more. Additionally, the Job Corridor from ISPO Job Market and Sportyjob presented them opportunities for a new career right in between. Visitor's could learn about international employer's of the sports business and their most recent job opportunities, as well as about the sport related study programs of universities and schools from Cologne to Oregon.
Expanding the limits of a printed medium, all poster's have been combined with a QR code that linked to the digital job board ISPO Job Market. This way, career interested could find out more about a job offer or even look for other possibilities. A service that lead to around 16.000 unique views of the different pages.
Creativity and exceptionality for the win

More than informing about careers, the ISPO Munich 2018 allowed us to take a peek at the development of recruitment in the sports industry in 2018.
Marketing is still on the rise in employment – a trend which can also be found outside of the sports business. With around 1/3 of offers on the Job Wall being from the creative department, the need & importance of marketing (teams) for modern companies shows. Luckily, this seems to be a mutual development as interested visitors chose to read more about these offers as well.
The other way to gather more interest and candidates is exceptionality. Even in a professional segment like recruitment, employers need to stand out to impress. No suprise that the ad from german sleeping bag manufacteurer prodecon caught a lot of attention. "Wir suchen noch ein Sackgesicht!" which translates as "We are looking for another d**kface" (in german, "Sackgesicht" would literally be "bag face") made people stop, laugh and in the end actually re-open the ad on their phones and computers back home. Proving once more that classical recruitment needs a refreshment in 2018, with classical job profiles taking a back seat.
---
By the way: About the ISPO Job Market
"ISPO has always been instrumental in starting successful careers and placing candidates in exciting jobs"
The quote from Tobias Gröber, Head of ISPO Group, is nowadays more true than ever.
The biggest network in the sports industry always connected professionals with exciting brands – and naturally every now and then these lead to a job proposal. In 2016, however, ISPO decided to actively connect employers and talents: They partnered up with Sportyjob to enhance their wide portfolio with a career service. The created career portal, ISPO Job Market, lists jobs from about 220 companies and is used by around 26.000 candidates.
---