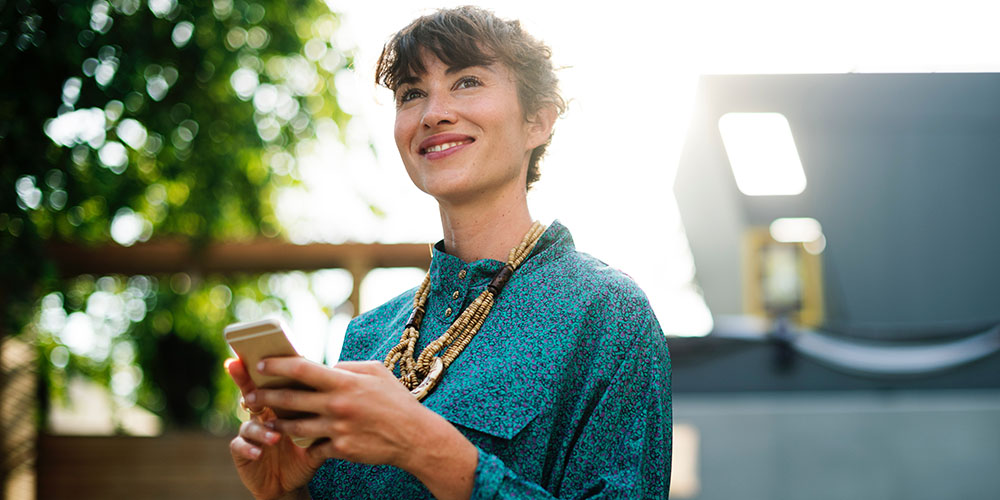 When it comes to a job interview, everyone sooner or later has to think about appropriate clothing. The solution is a little tricky as it depends on a lot of factors. You have to keep in mind to dress for:
the company
the industry
your age
the career level
the job position
the weather
your personal style & character
The list goes on – sounds like a lot of critera to join together, right? Especially when it's about finding the right balance between yourself and the job requirement. How do you keep yourself real and measure up with the expectations of the human resources manager? Easy: Follow these steps to choose the best outfit for a job interview!
Industry & company check: Know your employer

Where are you applying at? Is it a bank, a rock-bar or the sports industry? Every branch demands a particular dress code. So does every company. Have a close look at the people you will be working with, google the HR-Managers and stalk their Facebook-Profiles for getting an idea of their personal style. Xing and LinkedIn are also helpful, especially since most people use their most recent applciation photo.
Consider checking their website, too. Often there's a team page which gives away a lot about the employees and their dress code.
Ironing is not only for mothers

No matter if your clothing is chic or sportive – keep in mind that it has to be neat. No one wants to see stains, holes, make-up and sweat-marks as well as creases. If you are unable to cope with that issue, just ask the dry-cleaners around the corner.
By the way, if you have to sit a lot before you get to your interview (since you might go by car or train to your interview), wear a different outfit for the drive. Change clothes shortly before you enter the company – this way, your outfit stays neat and you don't end up ruining it before.
Hey sexy moustache!
It is okay to wear a beard – but make sure to crop it properly. Nowadays, beard's are very chic – so is long hair. If you are a man, put it in a man-bun, this way the hair won't fall in your face and distract you or the interviewer.
Altogether your appearance should be tidy and neat.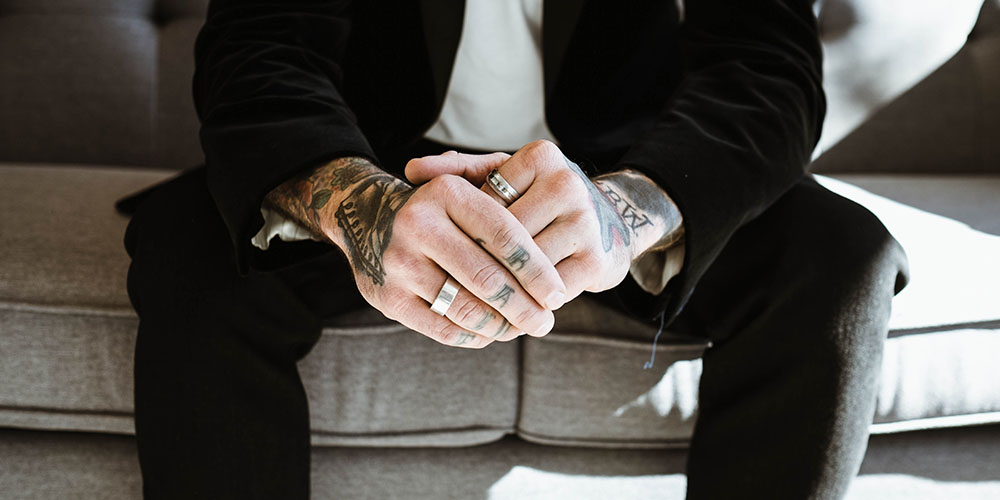 We know that society is still a little careful about tattoos and piercings. But still: Stick to your colors – the holes in your face and the shades peaking through your shirt will reveal your secrets anyway. It's a part of you and if an employer can't handle these, it's not the right working space for you anyway. Especially in the sports industry, this shouldn't be a problem as it's a modern sector. For a job in retail, if it's required, the interviewer will ask you if it was a problem to take them off during working hours. However, this way, both parties know in advance what to expect.
Sex not always sells – keep it professional…

.. and we are not talking about professionals. This fourth point basically concerns the female population. Of course, a nice cleavage will pick up attention, just not the right way for a business position. Button up your blouse, don't wear anything transparent and better not emphasize your curves by wearing tight or short trousers and skirts. Your attributes will just distract from your abilities and that really would be a pity.
Most companies' dresscodes require knee-length outfits – this is a rule to stick to.
Etiquette is necessary
If you apply for a job that demands a formal dress code, you have to stick to a few rules: Do not unbutton your jacket until you take a seat and make sure that your tie ends approximately one hand's width above your belt. Furthermore , don't put too much stuff into your pockets, the baggy-look is out of place when it comes to job interviews.
Keep it real
The be-all and end-all is to remain true to yourself. If you nearly pass out by thinking about wearing a suit, then you really should re-think your decision to become a banker. In the end you have to feel comfortable with the business and the dress-code to succeed in the interview. Remember: You have to sell yourself – which is only possible if you feel comfortable.
Self-confidence comes from your style and your personality – so show who you are. If you do your job well, no one cares about your outfit anyway.
Concrete Job Interview Outfit Ideas
The formal outfit: Suit up
As a generel rule: Conservative and formal working spaces require you to wear a suit. This counts for men and women. We are talking about a jacket, a (bow-)tie, shirt, trousers (or skirt for females) and neat leather-shoes. For women, if you prefer wearing heels, don't choose them too high.
Choose dark colours like black or navy and combine them with shades of pastel. Avoid too colorful outfits and crazy patterns.
The casual job interview outfit
Did you know that sport companies like blue tomato and island collective actually prefer a casual style? Welcome to the sports industry! Of course, there are high positions where a suit is required, but in general, they look for people who love sports and being outdoor. Something that shows in your style. To give away the right impression at the beginning, the perfect job interview outfit for these sports companies (we talk about active sports) is a casual style. If you want to suit up, combine it with sneakers. Keep in mind to keep it neat though – ironed, clean and not shabby are still a Must.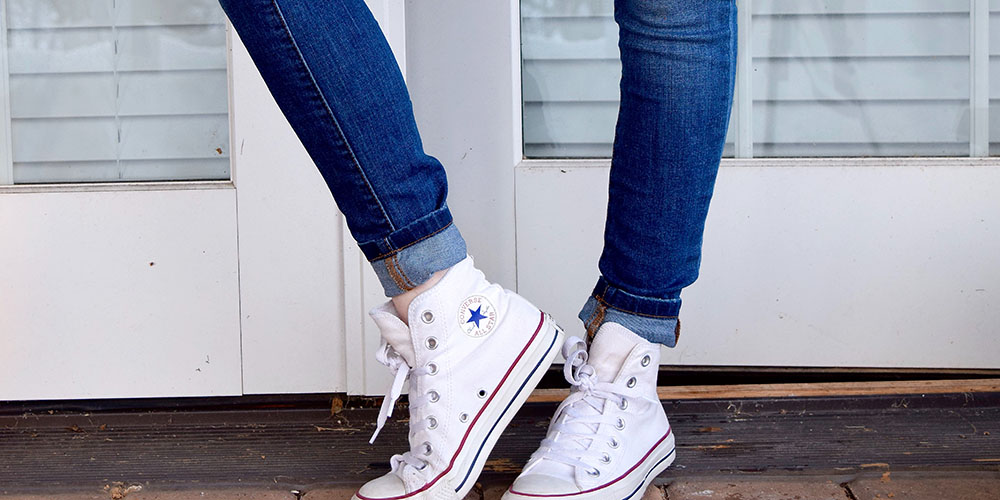 What to wear in summer or when it's hot
You don't want to show up all sweaty, so in general dress up short before your interview starts. But what to wear so you won't melt away during your interview?
Like said above, a  general rule in business are knee-length outfits for women. It's perfectly fine if you want to wear a (neat) shorts or skirt. The minimum length should be one hand width over your knees though. Combine it with a blouse with short sleeves – et voilà, perfectly dressed.
For men it's a little harder. We know that most companies still require long trousers. Feel free to combine it with a half-sleeved shirt. When it's hot, your employer won't mind if you don't wear a jacket.
If it's a very formal interview, put it on short before you enter the interview and ask to take it off because of the heat. This way you still showed your style and etiquette.
What to wear in a Skype Job Interview
Just want to wear half of an outfit, because the other half is below the camera? Just don't! The moment might come that you have to get up. Actually, interviewer's could even ask you to stand up. So, same rules as above – it's still a job interview!
To sum it up: If you dress up, you'll look amazing and feel this way, too. If you feel good, you'll be a lot more self-confident. That's the spirit you'll need to rock your interview! So, dress for success!
---
The outfit is of course not the only thing to keep in mind when having a job interview. That's why last week we posted our job interview preparation checklist. So if you want to know more about how to rock your interview, find here the walkthrough on how to prepare – from one week in advance to the final day. There's no better way to keep your nerves under control and show up with self-consciousness to get the job you want!