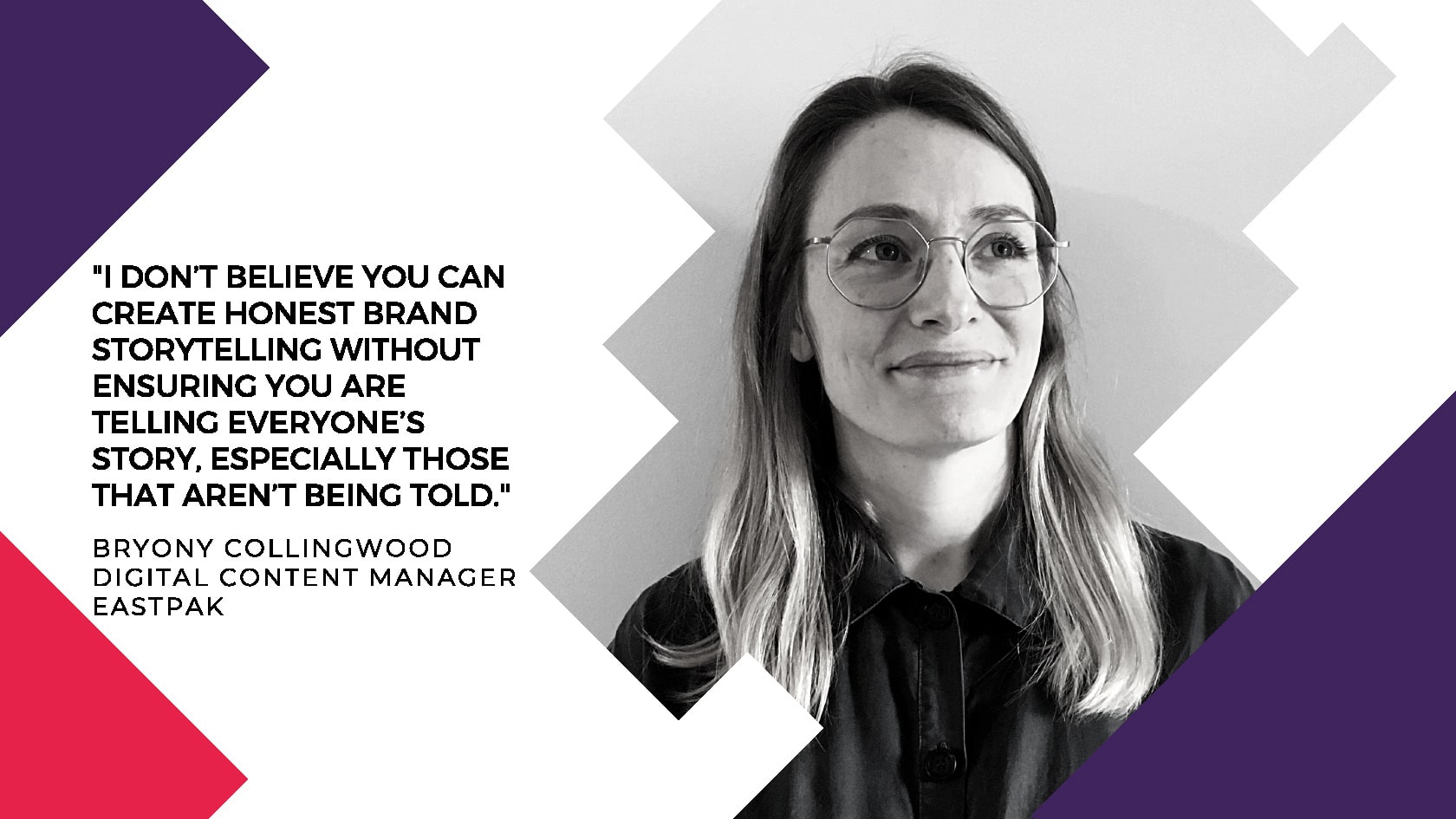 The Importance of Purpose-Led Storytelling – An interview with Bryony Collingwood, Digital Content Manager at Eastpak
Content Marketing has reached a new peak in significance. It has become more than a marketing tool to distribute product information in a clever way but has developed itself to be the heart of a company. With digital transformation evolving, content can now reach people wherever they are, in all forms possible.
In their process of becoming a digital-first brand, Eastpak, a brand part of VF Corporation, has managed the integration of a well-executed content marketing strategy in which storytelling has become one of the most important assets. Their memorable campaigns don't focus on product selling alone but tell stories out of the bag by starting conversations about Pride, Diversity, and Inclusion.
One of the people coming up with new ideas and making sure everything is communicated well is Bryony Collingwood, Digital Content Manager at Eastpak. In her role, she is managing all digital content on all digital platforms together with a small, but great internal team of creators. In this interview, she shared with us her insight into the content side of the digital development at Eastpak and her own passion for purpose-led storytelling.
Being in charge of all digital content and its strategy, you are the person combining content marketing and digital transformation at Eastpak. How do those two come together?
When we changed our structure and focus as a business to one that is digital first, that's when everything started to align.
This isn't just a case of resizing and refitting, but actually tailoring content to what is right for each platform. You have to think about each campaign differently, taking into consideration the consumer and how they consume content on each platform. When we are launching a new collaboration, what kind of content should we create, what story do we need to tell and where do we need to tell it? It's about building that bridge between our Digital team and our Brand team so we're working in partnership with each other.
What tools do you need to ensure strong storytelling across digital?
The biggest challenge we have within digital is juggling all the different needs, communication points, and requirements, especially when everything is always changing. We need to support eCommerce with an ad-hoc promotion required in just a few days' time while planning our next seasonal campaign with our brand team for the year ahead. We can't do this without strong communication between teams and clear briefing processes to make sure that nothing is missed – we're always busy, that's for sure!
So all in all you're developing a very agile working flow!
Yeah, and not only from a technical perspective. I think that the people who work in digital are those who are most reactive to change, who like to come up with new ideas and try new technology. We've always got something new going on. And digital transformation supports this fast-paced environment – the need to create and adapt at speed. We benefited from this strong set-up as soon as we went into Lockdown and our needs and requirements changed with the consumer. We were able to put together campaigns within weeks in collaboration with other teams, taking into account consumer insights so we could communicate in the right way and at the right time.
You mentioned before that you like telling stories of people. Maybe there's one particular story that you told across the different channels, where you can give us an example of how exactly digital content is told.
We supported Pride this year by telling the inspiring story of female boxer Nicola Adams and her fight for equality. We truly believed in the value of her story and when editing the video, decided we should test keeping it at the full seven minutes – shortening it just didn't seem to do it justice.
Amazingly, the data showed us that not only were people watching and enjoying it but they were also watching the full video. This shows the power of a strong story even in this age of distraction and poor attention spans. We filmed dedicated shorter content for Instagram Stories and were able to edit shorter sections from the full video as well for other channels. We then used quotes from the video and combined them with images taken during the video shoot to create animated banners – trying to get the most out of the one shoot and the time we had with Nicola but tailoring it for the different platforms.
This is part of VF Corporation's "Perfomance Driven" strategic filter. What's the importance for you personally?
For me, it's about bringing my own personal passions into the work that I do at Eastpak. And that's actually what I mean when I talk about the power of storytelling. It's not just about highlighting products, but telling stories or letting people tell their stories that inspire our consumers and fit with our brand mindset of positive resistance. It's also about working with creatives to tell their stories in their own way – through photography, illustration, dance videos etc. That's the other great thing about digital, the way people share their stories is constantly changing and evolving. It keeps us on our toes!
Keeping it natural, especially when it's done in a context of a campaign that clearly also has the goal to create revenue, and also with the recent events going on, seems to be hard to do. How is your approach to make it natural?
I don't think it should be hard. You always have to educate yourself. To learn to use the right language, to not patronise people. To meet them at eye-level. So I would say you need to always inform yourselves on the topics that matter to you and to your consumers.
In your LinkedIn profile, you state that you are "passionate about people and awareness of Mental Health". How does your own personal schedule of telling a story concerning these topics fit into the schedule of Eastpak?
I believe all managers should have an awareness of mental health and take the time to ask their teams how they are, to understand how they react to stress and how they can support them. It's about having an open and honest dialogue. Inclusion and diversity are also important to me and I don't believe you can create honest brand storytelling without ensuring you are telling everyone's story, especially those that aren't being told.
---
I don't believe you can create honest brand storytelling without ensuring you are telling everyone's story, especially those that aren't being told.

Bryony Collingwood – Digital Content Manager at Eastpak
---
The interview caught your interest? Read on with Part 1: Digital Transformation at Eastpak: "No small steps, but a big, bold transformation" – Chris Delahunty on the Digital Transformation at Eastpak"
---
'Built to Resist' is carried through in the culture at Eastpak. Our values of Empowerment, Freedom, Creativity, Collaboration, and Positive Resistance colour everything that we do and who we are as a team.
Eastpak is a subsidiary of VF, the world's largest apparel and footwear company comprised of over 30 brands.