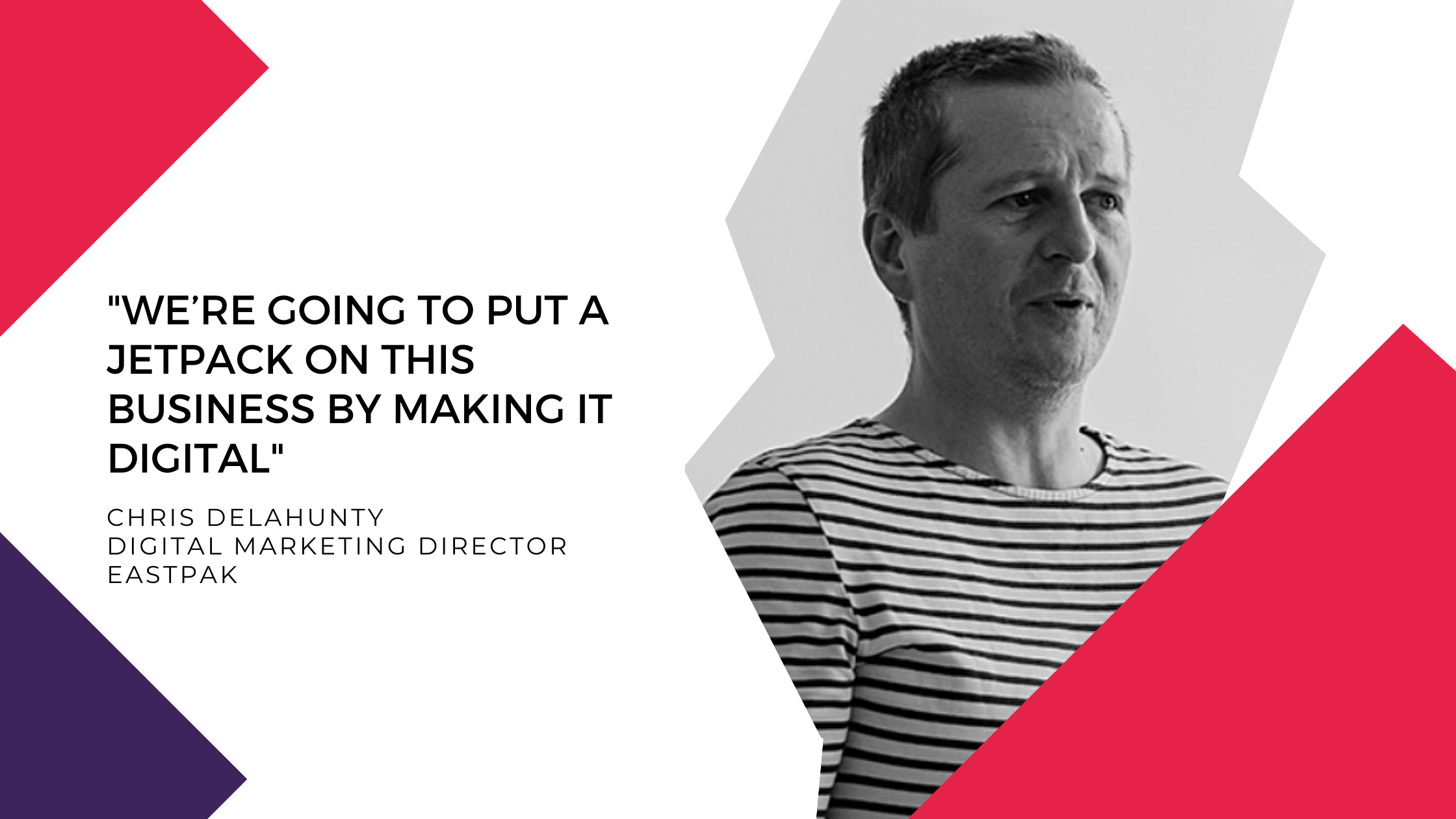 Digital Transformation can be found on almost every company's agenda that wants to stay relevant with technology advancing further and further each year. Transforming doesn't only require new technologies, updated and innovative business strategies, but an overall change of a company's mindset and culture. Successful digital transformation relies on a top-down approach with backing from above and collaboration of all departments.
One company showing how it's done is Eastpak, a brand of VF Corporation. The international bag & fashion company set their strategy to be a digital-first brand at the beginning of 2019 to keep up with their customer's expectations and has been following through ever since.
One of the people responsible for making this work is their Digital Marketing Director Chris Delahunty who we had the pleasure to interview. We asked him about the details of Eastpak's progress, the highlights, and the challenges of the digital transformation. While he gave us a detailed insight, he has also shown how it's not only a chance to grow your business but to actually become worthwhile as a brand.
Chris, you've been at Eastpak for 5 years now. How has your career evolved?
I started in Digital 20 years ago. I got into digital marketing and kind of build a career around wanting to try new things, be innovative, and learn what's going on in a market that was at that time very new. I set up my own creative agency which was working with big UK-based companies around how to take physical retail and make it work in the digital world and how to make the digital world work in physical. These two worlds were always very separate and I helped to bring them together. A lot of companies are still struggling there.
Then I moved to Eastpak five years ago and the reason I was brought in is, because VF as a Corporation and Eastpak in particular, were looking at how to do digital. Eastpak has launched E-Commerce in, I think, 2010, so it's relatively new. And they had no internal digital marketing skills. I came in to look at how do we produce content, how do we advertise online, how do we attract consumers in this world. And we've done that pretty successfully.
So I came in as Marketing Manager, got promoted to Senior Marketing Manager, and now am Digital Marketing Director. My job is gone from just doing eastpak.com to looking after amazon, zalando, looking at new territories. It has become this big all-encompassing global role around how digital works and how to grow the business.
That's quite a successful evolution in 5 years.
Yeah, yeah, I think so! The thing is: Although I've worked in the industry for that long, it's still very exciting! And there are still so many exciting and new things that we can do. It never feels like we've run out of ideas, out of things that we want to investigate, or new things to try. There are always new interesting people to meet as well. So I really enjoy working in this area, it's great.
At the beginning of 2019, Eastpak decided to become a digital-first brand. Why was this decision made?
There are a few reasons. VF Corporation is looking at how do we get closer to our consumers. And how do we become more effective as a business? What we as a company have seen in the past few years is that our consumers use more and more digital media, whether this is social media, whether it's streaming videos, whether it's research online for advice. Even if they're in the store, they will use their phone. So it makes sense to go where the consumer is if you want to grow the business.
In 2018, we did a review of the business and looked at how do we make the most of this untapped potential. And decided that rather than to make small steps, we should make this big, bold transformation. And say we're going to put a jetpack on this business by making it digital. And that requires a fundamental change in the way you're thinking. You don't build a business anymore by just putting posters outside and hope that people see them. There's a lot more that we can do around digital marketing, advertising, and sales.
---
---
Is there a specific expert team taking care of the digital transformation at Eastpak?
The way we approach digital transformation is that digital needs to be in every area of the business. We as a digital team specialise in our area, but work with the more traditional areas as well as to help them understand what influence digital has in their world. So if your work is wholesale or sales what does digital help you with, what are the tools you need, what are your consumers doing, and actually what's happening in the digital world that you can then use to influence your customers. It's everyone's responsibility to make sure digital transformation happens.
So, each department has its own projects and tasks regarding their digital transformation and are working together.
Yeah exactly. Normally, if something involves digital, we get involved, because we have the expertise. But that doesn't mean things don't happen if we say they shouldn't happen.
The different departments use digital, our product team investigates new digital techniques for designing, they use digital technologies to research the market, our brand marketing team will get involved with digital as well. Everyone is involved in their own way.
Which part of the digital transformation strategy of Eastpak has impressed you the most?
Bringing together the departments into one big digital department. That was a total mindset change for people! There were three teams in very different areas and they all came together into one area under one leader.
What happened is we came together and said: we now have a collective aim which is to drive this business forward using digital.
Because of that, we have been able to look at how does our business work, how are we able to grow, and what are new options to make this work. That change of mindset and that we have the backing of management to do it – this was the most impressive part.
That's quite a positive example of how digital transformation should be processed in a company. But surely you also had to face some challenges?
There are always challenges. But my mindset is that you can sit there and complain that you don't have it or you can go and do the best job that you can. I tend to look on the positive side. Anything where you're missing something, take it as a challenge and don't waste that challenge.
Could you elaborate on what projects, especially in regards to digital-first, you've been working on in the last year?
Yeah, the transformation is just one half of what VF is doing. One of the big campaigns we did last year was about Pride in June. It was a purpose-led message, it was content that started in digital, that went live in digital. And it wasn't "please come and buy this product". It was ten stories of people in the LGBTQ+ community. Letting them tell their story. We used to expand this to advertising as well, to create a story that people would see and share and engage with online. So, I think the reason why I bring this up is a digital-first execution that allowed us to build and drive the brand online. We will do something similar this year.
We don't only want to do business, but something that's worthwhile as well. About one and a half years ago to now, VF has become a purpose-led business. It's not only about driving revenue, but also about powering movements to have a positive impact on people and communities as well as on the planet where we all live. Sustainability is a very big thing for us. Also, we are committed to creating an inclusive and diverse work environment for our people. That is the kind of project that says more about us as a brand than a product can.
---
---
If you talk about purpose-led projects like that, is there really a priority in doing good while neglecting the return of investment?
At Eastpak, we measure effectiveness differently. What we do is, we don't look at each campaign and the ROI of each campaign. We look at how we as a business are doing in total. Of course, this doesn't only rely on purpose, but performance and purpose. Our main goal is that the business grows. And the business grows by being effective in channels where you strive for revenue, it grows by making sure that the consumer can find you, it grows by good brand awareness, and by being a brand that people want to be associated with. Within digital, we have to do all of these tasks which is a lot, but it's also exciting. We're doing well as a business, so I guess we're doing something right.
Coming to the end. Since we are a career platform, we are finishing off with some advice for possible candidates. What would your advice be for someone who wants to start a career in digital or switch their career to digital?
For people switching their career: One bit of advice I give to people – which is horrible for you as a job board – is sometimes it's best to stay where you are. Because sometimes people think they have to switch jobs every 18 months to two years to stay fresh. Actually, there's somewhat to be said about staying a bit longer, because it enhances your skills. So when you do jump, you'll jump to a better job than where you would have jumped to after 18 months. Sometimes it's good to stay where you are.
In terms of starting that role. Everyone can do digital marketing. Most CVs kind of look the same when you get them. So what I look for is something that makes a candidate stand out. Whether it's something interesting they do outside of work. Or their cover letter is just crazy. Personality attracts me. It does come down to the personality of a person quite a lot more than the skills. Because you can teach skills. Especially in marketing.
I will give you an example. We were looking for a copywriter a couple of months ago. We had a lot of experienced copywriters come to us with a full portfolio and they had experience up to 10 years. And we hired someone who had no experience as a copywriter and had no university degree as well which all jobs ask for. The reason we hired her was that we found articles that she created online and they were really good. And her attitude is really good. And she's really nice. So we thought: We will hire you because you fit the brand.
I think it is an important point to research the brand before you apply for the role and understand what their culture is. Because then it is more likely you will get an interview. Then when people do interview you, you are more likely to be accepted into the role.
I still think that digital people tend to be more forgiving than people in traditional roles. We are quite relaxed around professionalism. That's a horrible way of putting it. We like people to be professional, but at the same time, we want there to be something else as well. We want them to make our jobs fun and interesting. So that's the advice that I would give to people trying to get into digital. It's be bold in what you're trying to do.
---
Eastpak tagline 'Built to Resist' is carried through in the culture at Eastpak. Our values of Empowerment, Freedom, Creativity, Collaboration, and Positive Resistance colour everything that we do and who we are as a team.
Eastpak is a subsidiary of VF, the world's largest apparel and footwear company comprised of over 30 brands.
---
Other posts you might like:
The Power of Identity and Purpose at The North Face – an Interview with their Brand Experience Manager Marco Mombelli
05th July 2020
From Athlete to Marketing Director: Meet Hanane Sabri from Kipling
13th June 2020
How products come to life: An interview with Hermin Uzer from Napapijri
13th October 2019