Sleep your way to the top: How sports companies help their employees rest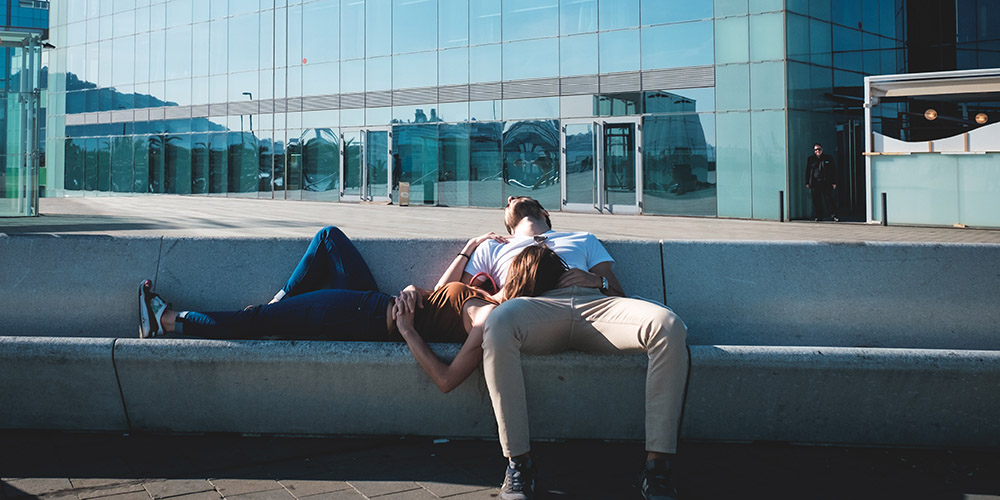 Activity and exercise are known to be two factors to be more successful in your sports job and your life in general. The other side of the medal though centers on the complete opposite: It's about a good night's sleep or your rest throughout the day. 
Unfortunately, in the 21st century sleep is put on the sideline as a consequence of bigger work loads, greater focus on careers and actually, the digital media. In the last 60 years, our society reduced their sleeping amount per night from 8 hours to 6 and a half, ignoring the importance of a rested mind. What follows is sleep deprivation in big parts of our society, resulting in mental and physical health problems. Even the minor effects of insufficient sleep already effect our daily tasks negatively, leaving us unconcentrated and unproductive at work.
Logically concluded, being well rested is important for your job – something more and more sports companies understand.
What happens when we sleep?
Even nowadays, neuroscientists still didn't discover completely what happens in our brain when we are asleep. There are several theories though which seem very likely and fit the results you might notice yourself.
It seems that during your sleeping phase, your brain processes all impressions you made during the day, be it aware or subconscious. When you sleep, these things that you learned, will be committed to your memory.
Something else you probably noticed is how your brain activities will tire you – how at the end of a stressful day you can't concentrate that well and have problems memorizing things.
So at night, or even during a power nap, your mind is able to power up again, to restore its resources so to speak.
In consequence, if you manage to rest well during the night, your concentration and awareness improve. You'll be more creative, social, productive, better in problem solving, just to name a few. On the other hand, your stress level is reduced, resulting in a more balanced mood and this way, in an improved ability to make (good) decisions. Overall, your mind and body are healthier.
How sports companies support the rest of their employees
Modern sports companies nowadays focus a lot on the well being of their employees. It doesn't come as a surprise that most sports companies contain fitness and workout areas, yoga studios or even special sports facilities like a boulder wall (adidas) or a skatepark (Quiksilver). Furthermore, a lot of companies over flexible hours so the working times are timed around your own schedule, depending on whether you are a morning or an evening person.
But there are some who take the well-being of their employee's on a next level, knowing about the importance of rest and sleep to increase producitivy, creativity and overall the employee's happiness. The trend of napping areas or boozes that we find at Google, Uber and Co. have also been adapted by the sports business, but there are three sports companies who bring a nap break from work to the next level.
Adidas
adidas in Herzogenauch more or less "killed" the regular working space when they developed their "MyArena" concept in 2015. Instead of working in your office, adidas employees in the "Pitch"-building have a free desk choice every day, a game room, 360 degree brain storming rooms and all the other fun stuff that creates an inspiring working atmosphere.
Apart from the possibility to work in a free environment, they also realized the importance of resting in between working hours: "Using short breaks to revitalize actively helps to stay focussed and creative". That's why their recreation area has a room equipped with massage chairs to take a quick nap and recover in between a busy working day.
Nike
Where there's adidas, Nike's never far away. According to Forbes, Nike is the number one employer of the sports industry in the US. Their employees are satisfied with the working atmosphere and the benefits. A big part of it sure is their attitude towards well rested employees: In their headquarters in Oregon, they provide cozy resting areas for their staff. In quiet rooms with comfortable couches and chill music, it is allowed to nap and rest to gain new energy for ongoing projects.
Puma
Puma structured their benefits into 4 main piles to guarantee their team's satisfaction.
"We cannot perform well unless we feel comfortable in our work environment, and companies wishing to retain their employees over the long term must be aware of this fact."
Apart from social and structural benefits, Puma focuses a lot on the mental and physical health, offering sport and leisure activities as well as massages and physiotherapy to reduce stress. Their "mental wellbeing" pile, however, uses an extraordinary approach to relax the mind's of their team even away from the job: By offering special trainings on how to manage stress or achieve a better work-life balance, they actively support the ability to rest after work and sleep better at night.