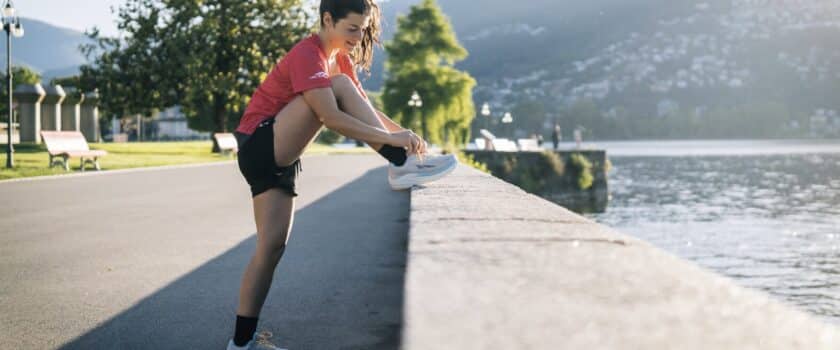 The world of sales in the running industry is still a male-dominated field, but with many brands focusing on female customers, women in sales are more in demand than ever. This is also the case at Altra Running, part of the VF Corporation.
Nils Grote, Sales Manager at Altra, is developing the brand in the DACH region with his previously all-male team, but is specifically looking for a female sales representative to expand the team further. To draw more attention to the position of Sales Rep at Altra, we interviewed Nils. Because: Why not give a direct insight into a team and a company instead of just relying on classic job advertisements?
In the interview, we talk about his motivation to put together a team that is as diverse as possible and explore what makes working at Altra and VF so special.
Sportyjob: Maybe you would like to introduce yourself briefly. What do you specifically do for a living?
Nils Grote: I am Sales Manager for the Altra brand at VF Corporation in the DACH region. In the beginning, it was all about putting together my team and making the transition from distributor to direct market. In the meantime, we have managed this very successfully. My next step – which I find very exciting – is now to work with my team to continuously build and expand the Altra shoe brand and position it firmly in the running and outdoor segment.
Sportyjob: With the main focus on recruitment, how do you put your team together? Do you follow certain rules?
Nils Grote: At VF, I have a lot of freedom to put together my own team based on the needs of our brand. Our HR team at VF supports me throughout the entire recruitment process. When it comes to applicants, I am primarily interested in their personality, values and attitudes. If possible, we want to make our team as diverse as possible. This applies to the so-called internal factors such as age, gender, ethnic origin, religion or sexual orientation as well as to the external factors such as professional background. That is why we deliberately include lateral entrants from the trade sector in our team. Diverse teams are proven to be more successful, more innovative and attract more talent. Therefore, as well as out of my personal conviction, we want to make our team more diverse step by step.
Currently, the focus is on bringing more women into our team.
Sportyjob: That means you are a male-dominated team?
Nils Grote: For now. The goal is to change that, of course.
Sportyjob: A very stereotypical matter, in fact, as sales teams in Germany are often understaffed with women. Are your applicants mainly male?
Nils Grote: Predominantly yes. On the one hand, this certainly has to do with the reputation of a sales career. Female sales representatives are also rather rare among our competitors in the market. On the other hand, it may also have something to do with the fact that in the past Altra was perceived as a very technical brand that was mainly used by male runners. However, this image has been transforming tremendously fast in the last years and we are counting on the growing popularity of the brand among female runners to ensure that more female applicants apply for future positions.
---
Basically, the goal of diversity and inclusion is to create a climate of different ways of thinking and qualities of employees in the team and to use this diverse output. Diverse teams are more successful because they can bring in different views, experiences and opinions.

Nils Grote, Altra Running
---
Sportyjob: Besides the desire to have different backgrounds in the team, why would you like to hire a woman?
Nils Grote: Basically, the goal of diversity and inclusion is to create a climate of different ways of thinking and qualities of employees in the team and to use this diverse output. Diverse teams are more successful because they can bring in different views, experiences and opinions. More female power in our team is a good start and a personal concern of mine. I observe time and again that women tend to sell differently than men. They often use more facets in their argumentation, and the way they communicate is also sometimes different.
Strong communication skills in general, but also active listening and empathy are important soft skills in sales and these are often attributed to women. Surveys on this topic have also shown that women attach a higher importance to customer satisfaction, while men more often pay attention to financial goals. Women also pass on this value-oriented way of thinking in the team.
I am firmly convinced that a mixed team is an enrichment for sales. In addition, we want to continue to grow as a brand with female customers and therefore it is of course important that we also get a stronger female perspective on the market and on the products internally.
Sportyjob: What skills should an applicant have?
Nils Grote: Important points are team fit, sociability and interest in running. We want applicants who work together with the whole team. At the end of the day, none of us can achieve our goals alone; we can only do it together. And that is why the extent to which a candidate fits into the team is actually one of the most important points.
Authenticity, stamina and enthusiasm for sports are further skills that an applicant should bring. We are all very enthusiastic about endurance sports. Of course, this also means that every now and then we go for a run with our team or with our clients during working hours. That's just part of the job for us, and part of the industry anyway. You don't have to be a marathon runner, of course, but you should simply enjoy running. Not only to fit into the team, but also to have access to the target group, the market and the way of thinking in the sports shoe industry.
And ultimately, we are not just a brand for runners, but for everyone who wants to move healthily on their feet. That can be hiking, that can be trail running. We are an inclusive brand and not just for those who compete and train regularly according to a plan. For us, anyone who moves is someone who fits well into Altra.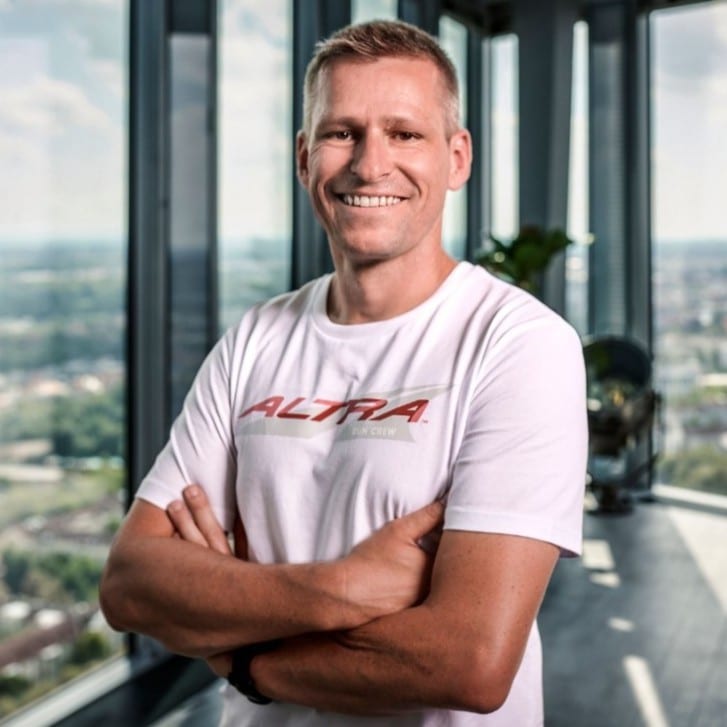 Part 2: Why working at Altra is different from other sports brands
Sportyjob: Let's talk about you personally. What role does sport play in your life?
Nils Grote: It has always played a very big role. I used to be an ambitious track and field athlete myself, a middle and long distance runner. In the meantime, I've grown a few years older and ride my bike more, but I also do other sports, like climbing or surfing, whatever is suitable at the moment. Everything that has to do with movement, sport and the outdoors suits me well!
Sportyjob: And about you professionally: What do you like best about your job?
Nils Grote: The cooperation with my team. Of course, the enthusiasm for the product: a very differentiated and, in my opinion, also biomechanically very exciting product with a noticeable benefit for our customers. I think if you don't stand behind your own product, it's difficult to motivate yourself professionally.
And overall the whole Altra team, not only here in the DACH region, but also our EMEA and global Altra team. All of us know that you don't often get the chance to be part of an emerging brand with the kind of momentum we are experiencing.
We also have a lot of interaction with other brands within VF, which I really appreciate.
And finally, of course, the development opportunities on a professional and personal level.
Sportyjob: Since you just mentioned the different connections to the teams: With Altra you are employed by a small brand, but basically in parallel by a corporation, VF Corporation. How does it feel in the day-to-day work?
Nils Grote: It is very exciting to work, because you do not only work within the Altra world, but you can have a lot of cross-brand exchange. In an environment with very strong brands like Vans, The North Face, Timberland or Icebreaker, there are valuable learnings for us as a small brand, perhaps from mistakes already made by the others, but also from things that are going very well. We sometimes have an insight into their best practice examples and can apply this to Altra. There is a lot of synergy potential here.
Sportyjob: Does VF promote these synergies or is that an individual decision of the employees?
Nils Grote: For the DACH region, the VF HR team has set up a digital cross-brand catch-up for the sales managers to present the developments of the individual brands to each other and to offer an exchange platform. In addition, you meet colleagues from the most diverse teams and regions in the VF internal training courses. And a day at our office in Munich is a good opportunity for every Sales Rep to informally exchange ideas with the other brands and teams.
Sportyjob: Would you say that this is the biggest advantage of the VF Corporation business model?
Nils Grote: It was certainly a very big advantage for me personally to think outside the box. Then there is also the advantage of professional development. Because at VF there is not only the possibility of development within a brand, but also across departments of other brands, in order to be able to take the corresponding learning from each of these brands and apply it elsewhere. In fact, this was also an additional motivation for me to join Altra in early 2020. I was previously with a family-run medium-sized company for over 10 years. Once you have reached a certain position, it can become much more difficult to develop professionally in smaller companies.
Sportyjob: Thank you Nils for your honesty and the insights into your job!
You read the interview with interest and can imagine joining Nils' team as a sales representative? Submit your application and CV online in the VF Talent Community.