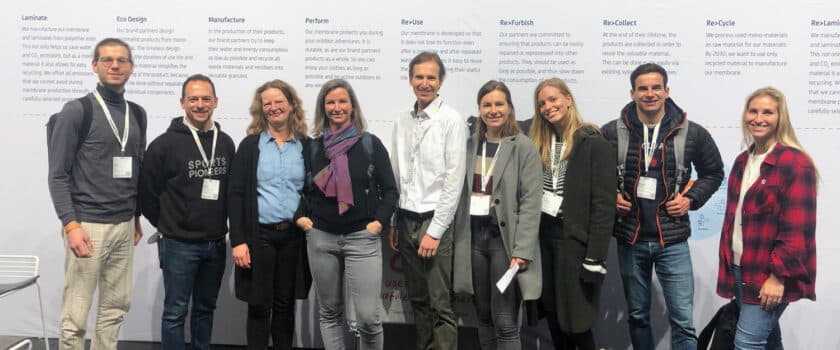 Getting to know a company face to face for once: that's what 20 students experienced at ISPO Munich 2022 on Monday and Tuesday.
On the first ISPO Munich Career Tour, VSD and Sportyjob organised a different kind of ISPO visit over two days. With the topic "How does a career work for you?", interested parties had the option to learn more about working, the corporate culture and entry-level jobs at Ortovox, Sports Nut and Sympatex.
For students with a focus on sports economics / management, including those from the universities of Bayreuth and Munich, the main topics were flexible working models, sustainability and team spirit.
Unfortunately you couldn't be there? That's all right.
We have summarised the three tour stops for you. So you too can take a look behind the scenes of three exciting employers in the sports industry.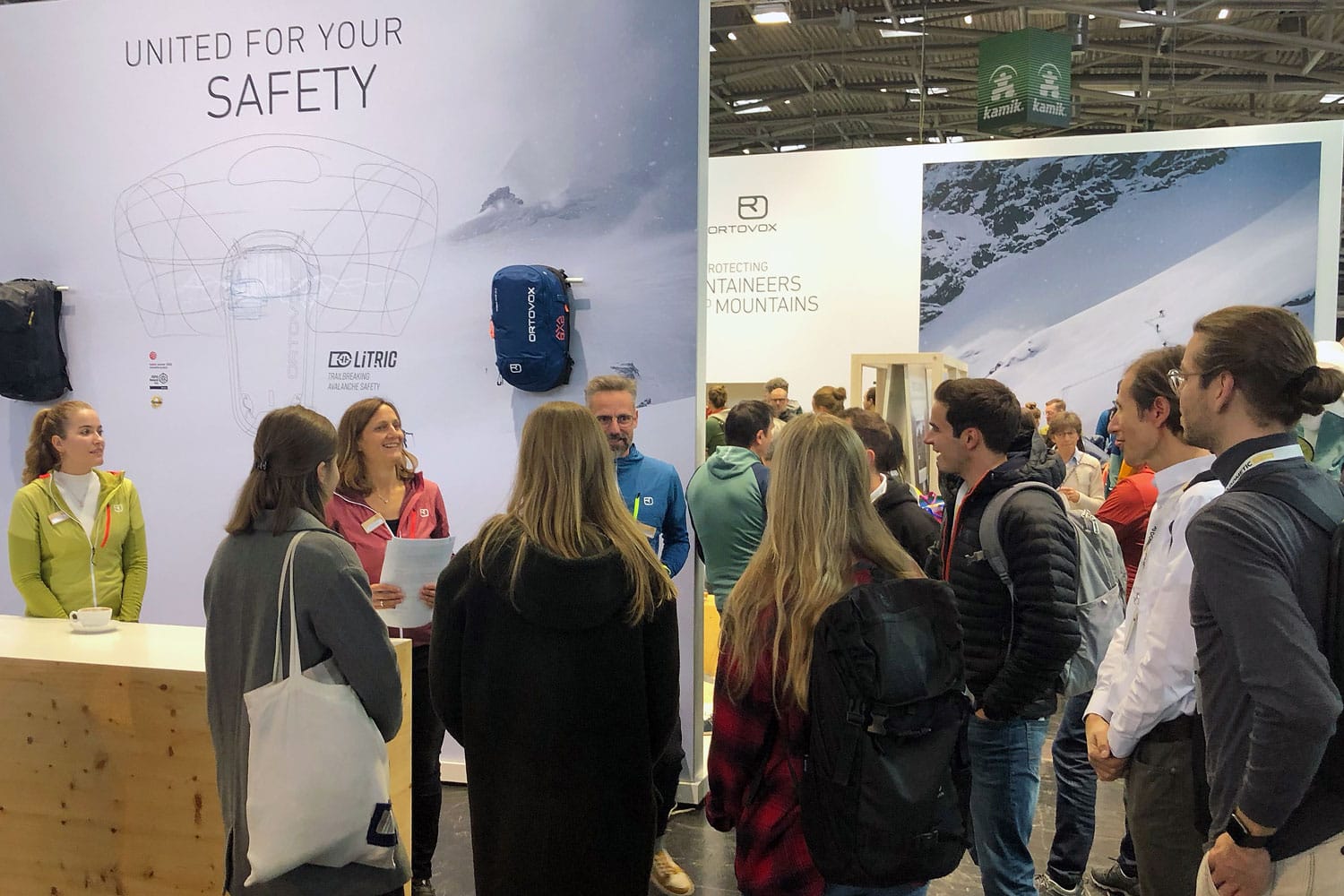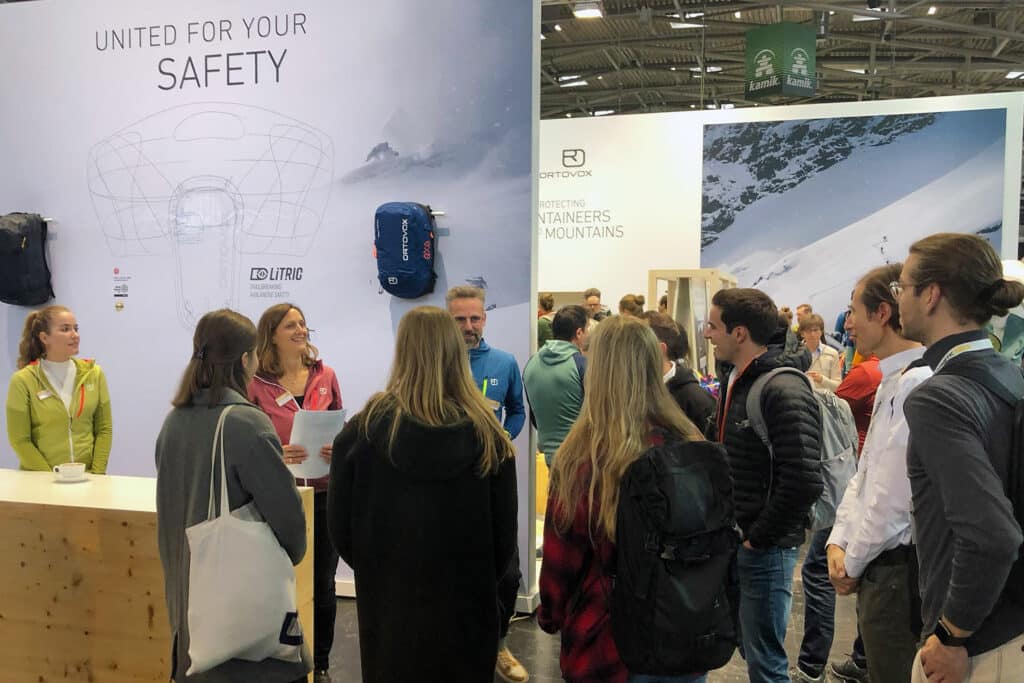 How does a career work at: Ortovox
"Imagine going to work and having fun doing it.
Something similar was the wording of an Ortovox job advertisement in the Süddeutsche Zeitung about 20 years ago, which prompted Christian Schneidermeier to apply to the company. Today, he is the managing director of the mountain sports brand.
Managing Director Christian Schneidermeier, marketing student Viktoria Habermann and Head of People and Culture Annetta Maiwald presented Ortovox as a tour kick-off on Monday and Tuesday.
What does Ortovox stand for?
"It's not just about safety for mountaineers, but also about saving the mountains. Because nature gives us so much, we also want to give something back with our brand. That is our responsibility."
Christian Schneidermeier, Managing Director Ortovox
Since its foundation in 1980, the mountain sports brand has been dedicated to the topic of safety on the mountain. However, it is not only about protecting mountaineers, but also nature itself.
Sustainability is written in capital letters at Ortovox. At the trade fair stand, the focus was accordingly also on the new 2023 winter collection – the first entire collection that is completely climate-neutral.
How does career development work at Ortovox?
But let's move on to the topic of careers at Ortovox. You can join Ortovox as a working student or intern, preferably with a background in sports.
Once there, the company helps its team members to develop within the company and find the job that suits them. Annetta herself, for example, joined the company 9 years ago as an assistant manager. In the process, she realised through her exposure to HR topics that she herself was on fire for human relatons – and has been Head of People and Culture since 2018.
What about flexible working models at Ortovox?
One topic that is currently playing a big role is, of course, New Work. This is also the case at Ortovox. Even though they have grown significantly in recent years, Ortovox still thrives on a family work culture – and therefore with individually tailored solutions.
"As much as is possible within the framework, we try to respond individually to the needs of our employees with different working models. We offer flexible working hours and a mobile office arrangement. Many still come to the office voluntarily – the team spirit at Ortovox is very high!", says Annetta Maiwald.
Regardless of the home office and flexible working hours, the employees at Ortovox probably enjoy the organic lunch in the canteen most of all – and often plan their home office around the menu.
How does a career work at: Sports Nut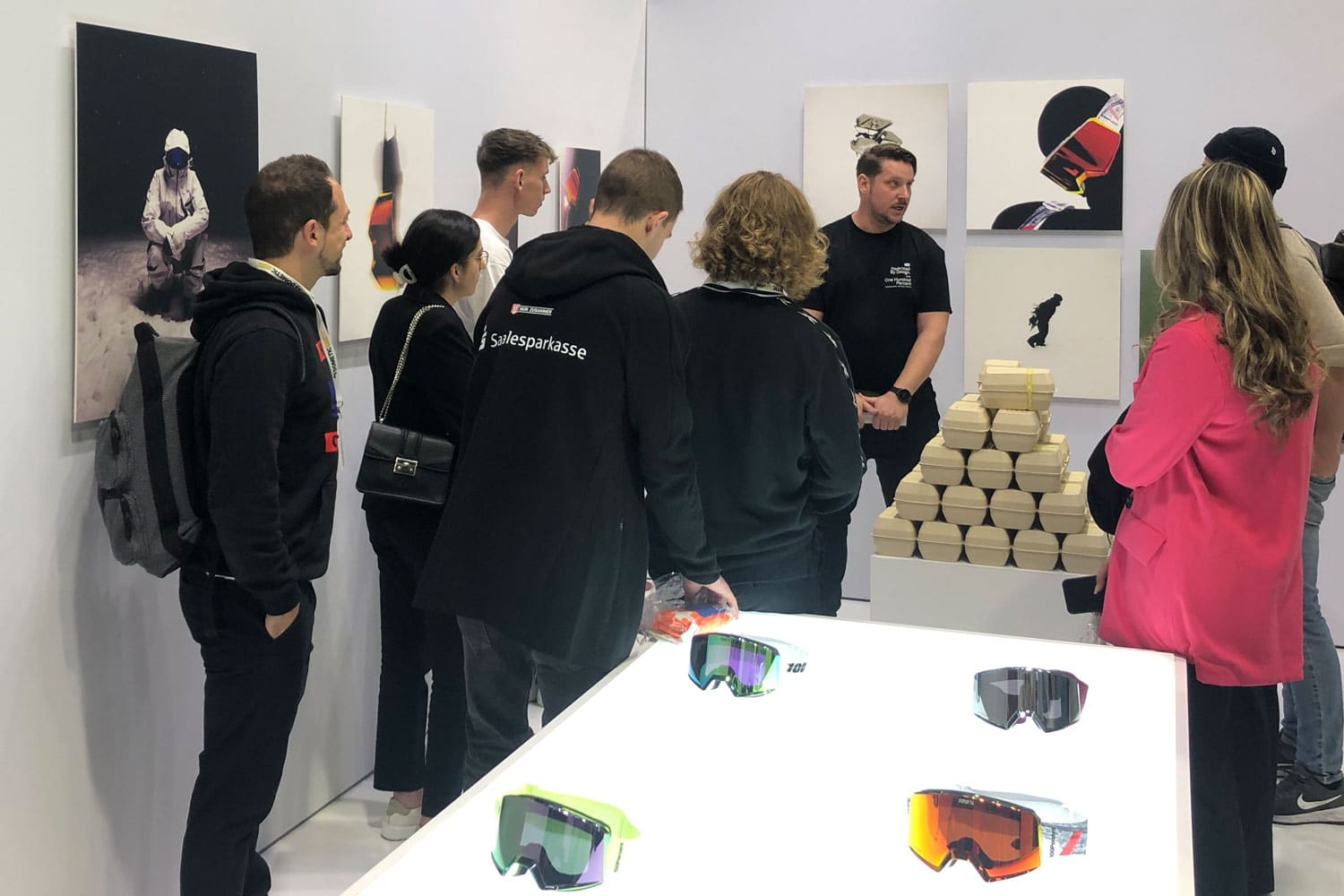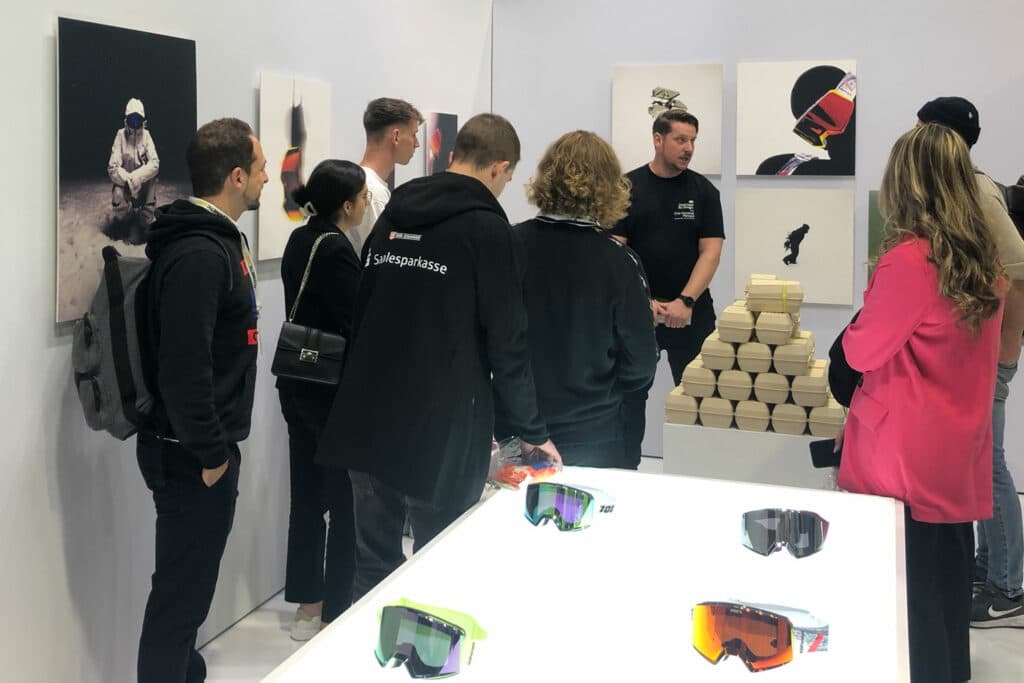 Next stop: Sports Nut. The company, based in Tübingen, manages 15 brands from the mountain bike, urban and road sectors, including 100%, HJC and iXS. Sports Nut has been around since 2003. 15 years ago, when Thorben Kriener started his job, they were just a team of 4. Today, the Sports Nut team consists of 70 biking enthusiasts.
Under the motto Cycling is the future, Sports Nut, as a wholesaler in the bike business, is constantly adding new brands to its portfolio – so if you are interested in biking innovation, the company is the right place for you. Thorben Kriener, Marketing Manager at Sports Nut, confirms this when we ask him what the best part of his job is:
"I have a great passion for downhill biking. So for me, the best part of my job at Sports Nut is the personal connection to the sport. Through my job I know the athletes personally. On weekends, I often go biking with them."
Thorben Kriener, Marketing Manager at Sports Nut
For a company that calls itself "Sports Nut" – someone who is crazy about sport – a passion for (cycling) sport is something you should bring along. The nice thing is that you are in the best company in the team. And accordingly, a team that likes to meet up in their free time to cycle together.
How does career development work at Sports Nut?
"The classic career path does not yet exist at Sports Nut. We are a growing company, we currently have around 70 employees and new jobs are still being added. Accordingly, your career path with us doesn't necessarily go steeply upwards, but across the board. We integrate new topics into your job if something interests you."
Daniela Thinius , Director Operations
Jobs at Sports Nut do not necessarily develop in a linear fashion, but they are varied. In addition, everyone meets as equals and supports each other where possible. This is also evident in the team spirit at joint events.
You can currently join Sports Nut as a marketing intern – and work directly with Thorben.
How does a career work at: Sympatex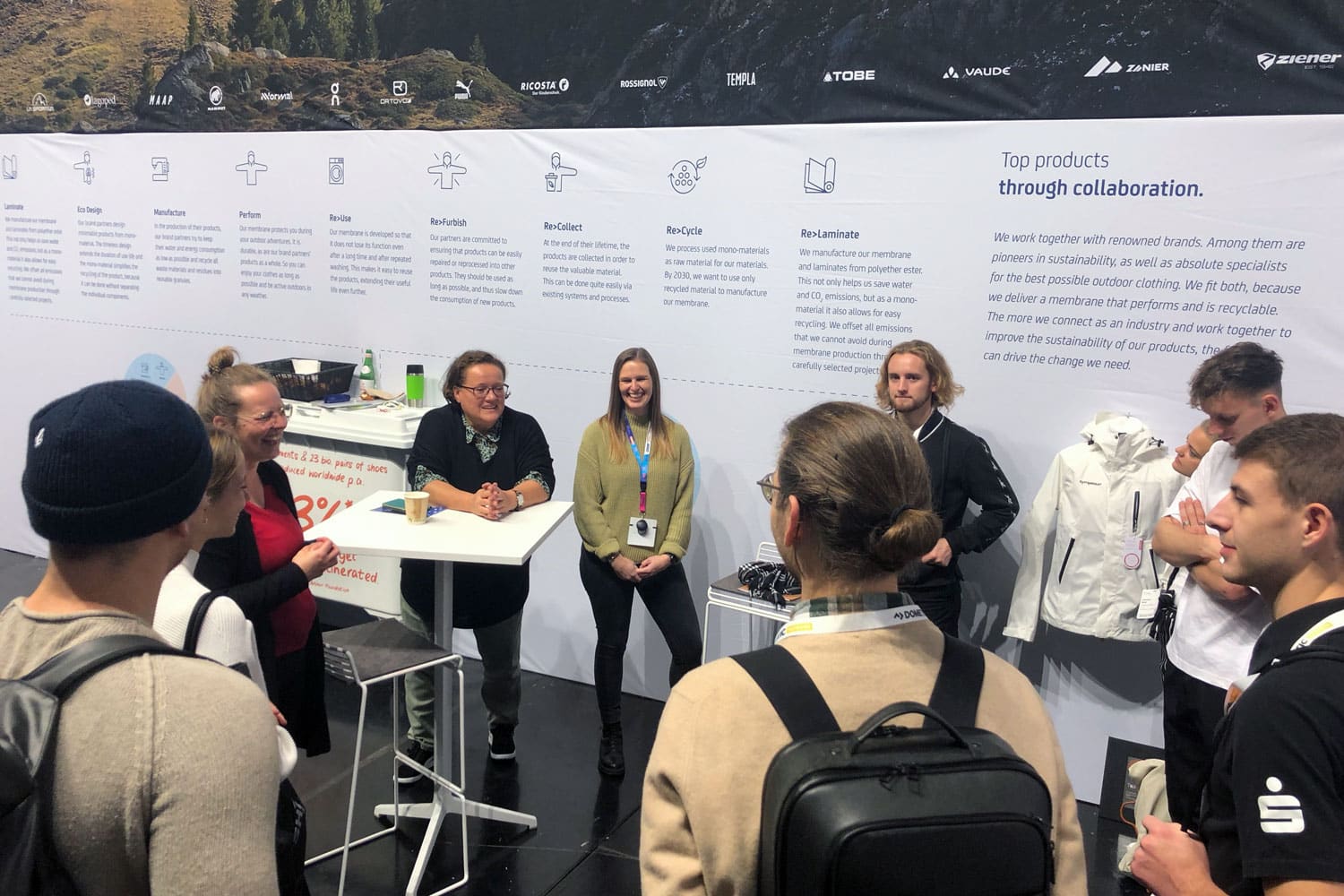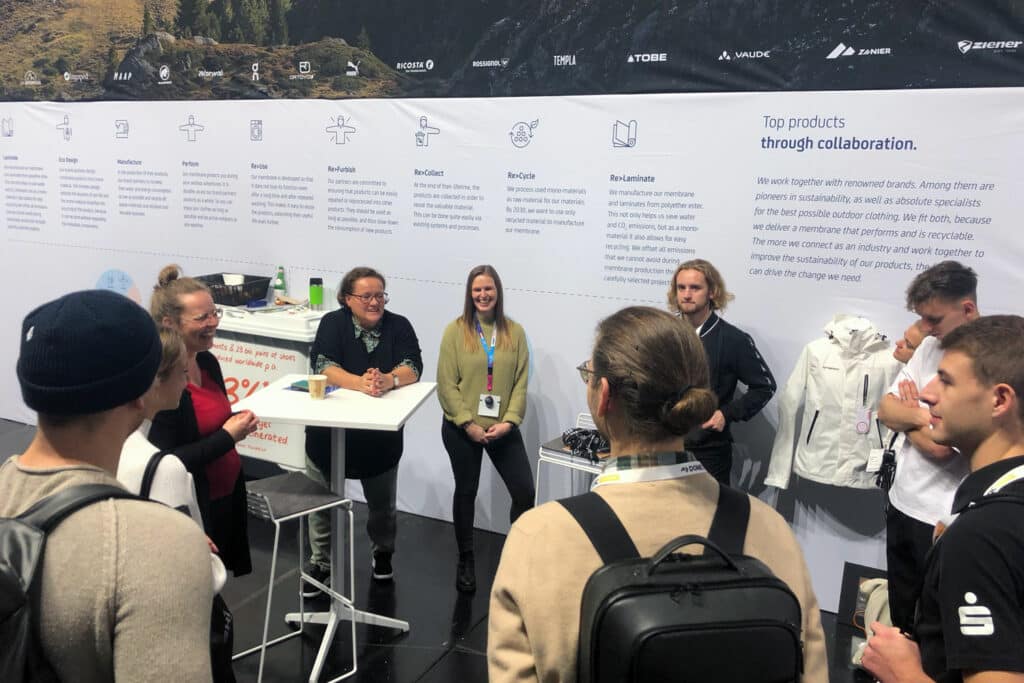 Finally, we end up at a really sustainable player in the sports industry: Sympatex has taken up the cause of changing the textile cycle in the sports business.
"And saving the world!"
Manja Maronek, HR, adds as she introduces the company to the students.
The pioneer in the field of ecologically sustainable and recyclable functional textiles supplies outdoor brands such as Ortovox, Elkline and Zanier.
Incidentally, they are also pioneers when it comes to work culture. At Sympatex, there is no traditional way of working. It's an agile work organisation. Accordingly, the team is a colourful mix of different personalities. Or as Sympatex puts it so well itself on their career page:
"[…] creative minds, visionary "think about tomorrow today" thinkers, idealistic world-savers, flexible problem-solvers, likeable strategy gurus, talented number crunchers and real communication geniuses."
This is exactly how we get to know the female employees at the Sympatex booth: All of them are full of energy, driven to make a difference and, above all, completely informal, open and friendly.
How does career development work at Sympatex?
"With us, you can join in anywhere."
Literally. Sympatex lives a prototype of the agile organisational structure. There are no hierarchies in the company. Teams work on an interdisciplinary basis. Accordingly, an open mindset is a prerequisite for a career at Sympatex.
There is no advancement to team leader or "head of" – but there are new subject areas and responsibilities for tasks that interest you.
What about flexible working models at Sympatex?
If you want to create an open working culture, you can't do without a flexible working model. Flexible working hours and home office arrangements are on the agenda at Sympatex, as is the integration of a healthy work-life balance. For example, through running sessions in the English Garden and yoga sessions during the lunch break.
You can currently join Sympatex as a working student, but speculative applications are also welcome.