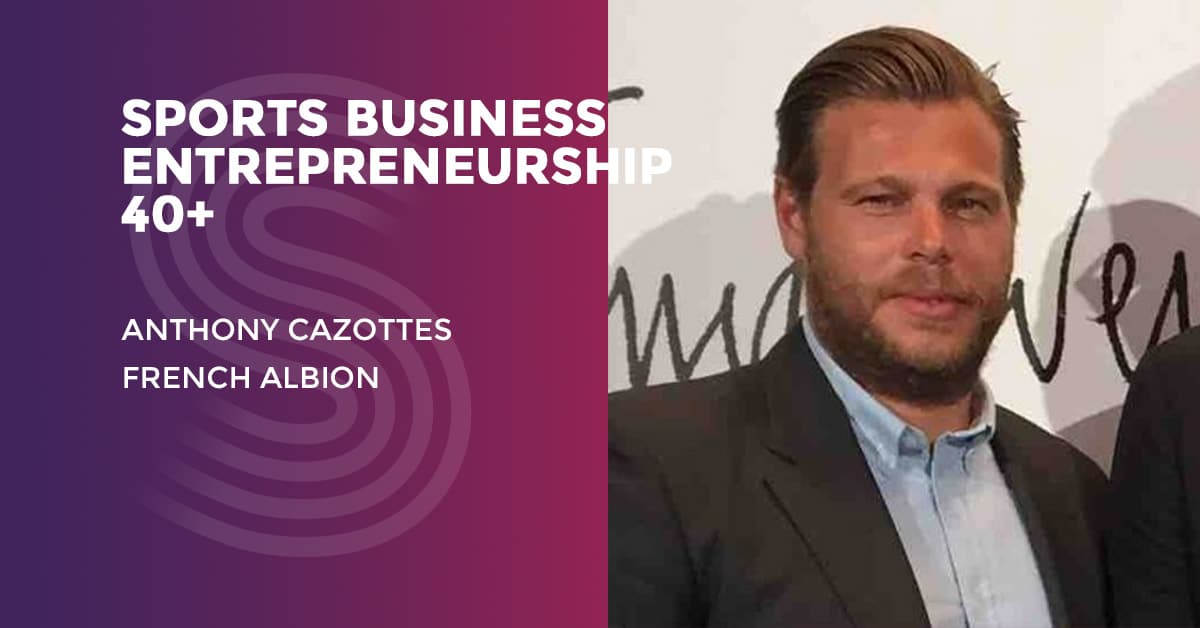 Trust in your experience. Make your vision come reality. Be brave to start your business over 40.
Our Entrepreneurship 40+ series introduces you to personalities from the sports industry who followed through with their ideas to start their own business.
In our third interview, we spoke to Anthony Cazottes from Biarritz, owner and founder of the agency French Albion. When he lost his job in 2015, he was shocked at first, but then realised the chance to finally be free to create his own future. A vision he already had for almost 10 years.
Introduction
Your Job / Company Name:
Founder of French Albion, based in Biarritz (France)
Your agency French Albion in 2-3 Sentences:
French Albion is a forward thinking agency focused on introducing Outdoor & Lifestyle brands from overseas to the European market through an innovative hybrid business model.
Careerwise, what have you been doing before you got self-employed?
I started my career in 1998 in the Action Sports industry working for Quiksilver in the UK as a visual merchandiser, then went on to become a sales rep covering menswear in London and looking after a selection of key accounts. In 2002 I came back to the Quiksilver HQ in France to look after the off price business for the Na Pali group. Then in 2004 when Quiksilver bought DC Shoes I was named Sales Manager for France. After 10 years working for the group I sailed off to NIXON in 2008 and directed sales for 4,5 years, this time on a European level. But the biggest opportunity of my career came in 2013 when I was promoted to EMEA General Manager of Electric Europe, a company then part of the Kering group.


What was your motivation to start your own business?
I realised over the years that no matter how good you are at your job and how much you represent the brand you work for at the time, you always leave with a hand shake and you never take a piece of the company with you other than memories. In my late 30s I felt a strong need to create something of my own, something I was passionate about and that I would be able develop with my life philosophy in mind, not following someone else's strategy. In 2015 I lost my job and although it was a bit of a shock to the system it was a relief at the same time, I was free to create, to innovate, to think out of the box… That is what motivated me to create my own business: freedom to think.
How did you move from an idea to business success?
In my case things came naturally, first I was consulting for companies who wanted to come to Europe and through that process I realised there was a need to propose a solution that was different from the classic models of distribution. Once I had the model figured out we managed to attract brands that we chose carefully in the Outdoor & Lifestyle market through my connections in the US & Canada. The first clients are always the hardest to get but once you have a proven track record companies reach out to you for business regularly.
What, in your opinion, makes a successful entrepreneur?
It's a combination of different things of course but in my opinion motivation, commitment and rationalism are the key ingredients. An entrepreneur also needs to be able to mitigate passion with reality and try not to get too carried away by things he likes doing vs things that need to be done.
How do you think is it different to start an entrepreneurship 40+ than in your twenties?
If you have a brilliant idea in your twenties but you don't have the experience to bring it to life then you would probably have to rely on other people who can help you make it a reality. Less expertise means the idea needs to be even stronger and innovative to be successful. Starting a business in your 40s is definitely different, you are mainly relying on yourself and the baggage you have cumulated throughout your career. Your contacts, knowledge of the industry and experience are the fuel to your idea.
For a lot of people, the fear of failure is the reason not to start their own business. What would you say to someone to convince them to go through with it anyway?
The risk depends on the business idea and the means to bring that idea to life. If the idea is weak but the means are strong it's likely that the success will be minimal, if the idea is strong but the means are weak success will come by finding investment which is always easier than finding a good idea. Rather than speak about fear I would prefer to call it doubts, I think all entrepreneurs have doubts, doubts fuel the mind to be better at finding solutions and are therefore good companions to entrepreneurs. Don't be afraid of doubts, if you are convinced about your business idea and you are fully committed then you will be successful. However, my advice would be to ask friends, family and a consortium of industry experts for their opinion before you dive in. Also don't give up everything you have before you see traction in your new venture. Last but not least, don't force yourself into an entrepreneurial career out of desperation, becoming an entrepreneur should be a natural path you follow.
How is your daily life as an entrepreneur?
It's fascinating, the world is your oyster, the opportunities are huge and anything is possible. Of course the reality hangs over your head and acts as a hand brake to funnel your enthusiasm but the balance of the two is what I find the fun part. Being free to decide, working with people I love, no politics, is how my company is run everyday. My daily life as an entrepreneur resembles a lot to my daily life as a person.
What's the biggest reward of having your own business?
Thinking of an idea, putting it together and launching it successfully is very rewarding in itself but being able to employ people and giving them long term projects is probably what I take most pride in having achieved so far. Also, when brands you look up to contact you through your web page to start a partnership is a great reward.
---
Interested in meeting other entrepreneurs over 40 from the sports business? We are publishing new interviews regularly in our series Entrepreneurship 40+!