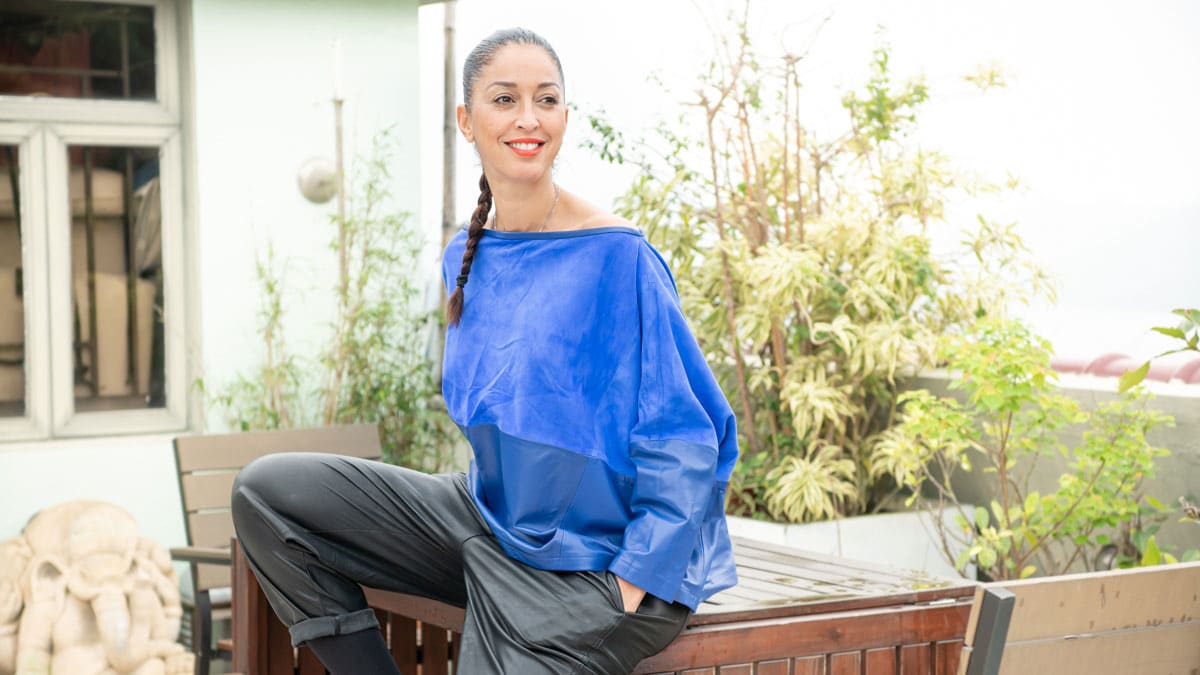 From Athlete to Marketing Director: Meet Hanane Sabri from Kipling
Hanane Sabri, Marketing Director of Kipling, part of VF Corporation, in Hong Kong, has been working in the sports & fashion business for more than 20 years. While this is impressive on its own, it is even more so considering Hanane's background: Before starting her business career, she used to be a French athlete who participated in national & international competitions. She was crowned as champion of France in the 1,500 meters in 2001 in Saint-Etienne and competed in the 2001 World Championships in Athletics in Edmonton. At the same time of her athlete's peak, she started her career in the sporting goods industry, making her a great example of mastering a smooth transition from sports to business.
And there's still more to her story. Hanane has reached the highest level in a sport practiced in shorts as a Muslim woman and today, has achieved a top management position in a men's dominated industry while being a mother of two. She's challenged the assumptions about female roles in sports and economy and proved that, indeed, women can have it all.
So, what can we learn from her success about progress, resilience and purpose? Tracing her career as an athlete, marketing professional and mother, Hanane Sabri shares with us an insight into her own history, her values and a lesson on hard work.
SJ: You started your professional career at the same time as your athletic career and continued with both for almost 8 years. How did you manage to bring the two together?
HS: I come from a family of workers, so hard work was a primary aspect of my education. My parents were forced to work in very difficult conditions in the North of France to support our family. So, they gave everything at work, never complaining when they returned home. From an early age, I understood that to be successful you had to work hard and be persistent to achieve your goals. My athletic career has also taught me that. I have not been champion of France in the 1,500 meters by snapping my fingers and no other athlete either, not even the talented Usain Bolt!
It's simple: to succeed in your professional career you have to work hard, to succeed as a mother you have to work hard, to succeed as an athlete you have to work hard, to succeed in your life in a relationship, you have to work hard and so on! For everything in life, you always have to give your best and above all be attentive to others, but also to your body, to achieve performance.
---
"I understood that to be successful you had to work hard and be persistent to achieve your goals. I have not been champion of France in the 1,500 meters by snapping my fingers and no other athlete either, not even the talented Usain Bolt!"

Hanane Sabri
---
SJ: Are you proud to have started your professional career like this?
HS: Of course! It was an intense period, just like my whole life. In fact, I don't really know how to stop because I'm a chronic hyperactive [laughs]. In addition, Adidas was a very good school for my early career. I had a CEO, Antoine Sathicq, who was a very inspiring manager and who managed us perfectly. I was able to learn a lot in finance, project management and marketing through my various positions at Adidas.
SJ: You are currently Marketing Director at Kipling. Has your athletic background helped you get here?
HS: Totally! My life as an athlete has allowed me to understand three things: The first is that you have to work hard to achieve your goals.
The second is resilience. The ability to keep moving forward despite obstacles, energy shortages, etc.
The last one is empathy, listening and connecting with others. You never succeed alone.
Even if I have practiced a sport that is described as individual, for me it is still a team effort. I had my physiotherapist, my trainer, my hares, my relatives, etc. It was them who helped me, in part, to reach the world championships in Edmonton. For me, it is important to move forward with a team that we respect and with which we feel connected.
In addition, my parents taught me the values of respect, sharing, empathy and performance. The notion of performance is ingrained in me and that is what brought me to where I am today whether in the sports industry or the fashion industry.
SJ: In 2018, you arrived in Hong-Kong and joined the Folli Follie group. Why did you leave the sports industry to work in jewelry?
HS: Actually, I first came to Hong Kong out of love. I wanted to learn Mandarin and take care of my family. As I could not stop working, I joined the Folli-Follie group and discovered the world of jewelry because I wanted to learn and discover new things on the Asian market. I really liked the learning process. After 3 years, I had learned a lot, but I wanted to take on new challenges. So, I applied to VF Corporation. It was not easy but after some interviews, I was recruited! Today I am very proud to work for this brand which immerses me in the world of lifestyle and millennials.
SJ: What inspires you at Kipling and what are your goals in this business?
HS: When I arrived at Kipling I was in observation mode for 3 months. This is a rule that I have always imposed myself in any new mission because you must first understand the company and the brand for which you work. The collections, the market, the brand's consumers, employees, the functioning of internal but also local teams, cultural differences, company values, objectives and finally the strategy put in place. Beyond the specific objectives of the company, my priority remains the human being and the relationship with others in order to ensure team cohesion and the establishment of common objectives. I love to grow and see others grow. For me, the manager / employee relationship is a win / win relationship, based on respect, listening and performance.
Why did I choose Kipling? I really got hooked with the new managerial leadership in place and especially their objectives and the new vision of Kipling. Today we want to reach millennials by transmitting the message of exploring the world with curiosity but also of lightening their lives thanks to our inspiring and functional products. I totally find myself in this message. In addition, I like to work on new concept stores to offer a real experience to our consumers, be it in store activations or through merchandising visuals, but above all to communicate with Asians using 80% of the digital world. And this may include the entire strategic approach of online distribution for our own sites kipling.com or on our Kipling Store on Tmall platform [the largest E- commerce platform in China and in the world] without obviously forgetting the importance of social networks such as WeChat, Weibo, FB or Instagram, etc. All these subjects are challenges to be met in a disruptive and specific way to create a real competitive difference.
SJ: After such an inspiring journey, do you have any advice for students and recent graduates?
HS: Do everything to achieve your dreams and never give up! For me, nothing is impossible. I am living proof! I have reached the highest level in a sport that is practiced in shorts while I am a Muslim. I have always worked in men's professional circles when I am a woman who comes from a working-class family and I have done very well. Again, I emphasize the concept of resilience which is very important throughout our lives without forgetting human values such as respect, empathy and listening.
---
"Do everything to achieve your dreams and never give up! For me, nothing is impossible. I am living proof ! I have reached the highest level in a sport that is practiced in shorts while I am a Muslim. I have always worked in men's professional circles when I am a woman who comes from a working class family and I have done very well."

Hanane Sabri
---
One of my daily motivations is to ask myself: which actions can I take today that could have an impact on the world, on my family, on the ecological level, and at work? I am a great player and I always take the example of dominoes, because every little gesture can have a huge impact on our lives and the lives of others. Even a smile, a moment of listening, helping someone in need even if he is a stranger to us, and so on! These little actions can give hope. And we have to share this hope because that is what makes us build a better world in the end.
This also applies to the global scale about ecology: I believe in humanity and if everyone makes small gestures, we can build a society more respectful of our planet Earth and leave a legacy for our children.
More about Hanane Sabri
Hanane Sabri joined VF as Asia Pacific Marketing Director of Kipling in Hong Kong HQ in May 2019. She has more than 20 years of experience in the Fashion and Sport Retail industry.
Based in Strasboug, Hanane joined Adidas France in 2000 as a Finance Controller. During that time, she was also a national athlete representing her country in international competitions. Hanane Sabri became Strategic Planning Director in 2004 and took the role of Senior Sport Marketing and Communication Manager in 2006, specializing in Event activation plans, production planning, finance and market analysis. She oversaw international sports events such as the Olympic Games in Beijing, Athens, Vancouver and London, and was directly in charge of the French Olympic Committee and 18 national Federations for 8 years.
Between 2006 and 2015, the highlights of Hanane Sabri's achievement involved managing contract negotiations with athletes and celebrities for adidas performance & Original, including the renowned Rap Singer Akhenaton , the two times Olympic Champion Teddy Riner in judo and multiple times gold medallist Nikola Karabatic and olympic champion in handball.
Prior to joining VF Corporation, she worked in Folli Follie in January 2016 as their Asia Pacific Marketing Director, developing leading design teams, product management, marketing and communication for 7 countries and more than 150 stores in Japan and China.
Her financial expertise also plays a key role in her success in managing P&L on multi-million budgets across several product lines of the business. Hanane has a Master's Degree in Corporate, Finance and Securities Law at the EM Master Strasbourg Business School and also a BBA and MBA in Finance at Bowling Green State University in Ohio US. She is currently living in Hong Kong with her husband and two children.
© Portrait of Hanane Sabri by [email protected]


About Kipling
The Kipling success story started in 1987 in the heart of the fashion capital of Antwerp (Belgium) with crinkled nylon bags. By injecting our creativity and out-of-the-box thinking into developing thoughtful designs with a casual coolness, Kipling products are created to inspire mobility and enable you to Live.Light. As more than a bag brand, Kipling represents a positive outlook on life, a light-hearted mentality, free spirit, and inclusivity. Today Kipling's well-known bags and accessories are available around the world in 436 stores in 80 countries and can be found in more than 7500 shops, and on kipling.com.
Today Kipling is part of VF Corporation. Founded in 1899, VF Corporation is one of the world's largest apparel, footwear and accessories companies connecting people to the lifestyles, activities and experiences they cherish most through a family of iconic outdoor, active and workwear brands including Vans®, The North Face®, Timberland®, Napapijri®, Eastpak® and Dickies®.
---
Other Blogs you might like: