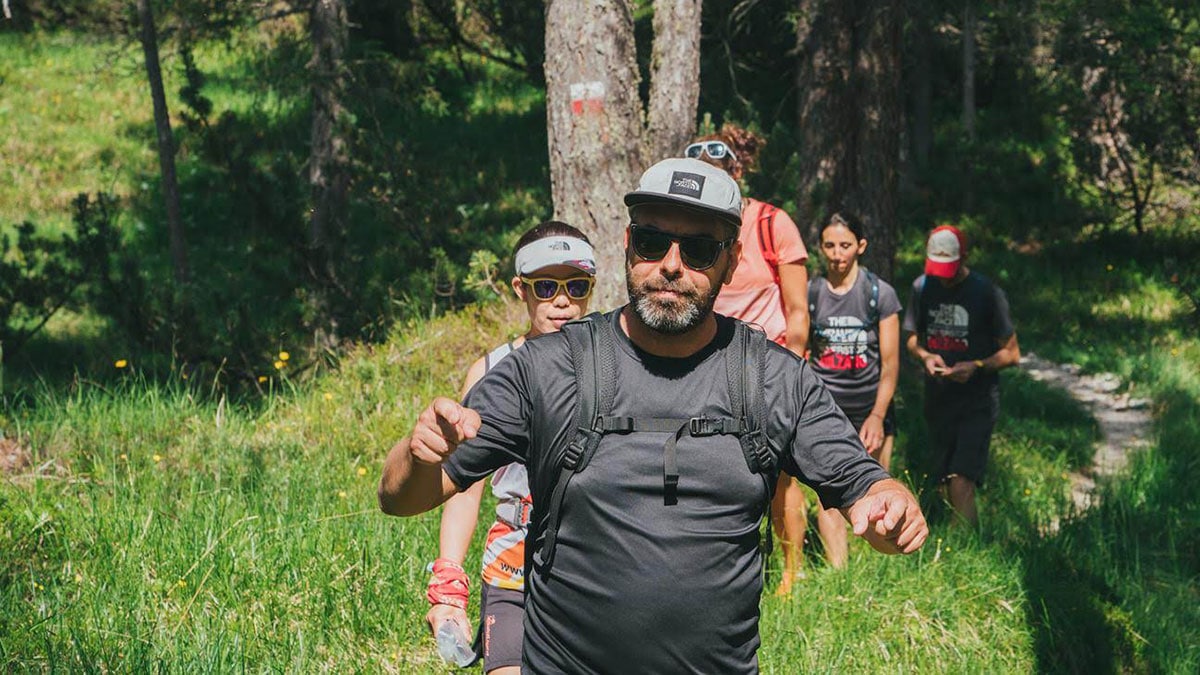 The North Face is the largest outdoor brand in the world, not only in regards to their gear and products, but especially in terms of a strong identity. They are not plainly selling products, but have managed to create a voice that communicates their values of Authenticity, Empowerment, Perseverance and Environmental Responsibility. The North Face has been creating a brand experience which is involving their customers directly and invites them to live their slogan "Never stop exploring" instead of just reading or hearing about it.
One of the people making this possible is Marco Mombelli who is the Brand Experience Manager of The North Face. In his role, he develops and manages the brand experience strategy, especially by optimising their physical touchpoints to create a community and enable them to go outdoors. Furthermore, Marco is a great interlocutor and thus, has been up to an extended interview about his role and the very big topics of brand experience and brand purpose.
In this interview, we got insights into:
how The North Face's brand experience inspires, connects and enables their customers to explore and protect the Outdoors
why every lifestyle & outdoor brand essentially has to develop a strong identity and voice
how purpose affects VF Corporation and its brand The North Face and why to strive for doing good and doing well
As we talked to Marco back in the beginning of May 2020, we also took the opportunity to address the Covid-19 crisis and how The North Face managed to still enable people to explore in times of a lockdown.
When looking at your career, you've been working in the sports business since 2002 for different brands before you became part of The North Face in 2015. What has drawn you to work at TNF?
MM: I actually started working at VF in 2008 and recently celebrated my 12th anniversary which is amazing. How did I end up working at The North Face? Wow, where do I start? I mean, everything in my life has led me to my current role. My family used to run a small business selling building materials, and after studying accounting in high school I felt it was my destiny to do something entrepreneurial. But I realized I had more to learn so, I decided to continue my education and go to university, where I studied Communication and Public Relations.
I started working in 2002 for Red Bull as a Student Brand Manager and after a year I was promoted to Assistant Brand Manager. At the time, I was still studying and I was in a punk rock band that was becoming popular – we had a video on TV and a second album due, which obviously took up a lot of my energy! I knew I was taking on too much, but I knew if I quit school, my parents would kill me! So, it was a decision between Brand Management and Rock'n'Roll. I decided Brand Management could wait – and I chose school and rock'n'roll
And then?
MM: I kept studying and kept working hard with the band. Being part of a band was a great experience, but I soon realized that Rockstardom wasn't for me, so I got back on track. I found a great job at Connexia, one of the biggest PR companies in Milan. After a few years there I was contacted by the Country Manager of Vans Italy and I started to work for Vans in 2008. I was the Marketing Manager in charge of pretty much everything – from athletes to PR to events.
I was based in Milan for the role and although I loved the city experience I missed the mountains, the lake and my family.
I was eager to move to the VF EMEA HQ in Stabio, Switzerland which was closer to the mountains and closer to my hometown. Unfortunately, there were no positions at Vans, but there was a good opportunity at the Reef brand instead. At the time, my manager said, "It's a small brand, but it could be a good platform for you to have a more European role". Not a big team to manage, but I was in charge of the whole brand at the European level, which again was a great learning experience for me. After some time with Reef I realised I wanted to join a bigger brand, with more structure and when an opportunity to join The North Face came along I took it.
The role was maternity cover, stepping in as Wholesale Marketing Manager in charge of Spain, Italy, the Nordics and the Netherlands. It felt very natural. Even though my previous experience was with action sports brands, I have a real love for the mountains and have snowboarded since 1991. I felt an immediate connection to the TNF culture and people and I knew it was the right step.
And how did you end up becoming The North Face's Brand Experience Manager?
MM: Once the maternity cover position ended, I swapped roles again, moving to the Retail Team and working on retail transformation – shaping the way for stores to move from shopping spaces to brand experience platforms and finding new ways to interact with and to engage consumers.
Your responsibility is optimizing the brand's physical touchpoints. How do you actually improve the experience at a retail level?
MM: I was challenged to create the first TNF Community Program in 2016. We created the first one in London, using our physical stores as a Hub for the Community to meet up before going outside to explore, to meet for workshops and to listen to talks from our athletes.
We now have 9 Communities across Europe and we engage with more than 20,000 Community Members on a yearly basis. The Community Groups take up most of my focus and I'm very proud of this. You really get the chance to have a positive impact on people's lives. On a weekly basis, we offer sessions with personal trainers specializing in outdoor activities who lead either outdoor workouts or activities such as indoor climbing. After London, we developed Communities in Munich, Berlin, Paris, Milan, Stockholm, Chamonix, Manchester, Bolzano – focusing on key cities and awesome outdoor destinations.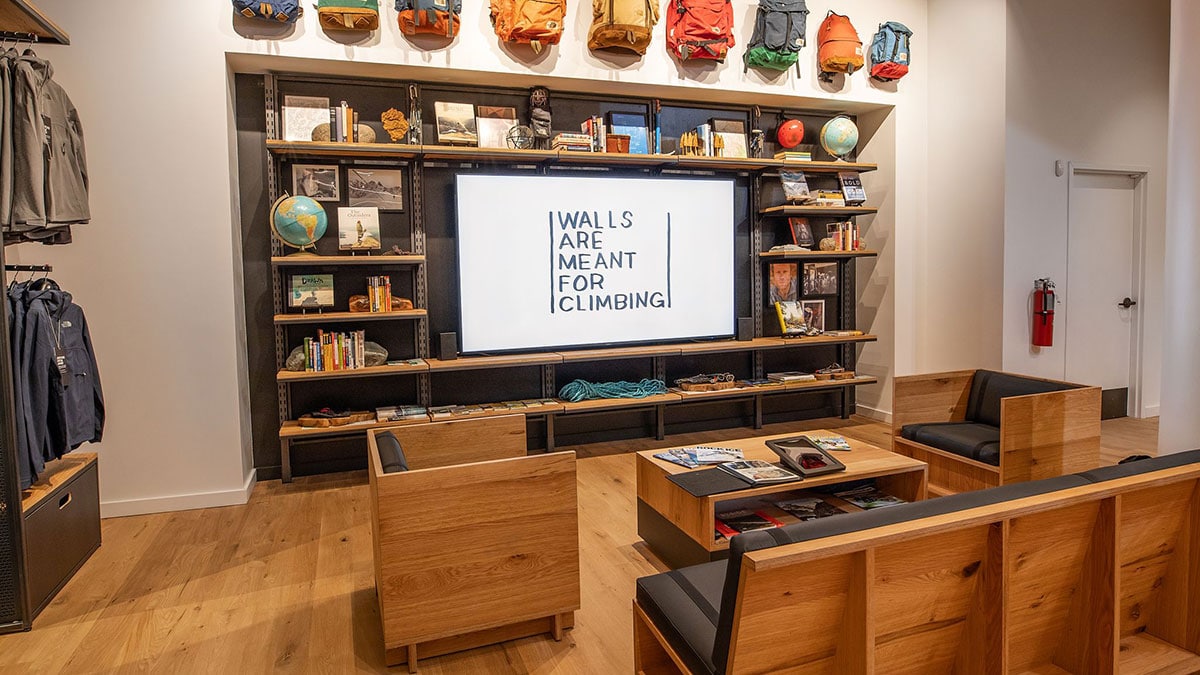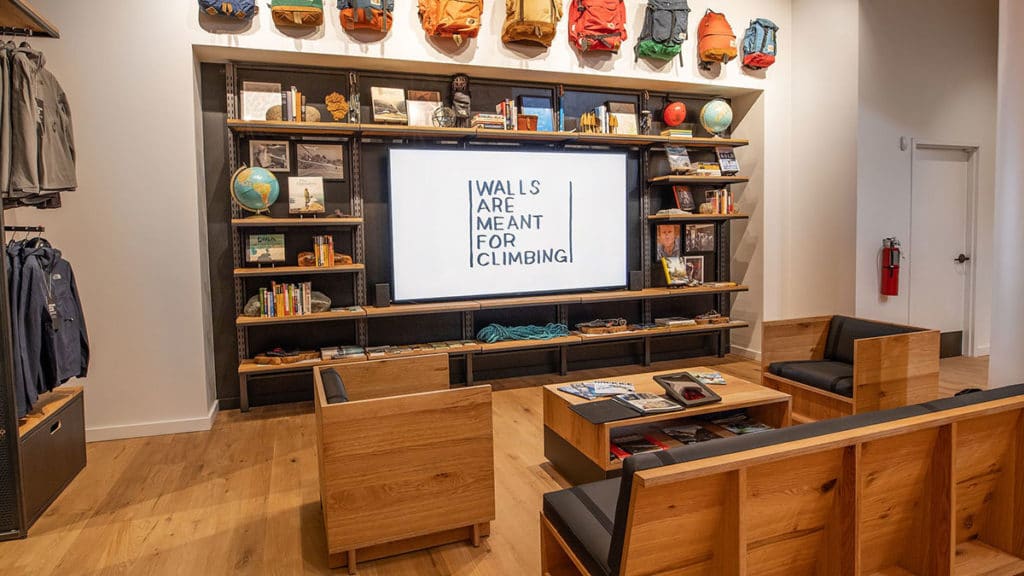 So, you're saying that a shop is not a shop, but a place for a community to meet. Where they can exchange their minds, their opinion, just watch a movie together, connect.
MM: Yes! I could tell you a thousand stories of people making new friends through our Community Program! In our Community Groups, you are sure to find likeminded people with whom you share the same passion for the Outdoors.
In the end, we are successful because of the passion of our Community Managers and Community Members. If you talk to someone who is a snowboard enthusiast, a skateboarder or an Outdoor person in general, they love (and will talk forever) about their passion, whether its hiking, climbing, skateboarding or snowboarding. This passion is behind every product we sell. Behind every jacket and backpack and shoe. It's a culture, you know. It's something that brings people together.
In you could put it as simply as possible, what does the term 'brand experience' mean?
MM: Our team of Community Managers and I take our inspiring campaigns and stories and bring them to life by providing a platform for people to participate. Without this approach, our consumers would be spectators, looking at pages in a magazine or films online. We want to enable people to actually experience our brand stories, The North Face brand, and in turn become a part of it. I believe this is truly important.
---
---
And how does this affect the role of the customer and the brand?
MM: Brand experience is about enabling. In the early 2000s and in the late 90s, brands focused on inspiring consumers. You showed them an advert, they got excited and eventually they went and bought something. My generation, I'm from 77, were educated to be spectators. You watch a movie, and the actor is the star, right? The young people of today are different – they want to be the protagonist – the hero of their own story. They don't want to only be inspired. They want to be enabled. I like that!
So how can we do that? How can I do that? I think the role of a brand is becoming more and more about enabling people to experience something. Especially, with an audience like today's generation that have such a wide choice of options.
How are you solving experiential marketing during the current COVID-19 crisis?
MM: Of course, in this moment, being in charge of events is not ideal in any industry! But we're focusing on how we can make training accessible for as many people as possible, as responsibly and safely as possible.
You have to be flexible and agile in these situations, so we moved our physical touchpoints to a digital channel where people who were locked down could have an opportunity to work out with our trainers. We are using our athletes, influencers and members to help keep our community engaged and inspired. Because as you know, in this situation, staying fit and staying connected is very beneficial. We are using technology to motivate them to be prepared for their next adventure, as soon as we can all start exploring again.
In your opinion, how does Covid-19 affect the outdoor industry in general?
MM: Right now in Italy, we are in phase two*, where people are allowed to do sports outside the home. So I think for us, for the outdoor industry, it presents a good opportunity. Pre-Covid-19, a lot of people used to go to the gym for fitness. Now, in my opinion, the trails are the preferable place to train, to re-energize, to experience nature, and all the while maintaining social distance.
At the moment, we want to support people, driven by our purpose of powering movements and active lifestyles. So how can we enable people to escape the city by themselves? We have the platform and the knowledge. My goal is really to use the network that we have to inspire and enable people to leave the city.
*Note from Editor: The interview was held at the beginning of May when Italy had just entered phase 2 of the corona lockdown restrictions.
The North Face is also communicating "We will weather this storm together" through your online channels right now. What's behind this?
MM: This is part of our Explore Fund campaign. We've launched a 'first of its kind' fund, with 1million euros available to charities and organisations in the UK, Germany, Italy and France to ensure they are able to support exploration when it's possible again.
Do you think that the desire to explore and to go outside does help to create an environmental consciousness in society?
MM: Yes. I see that, in general, the current generation is more environmentally conscious, compared with past generations. The younger generation values sustainability. They value having the least negative impact on the planet as possible.
What is important to highlight here is that although I believe everyone has the desire to explore, not everyone has easy access or exposure to the Outdoors – especially people living in big cities. I think it's important that we make the effort to show people what the Outdoors has to offer and to enjoy the Outdoors responsibly.
For example, what we do quite successfully in our community in Stockholm, is plogging. It's a combination of jogging and picking up trash. Maja Tesch, who is one of our Community Managers there, is a leader in the plogging movement in Sweden. I see this as an important trend. It's an activity that matches physical performance and doing your part.
The result is impressive after one day of plogging / trail running with garbage collecting by The North Face Trail Academy
If we talk about sustainability, we should also take a look at purpose since brand management strategies in the 21st century often revolve around those two topics. What does brand purpose actually imply?
MM: That's a very good question. One of the things that excites me the most about purpose is the chance of doing good and doing well – at VF we call it the power of "AND". As a Purpose Led company, our focus is running a healthy business with a return for its investors, and at the same time, working for the betterment of people and planet, having a positive impact on our society. With a company on the scale of VF, with thousands of employees and touch points all around the globe, we can really enable people to do better.
Nowadays, being a brand is more than a logo on a T-Shirt. Being a brand is a representation of a culture with rituals and with values. It is about having a strong identity. When you walk around with a The North Face T-Shirt, you are communicating what kind of person you are. If you take a look at VF's brands, at Vans, The North Face, Timberland, you'll immediately understand the lifestyle associated with them.
I don't want to imply that brand management is becoming more and more important to guide society. But for sure, it's one important factor. Brands have quite some influence, but also a lot of responsibility. We better find the right spot in between doing good and doing well.
How do you define The North Face's brand purpose?
MM: Our brand ID is: "We dare to lead the world forward through exploration". So, when you see our logo, you will immediately think of exploration. It's not limited to physical and outdoor activities, but actually includes a state of mind.
For me, exploration is the sum of curiosity and courage. Curious people daring to ask "Hey, what's next?". Explorers strike out in new directions, with curiosity, but also courage, pushing them further. Exploration has always been essential for human progress.
So, to simplify you could say that The North Face's purpose is to completely embody exploration. We want to improve the world around us and find new ways to do so. But again, you need curiosity and courage to get to know what's behind what we know already. It means embracing the culture of failure. How many times do you need to fail before you succeed?
---
---
Why do you think purpose is becoming such a big topic today among so many brands?
MM: Take a look at the relevance of sustainability. Today, brands need to be sustainable or else you're out of the market. Being purpose-led is probably the next determining factor. You need to have a voice, an identity. You need to generate disruptive change. I think the consumer is asking for that from a brand.
What role do you feel brand experience and purpose play in the internal culture of the North Face?
MM: We have five internal guiding principles. I have listed them below and explained what they mean to me personally and in my role. The guiding principles are not part of a marketing campaign, but rather part of our brand purpose. Whether you work in Finance, in Customer Service, in Sales, the principles are same for everyone.
The internal guiding principles of The North Face:
Love wild places. Of course, we have to explore and protect our playground. If there's no outdoor, there's no outdoor industry.
Spark curiosity. It's important to be curious. It's an attitude, a state of mind, which is instrumental for exploration.
Dare to disrupt. The North Face has always been bold. You can't be a brand that pleases everyone. If you want to be authentic and true to yourself, you sometimes need to be disruptive. People sometimes need to be shocked about what you do.
Create Community. And this is particularly meaningful for me. The power of being together. In this time of social media, especially in big cities, people don't talk to each other as much anymore – especially new people. Instead we spy on each other through a screen. Through the TNF Communities, we have the chance to connect likeminded people on a regular basis, to actually spend time with them and to make new friends, to go outside, socialize and just connect. That's something strong. That's what I am really proud of. It actually gives me goose bumps to talk about it.
Integrity. Very important. It's self explanatory.
Should employees or candidates thinking about applying at The North Face have an affinity for outdoor sports, for purpose, sustainability?
MM: To be honest, I think that if you work for a lifestyle or outdoor brand you should have passion for what the brand does and represents. In my opinion, only then, will you be able to fully contribute. If you're not passionate about the outdoors, action sports, or whatever each brand embodies or represents, it's not going to work. Either way it is a cool job, you work for VF, it's a great company, it treats you well. But if it's just a job for you, you can work for any other company, for example a bank. I mean, maybe you have a passion for banking and that's the way to go. But if you want to work for the leading outdoor brand, you need to have passion for the Outdoors.
---
The North Face® is part of VF Corporation one of the world's largest apparel, footwear and accessories companies connecting people to the lifestyles, activities and experiences they cherish most through a family of iconic outdoor, active and workwear brands including Vans®, Timberland® Eastpak®, Kipling® and Dickies®.
Our purpose is to power movements of sustainable and active lifestyles for the betterment of people and our planet. We connect this purpose with a relentless drive to succeed to create value for all stakeholders and use our company as a force for good. For more information, please visit vfc.com.