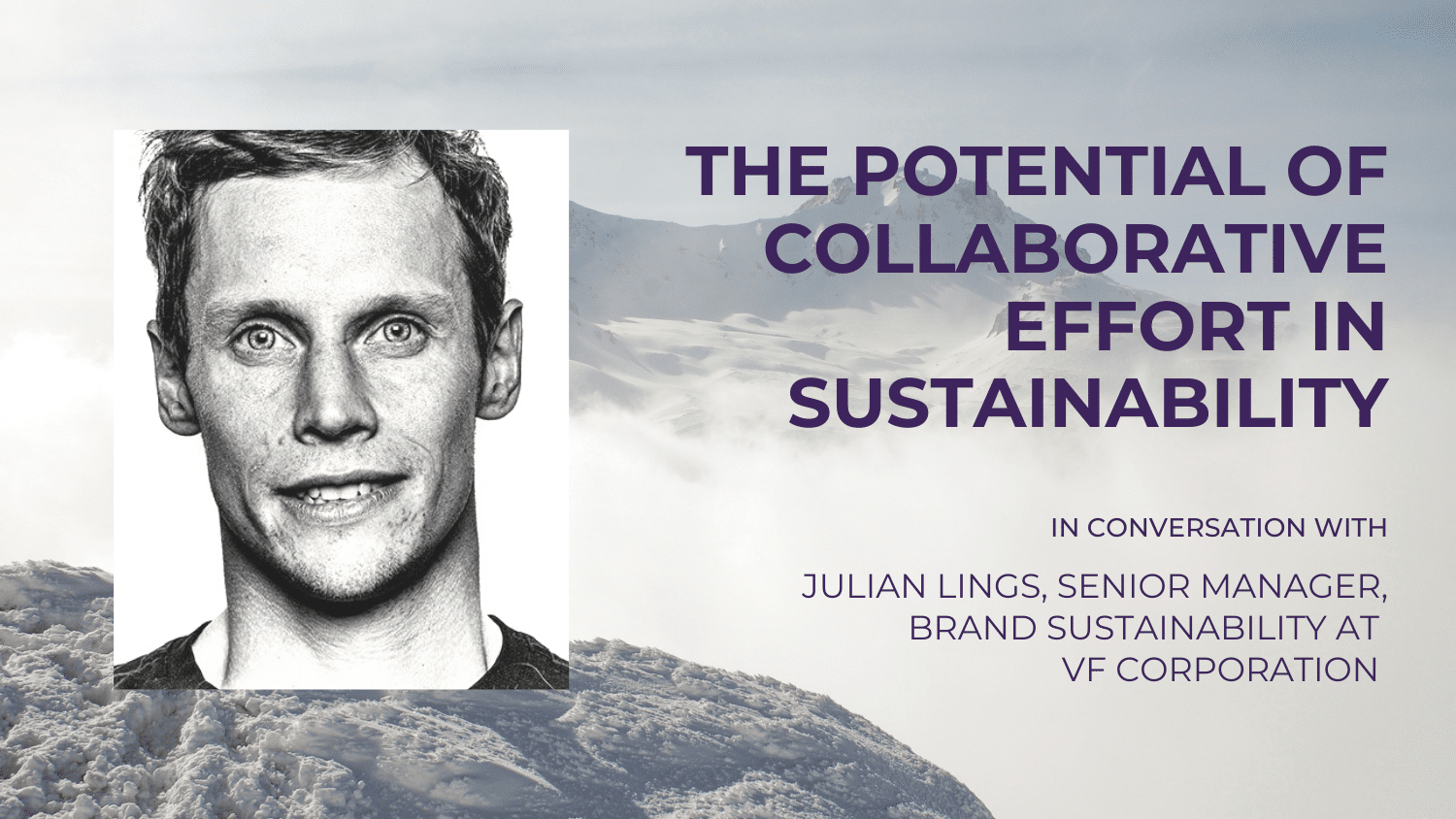 Wouldn't it be nice if outdoor brands shared concrete strategies on doing good for the environment? Sharing insights into new technologies of producing materials more eco-friendly? Together, ensuring that carbon emissions decrease a lot faster, and product development becomes more and more sustainable to combat climate change.
It's a mission already realized across nations, with The Paris Agreement bringing them together for a common cause. So why not integrate shared goals into businesses as well?
Of course, the logical (or economical) answer seems to be that companies won't share their business advantages. In 2021, it's more important than ever for brands to behave environmentally-friendly to strengthen their customer relationships, with consumers favoring products which meet their own requirements of sustainability. A shared-value approach that is uniting businesses with sustainable and community-building progress.
Having a thorough sustainability strategy set up is creating a competitive advantage – giving that away doesn't appear to be in line with capitalism. Nevertheless, it might be a great chance to achieve a bigger impact in bettering the world. But is it merely a fantasy?
Who better to ask than the outdoor industry itself – or at least, key players in roles having the power to make change happen. One of these people is Julian Lings, Senior Manager, Brand Sustainability at VF Corporation. He makes it clear that the necessity of partnerships has long since reached the outdoor industry. Be it under one roof at enterprises who are uniting brands for common sustainability goals, or industry wide, with brands coming together for the good cause of bettering the world in the European Outdoor Group. So, what is happening in the world of the outdoor industry? Giving us an insight into the walls of his own work, we asked Julian to shed some light on the change happening in the industry.
Building sustainable businesses across brands in an enterprise
In the last years, we've seen companies putting sustainability on the top of their agendas, publishing ambitious goals in reducing their carbon footprints, choosing responsible manufacturers, focusing on recycled and reusable materials, and designing with circularity principles in mind. Of course, so does VF Corporation.
VF is one of the largest apparel retailers in the world, leading the way in cross-brand sustainability strategy in the outdoor industry. In total, they unite 13 brands under one roof, outdoor being one of their main sections with brands like The North Face, Icebreaker, Smartwool and Timberland. Under the motto "We are made for change", VF is looking for a way to improve people's lives and make the world better, with the necessary power and influence only a company of this size and (wo)manpower can have. Uniting brands and respectively their consumers for the same goals, creating shared values. Their shared sustainable practice makes it possible that those brands enable each other while staying true to their own identity, reach bigger successes in acting sustainable – or with purpose – together instead of alone – and at the same time, generate a better revenue.
In 2017, they decided to transform from linear to circular production. Realizing this for 13 brands simultaneously, that's a change happening on a grand scale.
To ensure that their goals are met according to their plan, VF is acting on two levels: Brand and Global. Each respective brand sustainability teams take care of improving the environmental impact for its brand, focusing directly on the aspects that concern each specific brand. The global sustainability team supports each brand team and keeps track of the overall process across all brands and corporate-wide. A must if change is supposed to happen: "The goal of shaping a sustainable future for people and the planet is going to require radical changes, from government policy, private and public finance, to the way that we do business every day. For business, those changes won't happen by individual functions acting in isolation. The systemic changes that are needed will require a business wide response that brings together the skills and expertise of all functions to shape the sustainable future that we must strive to create." (Julian Lings)
When actual change happens: Reducing the carbon footprint
A concrete example of what they have achieved in the last years is their collaborative effort of reducing the carbon footprint. According to Julian, "60-80% of our carbon emissions are produced in material processing and product manufacturing. How material is made into products. Consequently, one of our main goals is shifting to materials with a low carbon impact. For The North Face, it is polyester and nylon, where we prioritize recycled materials. For Smartwool, it is about transitioning to recycled or regenerative wool. Each brand has its unique targets."
One of the most important materials to focus on for most brands is cotton. Around 50% of all textiles world-wide are made from its fiber. Unfortunately, conventional cotton farming processes are a significant contributor to biodiversity loss, soil erosion, and carbon emissions. With 1.5 million units of apparel and footwear produced by VF's brands, this is one of the biggest chances to deliver results by collaborating to meet their targets until 2030. That's why they are changing their course from conventional farm methods to innovative ones.
"Soil acts as a vital carbon sink by sequestering carbon into the ground. Normally, conventional farming and agriculture is responsible for a significant amount of greenhouse gas emissions. However, regenerative farming solutions allow us to turn it around by enhancing soil carbon sequestration, for example, by no-till farming technique, or enriching the soil with compost.", says Julian.
A development of new cultivation, especially with exchanging synthetic fertilizers with organic compost, results not only in better soil health and biodiversity, but also offers the tantalizing prospect of having a net carbon positive impact. Obviously, this isn't done by VF alone, but in cooperation with responsible manufacturers and companies that focus on developing innovative ways to act more sustainably.
When companies come together, change happens
Or how the popular saying goes: "Alone we are a drop, together we are an ocean".
What we can learn from the example above is that the moment that brands are focusing on partnerships outside of their own walls is where the collaborative effect is becoming clearer.
"Using our scale for good is intrinsically linked to a recognition that despite our size, only by working in partnership with others can we truly leverage our scale to address the biggest challenges the world faces. Breaking new ground on sustainable innovations such as regenerative agriculture can only be done by cultivating partnerships with NGOs, companies, and external experts." (Julian Lings)
A great example would be the development of The North Face Cali Wool Beanie project. This project was the brand's first foray into regenerative agriculture and was only made possible through their partnership with Fibershed – a non-profit that develops regional and regenerative fiber systems on behalf of independent working producers. The growing and sewing took place regionally in California, bringing it back to their North American home. As a so-called "bioregional garment Project", regional fibers are integrated into the existing global textile supply chains, which are normally dominated by foreign manufacturers.
The partnerships from brands with NGOs allow for embodying an all-encompassing approach of environmental values and social responsibility. Adding an important step to the ladder of product design & manufacturing, which starts way before recycling and reducing, or creating awareness for environmental products. It's a necessity to truly turn the outdoor industry around, not only on the outside, but inside its core.
From competition to collaboration – for a sustainable future across brands in the outdoor industry
Now that we have seen what is possible for one company and its partners alone, the question is: Will there ever come a day where competitive outdoor brands act together to make a change? A question that we want to direct to Julian: "Definitely. Collaboration between brands has been well-established in the outdoor sector for many years. We've been collaborating on a range of subjects, and the output of that work has been very important on specific topics. For example, the outdoor brands in Europe came together on the issue of microfibres, and helped to establish The Microfibre Consortium which has since become one of the leading organizations on textile microfibres. Similarly, these same brands have come together more recently to establish the Single Use Plastics Project to accelerate the work being done to address this critically important challenge."
The collaborative approach cross-industry and on a global level of The Microfibre Consortium and Single Use Plastics Project accelerated the progress of research and development, which couldn't be done on this scale as stand-alone companies. A positive outlook for a near future where sustainability becomes at least as important as creating revenue. It's a way of changing the industry as a whole, with VF being a strong pioneer pointing in the right direction.
---
Other posts you might like
The Power of Identity and Purpose at The North Face – an Interview with their Brand Experience Manager Marco Mombelli
05th July 2020