Creating an application photo is at least as hard as choosing the perfect clothes for a job talk or composing a compelling CV. But in the last years the public opinion towards profile and application pics changed a bit, that's why we are giving you a resume on what really matters nowadays:
 Do you really need a picture? 
 In times of equal treatment laws HR representatives are prohibited to judge candidates in regard to their age and gender. This means that you don´t need to upload a picture or just take any pic you like, e.g. the nice one from your last snowboard-trip. But unfortunately it is not that easy, since an appealing photo is likely to set the course for your dream sport job. None of the HR representatives would actually admit it, but we are all aware that the first impression might be a better one with a picture as only by bare facts – right?
Professional doesn´t mean professional
 That means that one the one hand you shouldn´t upload the pic you took with your mobile or helmet-cam, but on the other hand it doesn´t need to be taken by a professional. What counts is that you have a concrete idea of the pic and in case of doubt have some photoshop skills. Then your pic can also be made by a friend with a good camera and tripod. Who has some deficit in creativity or no photographer-friends still has the opportunity to entrust a professional. But be careful – a lot of unaware people have already been forced to the thinker's pose or autumn leaves backgrounds.
(No) More Drama, Baby!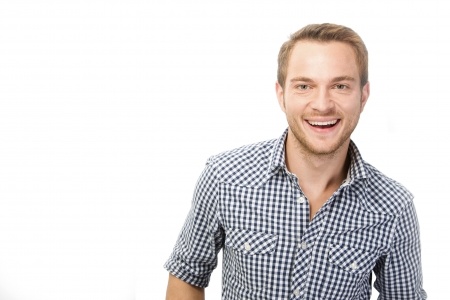 Typical application pictures with a "diagonal with a little twist from the right smiling towards the observer"-candidate are out of fashion. What really matters is authenticity, that's why it is really important that you feel well with your clothing and the setting. This also is another reason to ask friends to make a few shots of you. According to branch and sport job the picture may be taken outside or in action – it just needs to reflect you. If you choose portrait or landscape format is totally up to you.
This as well counts for clothing. Especially in the sports industry you can choose casual (but neat) clothing. A lot of experts advise against colourful clothes, but we can´t agree to this. If a multicoloured shirt polishes your picture then just wear it! When it comes to the style of the background there are countless opportunities: coloured, black and white, blurred, sharp, bright, dark, single coloured…
One fits all?
 Sure! We are the Web 2.0 generation and profiles on platforms like LinkedIn and Xing are not compulsive but might be helpful in landing a sport job. And, once you took a good application pic, of course you can use it for all your online profiles, for instance your Sportyjob profile. One advice: Usually upright pictures are displayed larger and therefore are more likely to catch someone's eye. And please don´t use pics which could be embarrassing in future. Google saves all and you really don´t want your future boss to detect the picture of you and your dog Lucky in grandma´s backyard.
In a nutshell creating an application picture is no rocket science. Always keep in mind that this picture needs to represent you and try to have fun while taking it – then for sure it will be perfect!