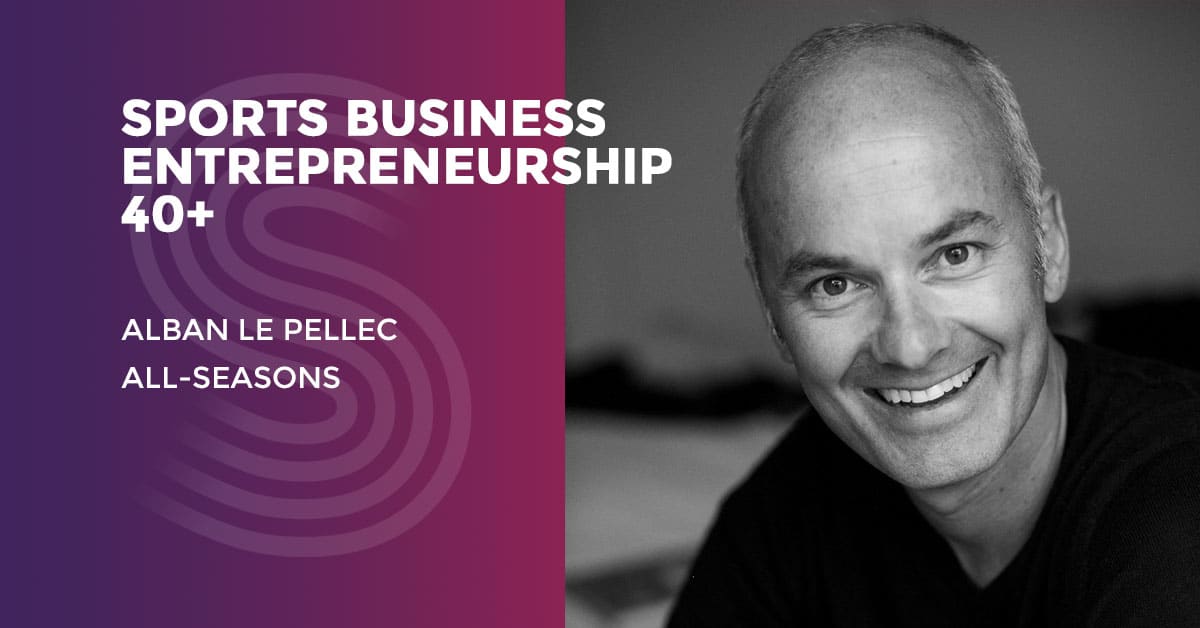 The sports sector is entrepreneurship to its core. As a quick evolving industry, it is marked by innovation and change, an ideal breeding ground for new business ideas.
Even though the sports sector is known as quite a young industry, with a lot of entrepreneurs being in their twenties, there's actually a significant number which is older than 40. To give you two well-known examples: Dietrich Mateschitz founded RedBull with 40. Bill Bowerman was 53 when he co-founded Blue Ribbon – which became Nike when he was 60.
While we associate young minds with freshness, innovation and braveness, all key factors for creating something new, middle-aged people tend to bring qualities that younger ones lack. Because experience counts. Entrepreneurs who have worked in the same field as their start-up were found to be 125% more successful than those without a background in their chosen sector. Not only do they have the skills and the network, they have the vision and experience on how to lead a company in the right direction, how to obviate classical pitfalls and how to make a tough decision when it is needed.
We feel that it's time to introduce you to more entrepreneurs 40+ in the sports industry which is why we started an interview series with different business founders on their career and their views on entrepreneurship.
In part one, we would like you to meet Alban Le Pellec.
Introduction
Your Job / Company Name:
All-Seasons. I'm the founder and General Manager.
Your Field of Profession:
I have 20 years of experience in Marketing, Sales, Management and Top Management.
Your Business (Idea) in 2-3 Sentences:
All-Seasons offers expertise in Consulting, Distribution and Services for sport brands willing to develop their European business. We've got internal and external experts to establish and expand your brand awareness and sales.
Careerwise, what have you been doing before you got self-employed?
I started my career in sports marketing before changing to Sales. Then I took my first step in the outdoor industry where I gained a lot of experience thanks to eight years at Millet, and after that evolved in the American group, Wolverine Worldwide and its sports division represented by Saucony and Merrell. For more than 9 years, I held several positions as Key Account Manager, Sales Manager France, Country Manager, and at the end, European Strategic Director.
During the last period, I served as President of the Outdoor Commission of L'Union Sports et Cycles, the French Sport Industry representation.
When I got the opportunity to work as CEO for an eye-wear company, I made the transition from sports to fashion. A position I held for two years. During this time, the desire to return to the sports and outdoor world got so overwhelming that I took part as a Mentor in the world's first innovation hub Le Tremplin (Paris&Co). Then very spontaneously, in January 2020, I decided to set up All-Seasons.
What was your motivation to start your own business?
All-Seasons was born out of a need to support sports brands which have the wish to develop in the French and European sports market in a very pragmatic way. Concretely, All-Seasons takes its roots in years of exchange with Mick Midali, my partner in this adventure. There were needs and missing solutions in the market and we have decided to respond by combining our skills.
With cash being the key, it is important to combine the strategic vision with a rapid but sustainable implementation. And it is on these axes that we position ourselves. Nowadays companies must operate with agility and All-Seasons is there to help them succeed. We are guiding companies in their development of Sales, mostly in France and Europe, but also in North America thanks to our partnerships with Global Sales Guys. At the same time, we guarantee to respect and maintain its brand values while aiming for a higher profitability.
How do you move from an idea to a successful business?
With more than 20 years in the sports industry in different job positions, I know this market quite well, so the idea was evolving for years. To move from this idea to the launch of an actual business, that's a question of developing a concrete business plan which helps transforming the idea to reality.
Now it's up to us to convert this into success, even though the recent crisis [Covid-19] might jeopardise our agency's growth. But we think that the economical change happening due to Covid-19 can also be an advantage for us, showing brands that they have to rethink their current business model, their structure, their offers. And our expertise can help on this new journey.
What, in your opinion, makes a successful entrepreneur?
I don't think I can explain what makes a successful entrepreneur, because I am only at the beginning of my story. But in my humble opinion, I am sure that expertise helps a lot. Commitment. Vision. Also, a clear positioning. Those are key elements.
How do you think is it different to start an entrepreneurship 40+ than in your twenties?
It's clearly a different situation. At 20, your start-up is based mostly on ideas. And you can start it carefree, because normally, there's no real financial risk.
At 40, with a family to take care of, you take bigger risks, but you have one strong advantage which is experience. And the success percentage is often higher for experienced people which researchs confirm.
For a lot of people, the fear of failure is the reason not to start their own business. What would you say to someone to convince them to go through with it anyway? Which impact did fear have on you?
Fear is an unpleasant emotion that emerges when you are worried or threatened by something dangerous. That's why when you start your project, a solid business plan is mandatory. If your plan is well prepared and financial forecast not too optimistic, more realistic, you know where you're going. The danger becomes smaller and fear vanishes.
However, the fear is always present, it's a motivation for an entrepreneur. You convert it into motivation.
For sure, you feel it stronger some days, and it's not pleasant, but it magnifies your happiness once you succeed. Working hard for something we don't care about is called stress. Working hard for something we love is called passion.
How is your daily life as an entrepreneur?
An entrepreneur doesn't really have regular office hours. There is so many things to fix, so many projects to follow, so many issues to resolve. We think, we live, we dream with our business in mind all the time. Our days are all different, so organisation is important and finding the time to step back to take in the overall situation is essential. An entrepreneur has to switch from one topic to a totally different one all the time.
Personally my office is at home, so I've dedicated a room to work away from my kids, and spend hours on visio-conferences. The days I am not sitting in front of my laptop at home, I am traveling to visit my teams, partners, fairs or retailers.
What's the biggest reward(s) of having your own business?
The reward, the recognition, is something personal. Each person has different goals in their life. For an entrepreneur every single success of the company feels like your own. It's the advantage of this position.
For myself, I set up my agency to have the liberty to choose the brands I want to work with, I want to share the same values with my partners, and have more freedom in my day to day job. My biggest reward would be to work with great sustainable brands and make them successful. It would also help a bit to protect our planet.