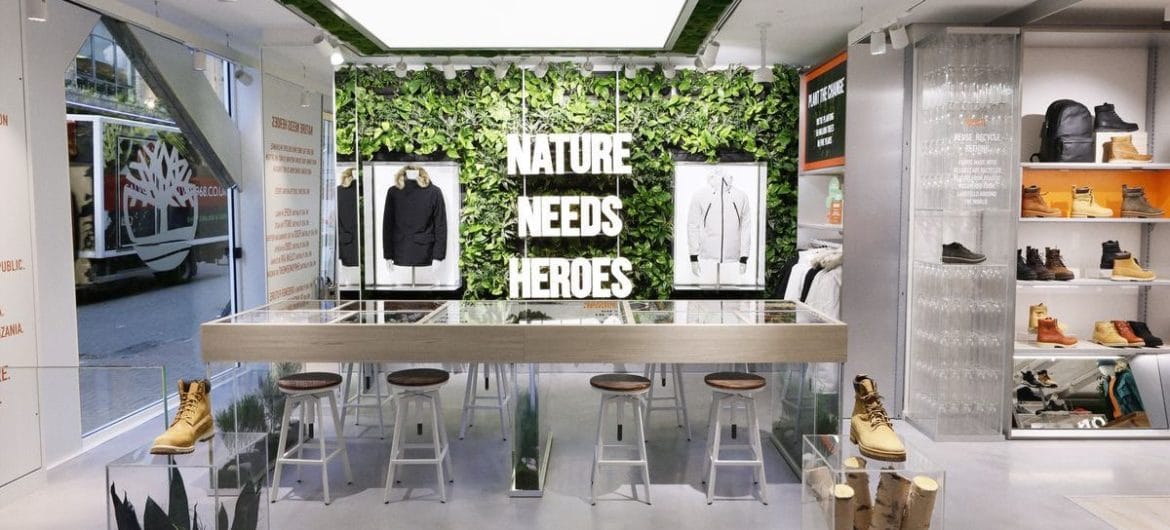 What does it take to be a Flagship Shop Manager? An interview with David Brown from Timberland
There's three things about working in retail that you can learn from David Brown:
Managing a retail team only works when you see yourself as one of them
The right attitude is more important than experience
Purpose in your career can influence your whole life
As General Manager of Timberland's new Purpose-Led Flagship Store in Carnaby Street, London, David Brown is responsible for 241 square meter retail space and managing a team of 24 to ensure the smooth operation of the daily business. To maintain this, his management and interpersonal skills need to be over-the-top – and here's why: A flagship store is the leading store of a brand. Even though the typical KPIs like sales or turnover do matter, the main focus of the flagship store is on drawing attention and visitors. Thus, transforming it into a showcase with an extraordinary shopping experience.
On one hand, this is achieved through a special interior design and a wide range of products. On the other hand though, the realization happens thanks to a high-quality team which also act as ambassadors for their brand.
The store and its employees are so to speak a prototype of retail, making David an experienced and valuable interview partner to get an insight into the career of a Shop Manager.
In this interview, we talked with David about his work at Timberland's new Purpose-Led Flagship Store, his managing skills and – important enough – purpose.
Dear Readers, please meet David Brown.
So, David, you're managing quite a big team.
I've got a team of approximately 24 at the moment. 4 of those are managers as well, so making sure that the delegation is handed out to the right managers in order to keep a smooth running operation of the store. Everyone is working on specific job roles that are required to complete a regular working day.
And what makes your team stand out? How would you describe it?
It's very important for it to be family-orientated, because if you're spending up to 40 hours work with certain individuals. You're probably spending more time with them than you're at home. The family atmosphere is very important, because I am a great believer in leading by examples. Whatever I do, I would expect my team to be up to the same thing. So family atmosphere is important.
Talking about leading by example – which example do you give?
I love to give the most basic. We all use the toilet. We clean the toilet. I will mob the floors, so it's never going to be something that I expect my team to shy away from. Because I am part of the team. So that is my number one example, it keeps a clear message that I am prepared to do anything that I would also ask them to do as well.
That is quite important and they probably appreciate it a lot.
I think it's important because gone are the days where managing staff exempts you from doing the same work as the team. I am very much a team player and that is how we get positives on the day. And ensuring that everyone is on the same page.
Does it create a community?
Well, right now we have a big community in the store. We go out and work alongside charity shops, getting involved with any events that are happening in the local community. My role then tends to bring that community spirit within the store. If you lead by example, the team pretty much follow suit with that.
It's also something Timberland represents, the community spirit that the brand lives in their sustainability projects.
We live and breath that. Last night I was in my local area where we are re-greening the area. The turnouts of 500 volunteers turned up yesterday. And they finished it up with a live gig from which again brought a lot of the community together, so we can reflect that with the store as well.
Jumping back to 2015: What was the motivation back then to apply for the role as Shop Manager at Timberland?
I felt that I needed a change. I have been with my previous employer of work for 15 years. I needed to take on a challenge, and knowing certain individuals that were happy in a – we call it a big peoples-company – it's.. you're not serving kids, you're serving professionals, you're serving individuals from multiple components of life. And that really interested me. My aim was to go to a company where customer service was customer service. Being a manager you had the autonomy to do things in the store and be able to see the benefits from the work. And that's what Timberland really stood out for for me. Also, being part of VF Group. Understanding how big the corporation was… we could literally do anything.
So did you find the challenge and the purpose in your job at Timberland?
Timberland has really opened my eyes in terms of purpose and how we bring it directly to the stores where we are selling on a day to day basis. And how we connect purpose to the customer.
Purpose has allowed me to switch from driving a Diesel Car to an electric car. My emissions is zero. And I've looked at my household where we have caused a minimum at emissions. We recycle. Food, waste, cardboard, plastic. So that's some of the things that really have been influenced by working for Timberland.
Just to make a quick excursion, I had an interview with Alicia Pinckney, Designer @Timberland, and she actually said something similar: That she found a purpose in her job and a change in her lifestyle when she started working for Timberland. Which I personally think is amazing as it is something a lot of people aim for.
It's definitely been life-changing because you're comfortable, because you can see what the company's philosophy stands for, where they want to take it. If I give an example, theres not one down-feathered jacket in my store and we have some fairly big jackets. It's all recyclable materials. So in-sync with what I do at home, what I do when I'm coming to work, what I do at work, for me, it's like a cycle, for me being as green as I possibly can and Timberland has definitely kickstarted that.
And do you think you influence Timberland in return as well?
Definitely. I am in a unique position being in a flagship store. You're able to talk to various levels in the business. They definitely listen, because it's important. And if you feel that you been listened to, it also inspires you to do more things and to feel good by it.
Looking back on your own experience, if you had to give advice on how to achieve a career at a Flagship Store, maybe even as a Shop Manager, especially for Retail or Sales experienced candidates who would like to reach the next level. What would you say which qualities are absolutely essential for your job?
I think you need to be very open-minded. You need to come to a company like Timberland knowing that the level expectation that is needed has to be grown from within. You've got to be prepared to make changes, be prepared to evaluate what you've learned previously and how you can have the right attitudes which is what's going to be needed. And once you have that, you've got the foundation.
Do you think a Shop Manager should always have been working in retail before?
No. I certainly don't. That's qualities that you can also bring even without the retail experience. And still can make a big difference in the store. I think gone are the days where one has to have 100% retail experience. It's the right attitude and what they can bring to the team or to the store. You've got to be open.
Always. And good with people probably.
Yes, definitely.
---
The article grabbed your attention and you would like to join the Timberland team? All jobs from Timberland can be found at their company profile and the Timberland career portal.
Editor's Note: Timberland is part of VF, the the global company behind around 30 of the world's leading sports, outdoor and lifestyle brands.
Timberland ®'s dedication to make quality products is bringing outdoor adventures within your city lifestyle. A global leader in premium-quality footwear, apparel and accessories that is equally committed to environmental and social responsibility