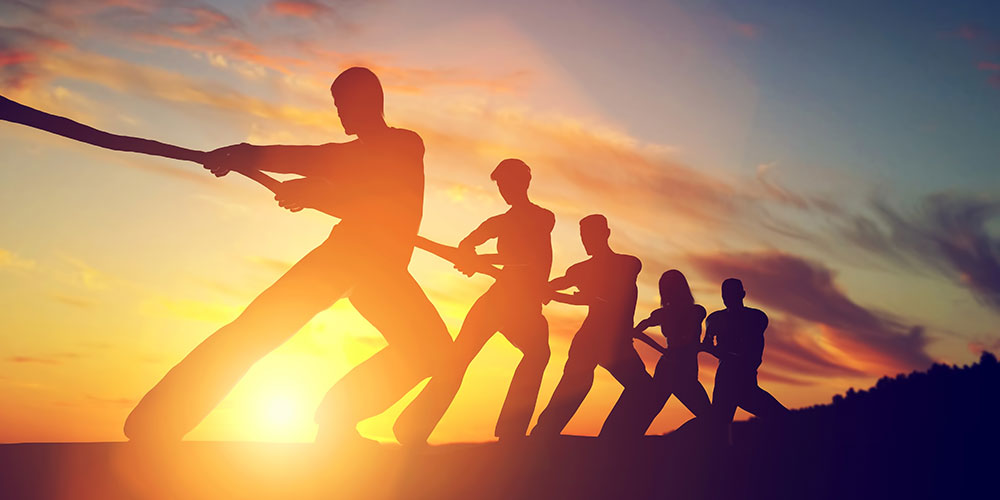 Our life is a huge compromise in almost all things. The partner we choose, the town where we move to and as well our job, that provides us with the money to survive. Since humanity always aspires happiness, we try to find the smallest compromises to create our life at least a bit how we imagine it to be. That also is crucial when it comes to our sports job – before deciding for a career we have to consider many factors like payment, education, place of location. Since we spend around 50 years of our life with working, the job-decision should be taken deliberately so that we can spend these working years as good as possible.
The easiest way to make a good decision? A pro and contra list! Here's our version of it to see which advantages and disadvantages a career in sports provides!
The advantages
The sports industry is blooming
The sports market has been growing significantly over the years and is expected to develop even further. The reason is – simply put – the steady popularity of sports (and esports) events, and with it, the brands, products and companies that are part of it. Due to esports, digital revolution and even politial situations (like the evolution of diversity and gender-specific & gender-neutral events), the sports industry is facing opportunities instead of threats. As a consequene, companies and brands have the chance to increase their revenue which results in a higher demand for employees.
After all, a successful business means a safe working space – and one which allows development for yourself inside the company.
Investing time in something that you love
Who decides in favour of a sport job already does a big step onto happiness because there is nothing better than transforming the hobby into a job, right? Right! As a matter of course, a 100% willingness to support the brand, sports or agency you are working for is much easier if it is part of your spare time – or personal life – as well.
Normally, if you apply for a sports job the reason behind is not simply the field of work which suits your CV, but probably the identification with the brand. In everyday life, this will give you a proper motivational boost to do your job well and to even result in enjoying it more.
More than just colleagues
The teamwork with sport job-colleagues is also pretty laid-back, since all have the same passion and therefore there is no need to break the ice first. How can we be so sure? If you check the job descriptions at Sportyjob, you'll notice that apart from hard and soft skills, most brands are actually asking for an interest, knowledge or even practicing of the sports that they are related to.
For instance, if you want to work at blue tomato, Atomic or Salomon, a passion for ski or snowboarding is a must. komoot? Biking. Boardriders? Surfing. Mammut and The North Face? Hiking. You get the point.
Even if you aren't the same age or don't seem to have much in common, there's always a link between all of you. As a result, the office atmosphere is always a little more familiar and personal than in other industries.
Being in the centre of sports
Really amazing about sports jobs is, that (according to the field you are working in), you are close to your idols, this may be either professional athletes or celebrities of the sports industry. Jobs at sporting events, for example, are normally an entry-card on meeting athletes. On the business front, sponsored athletes are normally invited to visit the headquarters every now and then. Just check adidas if you want to know more.
Furthermore, it is advantageous to get tickets, gear and clothing (that you would have bought anyways) either for free or at least, with a discount. Neat!
And last but not least: Working in a sport job is absolutely wicked!
The disadvantages
Overtime and weekend shifts
How already mentioned at the beginning, there are two sides to every coin. Sports jobs quite often are associated with long workdays and weekend-work. This, of course, depends on the field you're working in.
Since events, competitions etc. predominantly take place at the weekends, everyone either working directly for the event, association, club or as a sports journalist or a PR agency, is going to face work on the weekends. Also, whenever an event is coming up, it normally means a lot of unpaid overtime hours due to the big amount of organisational tasks which come up right in advance.
Same goes for jobs in retail: If you choose to work for a sports brand in retail, it might be that you'll be facing 6-day-weeks and long working days.
We know this doesn't sound really good, but don't be discouraged! Of course not every sport job condemns you to do unpaid overtimes and there are others which reimburse the extra effort extraordinarily well, but unfortunately this is not the majority.
Average payment
When it comes to money you will have to cut back your prospects because the basic salaries of sport jobs in general are not as high as the ones of comparable jobs in other sectors of economy. While sports clubs and teams offer over-the-top-salaries (but only few jobs), payment in the field of sporting goods is very average. So, if you're "doing it just for the money", a position in banking or IT would probably be a better choice.
As we all know, demand determines supply – that means that sportjob-companies can define lower wages for treasured sport jobs. This may be traced back to the fact that sport jobs are really popular and therefore there are a lot of potential candidates
But isn't the abdication of money worth the feeling of getting up in the morning and looking forward to working in a sports job, where you will have fun and can enjoy your passion day by day?