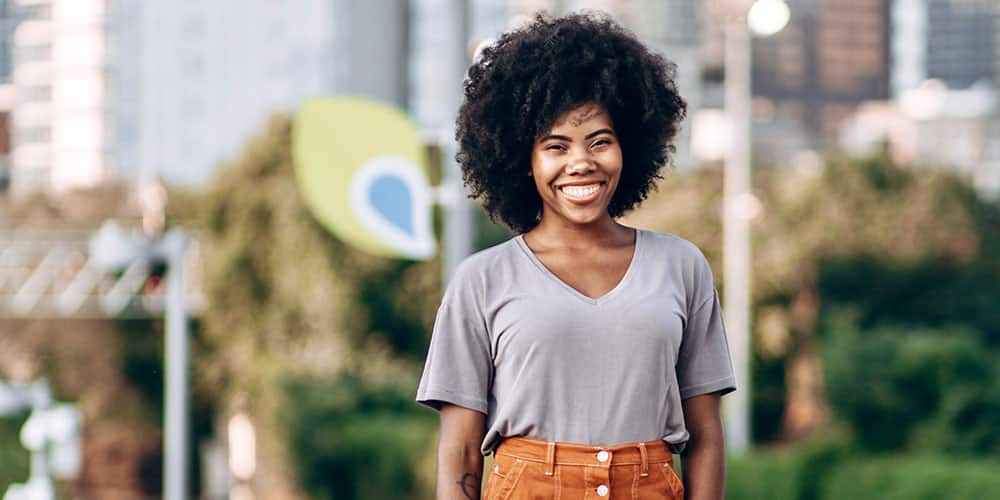 Meet Alicia Pinckney: Designer at Timberland
Passionate, creative and a very contagious smile: That's Alicia Pinckney. The Men's Apparel Designer of Timberland heritage talked to us about her career, what inspires her and the possibilities for sustainable solutions of sports fashion design.
Sportyjob: I've seen you had your 2 years anniversary these days. Congratulations!
Alicia Pinckney: [laughs] Thank you!
SJ: So, how have your last two years at Timberland been?
AP: I feel like these last two years have gone by so quickly! I've joined the team together with a bunch of new people, so in a sense, we kind of build the brand up again with a completely new team. With that in mind, there has been a lot of evolution, a lot of structure changes, just a lot of things happening in these last two years. So I think that's what made it go by really fast! I've just been keeping up with everything that has been going on. I like fast pace and that's what Timberland has been. It's always been open for change and constantly evolving to something new. So it has been a very interesting time in my two years here, meeting different people, traveling to different places around the world.
SJ: Is it something that sparks your creativity, going so fast pace?
AP: I definitely think it is! Because for me, if I feel like I am stagnated or anything isn't happening, my creativity can lie dormant. But if you have something that is stimulating you, like going to new places, being exposed to new cultures, that keeps the creativity and juices flowing. Whenever we design for a new season, we are always traveling – I can say that it definitely helps with the creativity.
---
If I feel like I am stagnated or anything isn't happening, my creativity can lie dormant. But if you have something that is stimulating you, like going to new places, being exposed to new cultures, that keeps the creativity and juices flowing

Alicia Pinckney
---
SJ: Let's go back two years. Do you remember your first product that came to store?
AP: Yeah, actually! When I first joined the team in July 2017, I immediately started working on a collaboration project with Christopher Raeburn. Then, around June 2018, it was presented at the London Fashion Week. It was our first time having a Timberland product on a runway during fashion week. So that was something! I was like: "Wow, I just started and I already see my stuff!". Normally, when you start at a company, it takes a while to actually see your designs in action, because of the timelines we are working on.
Another few months later I saw it in our Flagship Store in London in Regent Street, which was very cool and very exciting! And when I went back home to America, I went into the New York store and I saw that we had a popup store based on showing this product, because this project was so significant for sustainability. You see, Christopher Raeburn is all about reuse, reduce, recycle and circular design. And our product was basically that. We made sure that all of our cotton that we used was organic, any part that is possible can be recycled. It was basically like a very closed circular collection. The intent was reducing waste and making use of waste, everything we used from very sustainable resources.
SJ: Talking about sustainability. Timberland has been doing a lot to reduce the carbon foot print of the fashion industry. One of their goals is to reuse 100% recycled materials until 2020. What is your role in reaching these goals?
AP: We've been training a lot on circular design. I am not sure if you're familiar with that. You look at design in general, normally it's very linear, we pick up a resource, we use it and then it's wasted. And no one does anything with the waste. But the concept of circular design does. You start with the resources, make fabric from it which – after the consumer uses it – can be remade into something else and can go back to the beginning loop of the resources. It can be regenerated for something else. So, we should eliminate our carbon foot print, not have so much waste. A lot of our decision making also depends on: ok it can be repaired, so the customer doesn't have to throw it away. Which is a big factor. Or we also can choose things that are already recycled, for example, companies using recycled nets from the ocean. It's about doing the research, to take waste and making something out of it. So it's a lot of thinking what we're doing and honestly, out of all the big companies that I've worked for, Timberland is the most aware in the details to help reduce our carbon footprint.
SJ: How does sustainability influence your designs?
AP: I feel that it influences my way of designing in the way that when people think of me as a designer or like when you think of the idea of any designer, you automatically think of fashion, trends, that's it. But for me, I think, having this whole topic of sustainability in the forefront of my mind, I am not just chasing after fashion. I am chasing after what makes a change for the world. I know it sounds a bit cliché, but if you only stay relevant with what's happening in trends, honestly, a lot of trends aren't that great for the environment. So, it really changes my way of designing, because I am not really trend and fashion focused, I am more purpose and function focused.
---
I am not just chasing after fashion. I am chasing after what makes a change for the world

Alicia Pinckney
---
SJ: So, you don't only have an impact on Timberland's design, but it also has one on you!
AP: Yeah, I can definitely agree with that. It feels like it gives you a sense of purpose. Because I feel that when you're designing with not having anything in mind other than creating a garment that someone looks nice in, you kind of feel – I don't know about anyone else, but for me – I kind of feel empty. Because this is what I am contributing to the world, that is my purpose.
When you look at the DNA of Timberland and the fact that we're trying to do good for the world, while we also do this creative part of designing, you can feel a bit a balance of your fulfillment. Because you're doing creative stuff, but you're also doing something that is going to actually make a difference. Instead of just filtering the world or just oversaturating the world with garments, garments, garments, we're trying to make a difference. Because of course, garments will always be a part of our life here, but if you can do it in a way you're not killing the world, you feel a sense of purpose, of personal purpose.
SJ: Finding this fulfillment as an employee must be extraordinary for you, because before you were freelancing, you had your own brand GLEON 1938. It probably must have been a big change when switching from your own products to representing a brand. How is it different when working for a brand than doing your own products?
AP: I think it's completely different as you are working collaboratively. Everything is build off of a team, from the initial ideation of the direction for the season to working with different partners to help to complete the collection. Whereas when I was working on my brand, I did everything on my own. I cut and sewed, and created my own patterns. I was connecting with different creatives, from my photographers to models and event creators for whenever I did fashion shows. At Timberland, we're involving another community of manpower to help get the brand globally reached.
But what I definitely think is the difference when you're working for a brand is, not only do you have the financial support, but you can actually make a global statement when it comes to being sustainable.
But I really think you can take your ideas and your mindset from working on your personal brand and bring the two at a larger scale when you're working collaboratively with other designers. You can really see how it can become something big.
SJ: Would you say your old designs have become a part of your new work as well?
AP: I can definitely say that. For me, I have always been into function, as I mentioned before. Growing up, I have always been into maths and science. I was really into engineering throughout high school. And when I decided to pursue fashion design, it was another way to let out my creative side. So when I was designing personally for my brand, I did a lot of things that required a lot of function. So, for me, I used that same way of thinking coming from Timberland. Whenever we design something, we always design with a purpose. Whenever we present something, we can't just say "Oh I did this pocket, because it looks nice". We have to have a true reason why we did it. Especially, for me working off of the heritage of Timberland, we defined our customer and our customer loves function. Our customer goes outside a lot. so, you know we need to be able to equip them with anything they'll need, whether it's multiple pockets or a reversibility or whatever. Every detail that he can use when he's outside. so for me, I was able to translate my functional way of thinking to Timberland.
SJ: Looking back, what is your favorite part of being a fashion designer?
AP: I have so many favorite parts of being a fashion designer [laughs]. First, I would say the traveling is one of my favorite parts, because I love to travel and I am really really excited and grateful to have a job that allows me to travel. Seeing different cultures, seeing different things that help inform your collections.
The second thing I can say is when you actually get the garment, because you spend so much time sketching in 2D or sketching on the computer and then when you actually receive the garment that feeling to see it is just like "wow amazing!". To see it transform from paper to an actual product is a very… it's kind of like a confirmation.
SJ: Hearing this, you're very passionate about your job. Which is great! You'd probably recommend becoming a designer.
AP: Yeah, I do!
SJ: If you would have to advice someone who wants to become a designer, which advice would you give him or her on how to achieve this career?
AP: I would definitely say, to surround yourself with people who you aspire to be. Getting to know other people that are designers. To ask questions. That way you can, you know, get advice from them. Also, be open to learn on your own. Do a lot of research. Like for me, I have always done a lot of research, I learned how to sew when I was 12. That was kind of a self-taught process. So when you're open to researching, problem solving, anything like that that can really help you and boost you to becoming a designer.
Self-Taught Designer: All garments designed, cut and sewn by Alicia Pinckney for Vogue Italia's Call for Talents IV where she scored a scholarship for the Domus Academy's Master Fashion Design – © Vogue Italia
SJ: Did you already know that you want to be a designer when you were 12?
AP: Yes!!! I know, it's so crazy. As i mentioned before I was really smart in school, like i was the valedictorian and the president of my class. I was really smart, I was like the mathlete nerd kind of girl. But at the same time, my family is filled with a lot of creativity. My mother works a lot with wood and my grandfather used to build with wood, too, he was a carpenter and a painter. And for me, just being surrounded by that as a kid was always something I also wanted to do. So I used to sketch all the time! I got my first sewing machine when I was 12. And from there, I used to make a lot of things, I made my prom dresses when I was in high school. So for me this was always a part of who I was, I've always known I wanted to be a designer since I was very young. And i just took the path to follow to get me to where I am now.