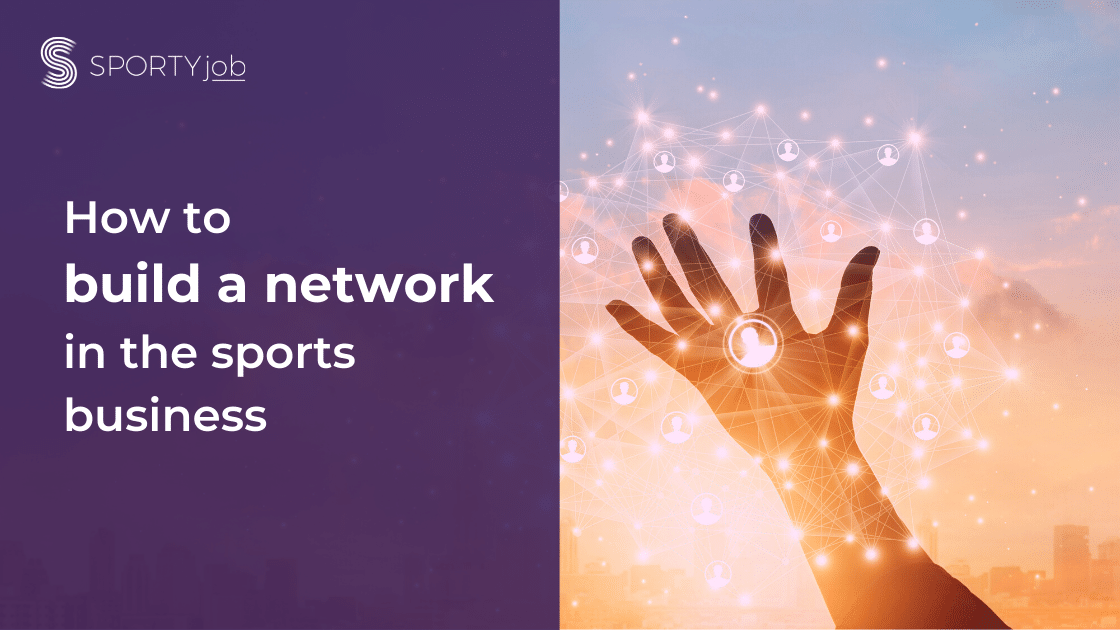 How to build a network in the sports business
Whether you are new to the sports business or have been a part of it for years: In general, for every profession, you should build your own professional network of people working in a the industry or in related roles to your own.
Why do you need a network?
Use external knowledge to gain fresh ideas or get advice on projects 
Your network is a deep pool of expertise and knowledge. Whether it's professionals working in the same field as you do or the complete opposite, they can provide you with a fresh perspective on projects, give you advice when you're stuck or even mentor you. While direct discussion of projects is part of smaller groups of peers, for example Mastermind Groups, sharing best practices, challenges they've overcome or tips on software, innovations and trends is a common practice in a regular feed of career-focused Social Media like LinkedIn or Xing. 
Raising your reputation
When you attend events or take part in discussions online, it helps you build your standing in your field of work. Even though getting yourself out in the open might be scary at first, sharing your own experience and expertise, as well as developing opinions on professional topics, is becoming more natural the more you practice it. 
All in all, this won't only build your personal/professional brand, but also make you more self-confident. Speaking out, sharing knowledge and mentoring people with confidence are all needed Soft Skills for team-leading positions – a plus if you want to evolve your career.
More job opportunities
Your network is a great factor in being considered for a new position in a new company.
Sports Jobs are in great demand, so for almost each role, you will have to compete with other candidates with a similar profile to your own. Especially for well-established brands like adidas, Nike, Vans & co, there might be hundred(s) of others who apply for one position.
Even though you might be the best candidate, in the couple of minutes that a personnel manager needs to evaluate your CV, your application could be overlooked. 
A well-built network might provide you a  second look and a longer moment of consideration through recommendation – or land your CV directly on the table of the head of department instead of going through HR anonymously.
So, let's build a network, shall we? We know exactly how hard this can be at beginning – where do you start? How do you make connections? 

That's why we wrote this guide that should ease your first steps in building a successful network.
Where do you find your network?
Apart from finding connections in your personal environment, the internet never ceases to create ways for connecting with people. Especially for the professional network, social platforms like Xing and LinkedIn have the main purpose of connecting professionals. There's no getting around setting up a profile in the long run. BUT: We know that – without prior expertise and being a rookie in the sports industry – it might feel a little awkward using social media to contact people you've never met before.
How do you make the acquaintance of business professionals in the "real world"? You could join an online or local expert group (Mastermind) – or visit one of the events dedicated to networking or recruitment which are more anonymous at first. Normally, cities host regular after-work events where professionals from different companies meet for drinks and personal exchange. 
Industry-specific, the sports & outdoor business hosts plenty of great events to meet the right people in an environment which is made for connecting.
The most common and definitely a must-attend for everyone interested in sport professions, is the ISPO Munich in the winter and OutDoor by ISPO in the summer which are the two most important events for the European sports industry. It's where the who is who of the sports and outdoor industry come together to network.
Upcoming events to build your network
We'd recommend visiting one of these three events in 2022 to build your network:
OutDoor by ISPO:
What: The most important industry meeting of the year. The event is aimed at business professionals to get an insight into innovations and trends and connect with other people.
When: Jun. 2022, 12 – 14
Where: MOC Messe Munich, Germany
-> More about OutDoor by ISPO 2022
ISPO Munich:
What: The world's leading trade fair for the sports business.
When: Nov. 2022, 28 – 30
Where: Messe München, Germany
-> More about ISPO Munich 2022
Leaders Week London
What: Industry decision makers from across the global sport business ecosystem meet, share knowledge and do business.
When: Sep. 2022, 25-29
Where: London, UK
-> More About Leaders Week London
How to build my network at an event?
You've made it to the event, and you're now ready to meet as many people as possible! That's when you should stop in your tracks right away.
1. Find out who to talk to
It's a general known wisdom that quality is better than quantity. That also applies to networking. Before you just storm off in whichever direction, find out who's at the event and which connections to make. Companies you favour, important recruiters, professionals with expertise in your own field – focus on meeting those.
To find out more about who is attending beforehand, you can either check the event websites which normally contain an exhibitor database with brands. Another way is checking events and groups in Social Media like LinkedIn and Facebook. Please keep in mind that we do not encourage you to learn about specific people beforehand online, but in general get an idea which role a person works in or whether they are involved in projects that you would like to discuss.
2. Be curious and interested
You might want to network to score a job or gain knowledge. If this is your solemn purpose in networking is "gain", you won't come far. Just asking for favours or expecting help will push your connections away. A network relationship, like any relationship, is supposed to be mutual. You might think that you've nothing to offer, but that's not true. 

Even if you're new in your field, asking people about their own career path or their company and showing genuine interest is also a giving approach. It shows that you value the work they're doing.
Also offering your opinion on relevant topics in a dedicated conversation can be helpful as it provides a fresh perspective on a company or a project (they key is to be constructive of course). Feel free to assume that companies would like to improve their services and products – it's a fact for at least 90% of companies.
3. Provide your contact data
We won't recommend you printing business cards and handing them out. If it's not a striking, unique design, it will probably be lost in the bunch of cards people receive at events and it's also not very sustainable.
Instead, have your phone close by and exchange e-mail-adresses and telephone numbers or straight away connect through a social network. When the event has passed, send them a message appreciating the acquaintance. Maybe even follow up with topics to discuss.
The aftermath: Don't forget to take care of your network
Once you managed to make a few contacts, it's time to do a follow up. If you just let them slip, it's a lost cause. Like in every relationship, even a professional network needs attention and care.
It's essential to stay in touch with the connections you made. It might be on a personal level like having a lunch meeting (in case that you get along on a personal level). A more professional approach would be meeting up at events that you both share an interest in. A simple information like "Hey, I will be at the ISPO in January – and it would be great to meet up".
On the other hand, keep up through Social Networks or E-Mail. Share your own experience in your feed, comment on your network's posts or share interesting content directly in a private message are good ways to keep in touch. Just never forget that the foundation of a business network is professional. Sharing memes might seem like an easy way to connect, but it won't make you a valuable professional contact.
Other posts you might like
8 Tips for an Excellent Sport Job Video Interview

Video interviews are now common practice in the sports industry. Mainly due to the developments of the last few years, video interviews have become established in many companies. So it's about time for our guide to the video interview, which shows you the right preparation and how you can best present yourself via the digital format. 

5 morning habits that will kickstart your productivity

The way your morning takes course, makes an impact on your whole day. Just imagine getting up with the wrong foot, feeling tired all day, not getting your head focus on the important things – this will ruin your work day completely (a leisure day, too, of course). Your morning routine though offers you a…

Read more

: 5 morning habits that will kickstart your productivity

5 reasons why doing sports will make you succeed at work

Isn't it awesome when a hobby is not only making you happy, but will also increase your success at work? 
We all know that doing sports is benefitting your health and appearance, but there's a little more to it. If you work out on a regular base, you'll automatically gain new soft skills and important…

Read more

: 5 reasons why doing sports will make you succeed at work