Maria Pamela Pacheco Gomez
Store Manager at Vans
Berlin, Germany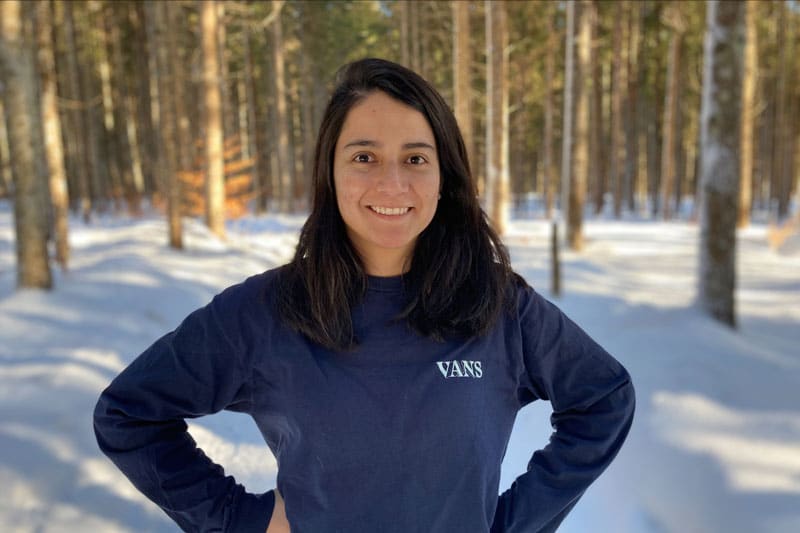 "I was so sure that I was going to work in media because I love movies and TV. But from the beginning, my Store Manager was saying: "I know you're going to stay here, you're going to be a Store Manager." He saw me going in this direction, leading a team. And he was right. I really like working in retail. I like the contact with people. I like working with the different teams."
Maria Pamela Pacheco Gomez – Vans
Pamela has originally started as a part time employee next to studying media and communications. 8 years later, she is now Store Manager at Vans in Berlin and loves her job in retail. She came for the brand, but stayed for the people. Dive into her story.
How did you come to work at Vans?
It was 2013. It was the time where I was looking for a part time job to work while studying media and communications in Leipzig. Back then, there was no Vans shop in Leipzig. So, one day my husband came home from the city center and said: "Guess which store is coming to town? You're gonna love this!" And I said: "Is it Vans?" I got very excited, so I grabbed my computer, send my CV and they call me the next day. And we had an interview super soon and I got the job.
How did you career develop at Vans?
My Store Manager integrated me in the store more and more. It was funny because I did these big jumps. I first worked 10 hours, then moved up to 30 hours, then I went to being a Store Manager on trial in Bremen and then became a full Store Manager in Berlin.
And these jumps made me think. I feel that talent is not the only thing you need for career development. You need an opportunity, you need to have this willingness to go forward. But also you need support. And I got a lot of support from my Store Manager and my District Manager.
VF is a people company and they respect us a lot. And I like that because I'm not only developing for the job, but I'm developing as a person.
You said you studied media and communication. What made you decide to stay in retail?
I was so sure that I was going to work in media because I love movies and TV. But from the beginning, my Store Manager was saying: "I know you're going to stay here, you're going to be a Store Manager." He saw me going in this direction, leading a team. And he was right. I really like working in retail. I like the contact with people. I like working with the different teams.
One thing that is very special at VF and its brands is that the people that work with us, they are very passionate. They don't have to pretend that they like the company or the brand, because they actually do. I also love Vans and it's nice to have this in common. We also try to share this experience with our customers.
What do you love most about working in retail?
You see, the store where I work at, it's the Vans store in the mall of Berlin. It's mostly a mall for tourists. And I love that because everyday we have people from all around the world coming in and sharing their stories. It's this connection with people that I enjoy most about retail. That's what retail really is about.
We can see it right now with Corona and how it is changing the whole industry. Closing stores, going online. It could have been very easy to stop going. But that's not the way it should go. Instead, the brand is developing and we keep fighting to get people in the store, because it's a totally different thing to have this interaction of a human being with another human being.
Where do you see your career going?
I would love to keep growing in my career and VF offers me exactly that. I hope that in 10 years I can still work for Vans, but in another position, because that would mean that I keep developing. And that's something that I like.
It doesn't have to be necessarily in the store, because there are other positions that are part of retail that people don't think about.