Present your job advertisements to the visitors of OutDoor by ISPO 2022
12. – 14.06.2022
MOC Event and Order Center Munich
We focus entirely on careers during OutDoor by ISPO 2022. As official recruitment partner of ISPO, we present your job ads on a prominent Job Wall directly at the entrance of the MOC from 12 – 14.06.2022 at OutDoor by ISPO.
Reach qualified candidates from the sports & outdoor industry and find suitable talent for your team, directly on site and online.
At the same time, your job ads will be published online for 30 days on Sportyjob, the ISPO Job Market and our partners with around 150,000 visitors per month.
The advantages on one gaze

DISPLAY
your job to the online visitors of OutDoor by ISPO

POST
your jobs simultaneously for 30 days at Sportyjob and its partners online

REACH
150.000 candidates online at Sportyjob, ISPO Job Market, and our other partners

PRESENT YOURSELF
to exactly the right target group by addressing sports business professionals
How does the Job Wall work?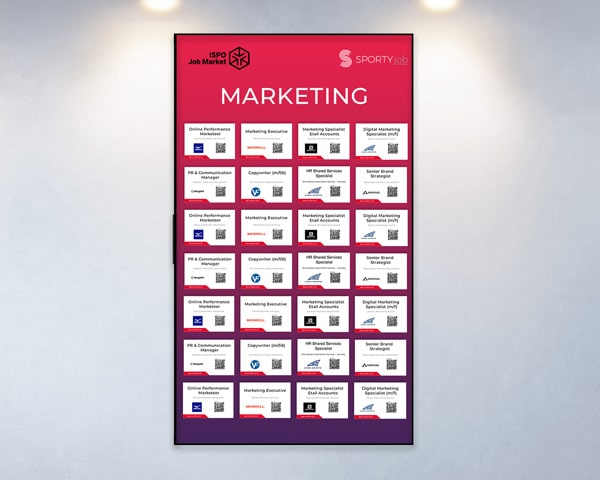 On several digital screens, we present your job ads in an informative format so that interested trade visitors note the company, location and job title at a glance. Via a QR code, you can reach the complete job ad online on Sportyjob, where they can apply directly online via smartphone or tablet, share the ad or save it for later.
As an official partner of ISPO, our joint Job Wall is a prominent part of the MOC, placed at the entrance, so that trade visitors will come across your job ads immediately after entering.
Each job ad also includes the option to create a custom employer profile where you can share more information about your brand, vision, mission, employee benefits, achievements and more.
Please note: The final design of our job screens is still in progress and may differ from the example.
Book your job ads for the OutDoor by ISPO now
Get up to 30% discount on the Job Wall

Combine your Job Wall posts with one of our Job Flatrates. With our subscription based model, you publish an unlimited number of job ads for one year on Sportyjob and our partners, with around 150,000 visitors per month. When you book one of our subscriptions, you will receive between 10% and 30% discount on your job ads on the Job Wall.

You are a candidate and interested in applying for a job?