Reach out to outdoor & sports professionals
@ ISPO Munich Online 2021
01st – 05th of February, 2021
Post your job on Sportyjob in January and additionally advertise your vacancies in our exclusive Job Room @ ISPO Munich Online 2021 to reach even more experienced candidates with experience in the sports industry!
As every year, we are again present as the official recruiting partner of ISPO with an event-specific job market.
As an innovation this year, ISPO Munich will take place online for the first time. Whether analog or digital: ISPO Munich offers the proven advantage of attracting numerous professionals from the sports business and connecting them with sports brands in their strong network.
Take the opportunity to publish your jobs online at Sportyjob and its partners for 30 days to reach out to more than 150.000 candidates and further increase your visibility by also promoting your jobs in our ISPO Munich Digital Job Board. A brand room during the 5 days of ISPO Munich dedicated to employers and their jobs.
It's a chance for passionate professionals and career enterers likewise to explore the career opportunities of the outdoor & sports business during ISPO Munich Online 2021.
The advantages on one gaze

DISPLAY
your job to the online visitors of ISPO Munich Online 2021

POST
your jobs simultaneously for 30 days at Sportyjob and its partners online

REACH
150.000 candidates online at Sportyjob, ISPO Job Market, and our other partners

PRESENT YOURSELF
to exactly the right target group by addressing sports business professionals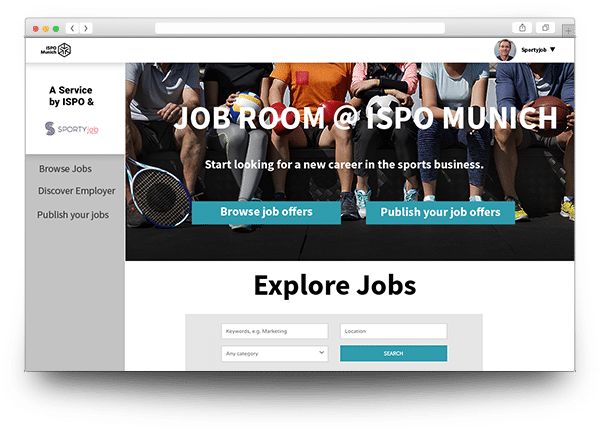 Job Room @ ISPO Munich Online 2021
The Job Room will be a digital content page dedicated to careers and job offers during ISPO Munich Online 2021 from the 1st to 5th February 2021.
As a so-called "brand room", our job market is part of the Expo Area, the centerpiece of ISPO Munich Online, which is easily accessible throughout the whole event.
In a job feed, we will publish open job ads for event visitors to apply, share, or save for later. The big advantage of the digital fair is that interested candidates can apply straight away from home while visiting the event.
In an additional feature, the employer profile, companies are able to share more information about their brand, vision, mission, employee benefits, achievements, and more.
Please note: The Design is still being finalized and might vary from the shown examples.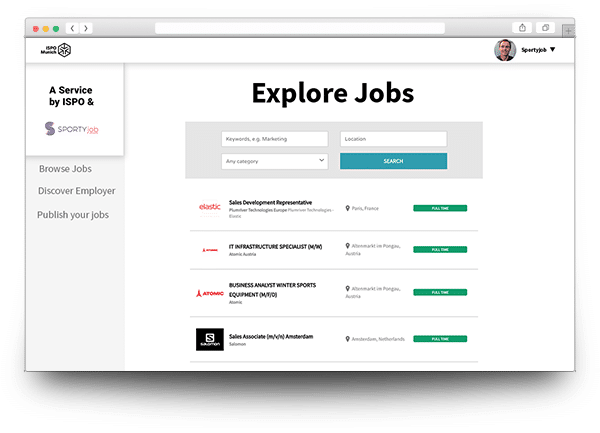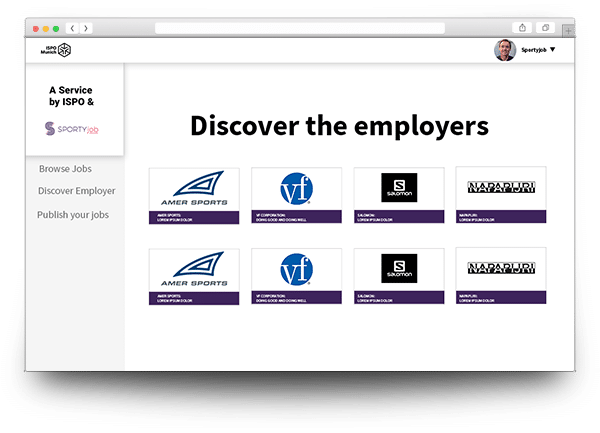 Expand your team @ ISPO Munich 2021
You can now book your job postings or premium packge for the Job Corridor.
As we will synchronize our jobs directly with our digital job room, you won't have to confirm the exact job ads until the event. We will then upload your position and prepare your display to be ready just in time for ISPO Munich 2021.
You are a candidate and interested in applying for a job?