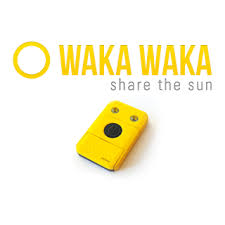 WakaWaka
Providing people all over the world with solar based products
About WakaWaka
Toegang tot energie is een basisbehoefte. Een noodzaak voor iedereen. Het hebben van licht en stroom betekent toegang tot educatie, communicatie, en tot de mogelijkheid om geld te verdienen. Meer dan een miljard mensen op de wereld hebben geen toegang tot energie. Dit heeft grote gevolgen voor hun sociaaleconomische ontwikkeling.
De zon is de grootste energiebron voor de wereld. Schoon, onuitputtelijk en overal ter wereld beschikbaar.  Het is dé oplossing voor iedereen die stroom nodig heeft, maar geen stopcontact in de buurt, of dat nou permanent of tijdelijk is.
WakaWaka zorgt ervoor dat iedereen de energie van de zon kan gebruiken – backpackers, festivalgangers, maar ook vluchtelingen of ondernemers in rurale gebieden. Iedereen kan gebruik maken van solar producten van dezelfde goede kwaliteit en mooi design.