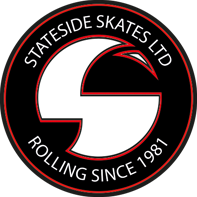 Stateside Skates
About Stateside Skates
Stateside Skates has been established for 35 years, and is one of the oldest and most respected companies in the action sports industry.
Quality is essential; we pride ourselves on our reputation for reliable products at affordable prices. We are ISO:9001 accredited.
Strong relationships are paramount to our philosophy. We only enter into long-term partnerships with retailers and distributors that we trust, and who share our values.
We design and develop all of our own products, and our exclusive lines mark us out from other brands on the market.
Our collection of market-leading brands is renowned for their innovation, quality and affordability. Here is a brief overview of our most popular brands:
Mindless Longboards: founded in 2005, is one of the most established board brands on the market, offering great designs and a huge range of boards from cruisers to pintails, from downhills to dancers.
Rio Roller: is Europe's leading fashion quad skate brand. Stunning retro colours combined with unrivalled quality make Rio the quad skate of choice for children and adults alike.
REKD Protection: is our newest brand but has already established a reputation for quality, comfort and performance. Specialising in protection, REKD offers helmets and pads for all action sports.
Slamm Scooters: is one of the original scooter brands that helped to establish the scooter scene in its infancy. Slamm's stunt and recreational ranges are constantly updated and are still unparalleled for price and quality.
Enuff Skateboards: recently celebrated its 10-year anniversary. Throughout its history, it has gained respect for releasing fantastic designs and supporting beginner to intermediate skateboarders.