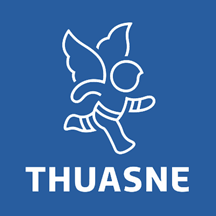 Thuasne
Since 1847
Über Thuasne
THUASNE was founded in 1847 in the town of Saint-Etienne, France. In its 170 year existence it has become an authority in the field of elastic textiles. In the past 60 years, the company has specialized in the production of highly technological elastic compressive products for the needs of the medical and sport sectors.
THUASNE's experts work in close collaboration with leading physicians and scientists of various specialized research centers and university clinics to create products, which best meet patients' needs. THUASNE's research has been acknowledged as a reference by ANVAR – the French agency for research and development. The fabrics and product designs have been patented and registered as THUASNE's trademarks.
In recent years, THUASNE has been increasingly investing in the design of its products. Incorporating designers and stylists along with health and technical specialists, the company has succeeded in creating patient-friendly, ergonomic, and aesthetic products. The goal is not only to create a product that meets the desired medical effect in terms of patient condition, morphology and level of physical activity, but also to make that product pleasing to wear.
Every fabric, used in the production of THUASNE's products, is antiallergenic and does not harm the human body or the environment. The technical specifications and the fabric materials comply with the Oko-Tex 100 standard. To ensure optimal comfort, THUASNE developed and patented highly technological fabrics – Combitex®, PoroMax 3D® and Neoplus®. These fabrics ensure fast and easy evaporation of moisture, allowing proper regulation of body temperature and keeping the skin dry.
THUASNE's products are certified and their quality guaranteed by the Institut Textile de France and the Hohenstein Institute in Germany. The products comply with the requirements of the ISO 9001 version 2000 in France, Germany, and Holland. THUASNE is also certified by the DIN ISO 13485 standard, which directly regards medical products.
THUASNE is a leader on the European market in the production of elastic compressive products for the needs of the medical and sport sectors.
The company has subsidiaries in Germany, Italy, Spain, Belgium, Holland, Czech Republic, Slovakia, Hungary, Poland, Israel, USA and UK.
The company has distributors in Finland, Estonia, Lithuania, Denmark, Great Britain, Ireland, Switzerland, Slovenia, Croatia, Ukraine, Romania, Bulgaria, Greece, Cyprus, Serbia, Montenegro, Portugal, Australia, and countries in Africa, Asia, and the Near East.Thuasne was created for world-class athletes, those who see the limits of possibility as just another challenge.
THUASNE is present in over 85 countries and reached a turnover of 200 millions €. Over 2000 people are working today for the brand.
Main Product portfolio: Braces & Underwear, Articulation Supports, Compression
Specific strengths:
strong brand
Thuasne stands for Quality
In-house design
Attractiveness: Will continue to expand and keep its premier market position. It's a great company to work at, because it :
grows its business annually (turnover over 200 Millions € in 2016 )
offers a range of opportunities for employees
are a flat organisation
has a dynamic organisational culture
Please apply directly via Sportyjob.com .This recruitment is handled by the headhunting agency AG Sport Consulting.