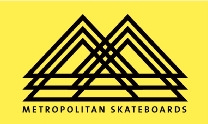 The wall distribution
Über The wall distribution
METROPOLITAN IS BACK FROM THE UNDEGROUND,
After a short pause and a few team changes, Metropolitan Skateboards is back on the french skateboarding scene and beyond. This rebirth comes as a big relief for us, regarding the frustration we've all felt from stopping too soon a pro- ject we all had put our heart into and that had allowed us to spread our very own vision of skateboarding.
MSB, for Metropolitan SkateBoards, is our new label. It will be used on all our new clothing range, as well as an alternative to our former logo on boards and other products from the brand.
The artistic direction is still handled by Marke Newton (UK), who managed to build a strong and original gra- phical identity for Metropolitan since 2006, using a recognizable and simple style. In order to pass on and stand up for, not only a specific approach of skateboarding through our team, but also all the creativity that nurrishes and carries on skateboarding's culture, the intervention of guest artists re- mains, since the origin of the brand in 2006, one of our main concerns and one of our guidelines.
Simon True (UK), long time skateboarder from Manchester who has been living in Tokyo, Japan, for around a decade, is the first artist invited to contribute on this new serie. KAVINSKY, french DJ and Producer, well known nowadays for his track « Nightcall » used of the soundtrack of Nicolas Winding Refn's feature film « Drive », is also being rewarded here with a limited edition cruiser board (only 80 made).
We have the strong will to develop neat items and collections, marked by a classic heritage of skateboarding culture, simple and of high end manufacturing above all. All our boards are manufactured by Generator Distribution in the USA since 2006.
Our team is made of riders who share a strong background in skateboarding, on a french and international scale. Their personalities, aside from being really gifted and experienced skateboarders, have been a major reason for the building of this team, as much as that tight friendship they have been preserving for a long time now :
– Jean-Jacques Rousseau (Pro-Toulouse, FRANCE) – Vincent Bressol(Pro-Barcelone/Paris, FRANCE) – Lee Smith (Pro-NYC/San Francisco, USA) – Yann Garin (Pro-Paris, FRANCE)
– Emilien Alvarez (Flow-Nantes, FRANCE) All this crew will be managed and caught in motion by David Couliau (Fadereight Films/ Click Skate store), ex
pro-skateboarder, director and skateboarding activist on a wider scale on the French and European scene.
Jobs at The wall distribution