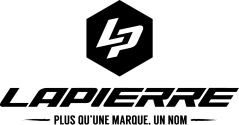 Cycles Lapierre
Über Cycles Lapierre
Depuis 1946… UN NOM, 3 GÉNÉRATIONS, UNE MÊME PASSION
Depuis plus de 60 ans, Lapierre conjugue innovation technologique, raffinement esthétique, perfection du détail, et expérience de la haute compétition pour proposer à tous les passionnés les vélos les plus beaux et les plus performants qui soient. Quelle que soit votre pratique du vélo : compétition (vélo de course ou VTT), sport loisirs, ballade, fitness,… , vous trouverez chez Lapierre le vélo de route ou le VTT de vos rêves, mais aussi votre modèle urbain ou tous chemins, conçu en France. Leader de la vente VTT performance sur le marché Français, la marque Lapierre est en train de conquérir le reste du monde. Et vous, faites-vous déjà partie de la tribu Lapierre ?
//
For more than 60 years, Lapierre has combined technological innovation, aesthetics, attention to detail and its experience in the most important competitions to offer the most beautiful and efficient bikes to aficionados. Whatever your ride, road or MTB competition, leisure, sport or fitness, you will find the bike of your dreams in the Lapierre collection, be it a mountain bike, road bike, city or all-road bike. All of our bikes are created in France. Lapierre is the leader of the high end MTB segment on the French market, and has now set its sights on the the rest of the world. What about you ? Are you ready to join the Lapierre family ?