A 100 mile swim from Cuba to Florida: What to learn from 64 year old swimmer Diana Nyad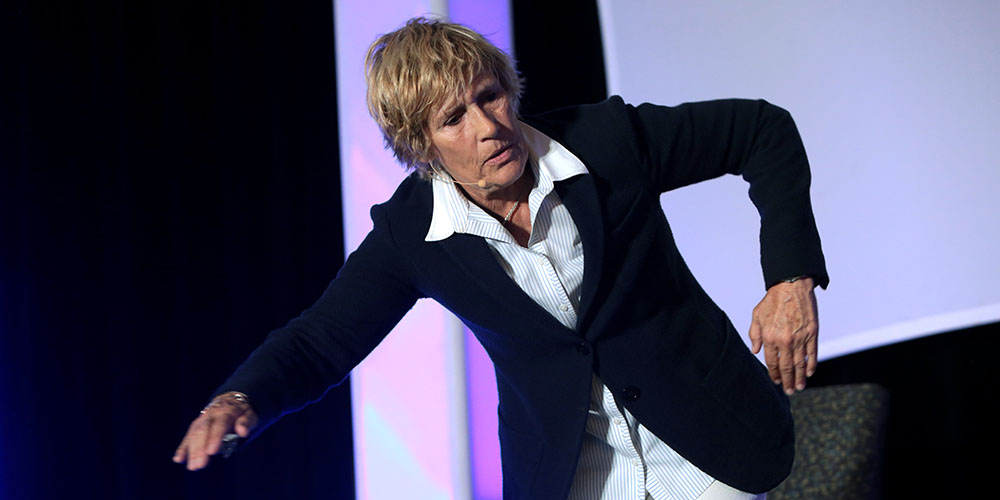 Do you know Diana Nyad? She did a 100 miles swim from Cuba to Florida at the age of 64, for the first time of history. She accomplished something that professional swimmers have been trying since 1950, but couldn't do it.
When hearing her Ted Talk "Never, ever give up", it left me in awe thinking how a 64 year old woman could achieve this. A painful struggle that no matter of sex or age, no one did before. She managed it by training and trying over and over again. This is monday motivation, or actually, lifetime inspiration.
Even after failing 4 times before, she stuck to her goal. And by not giving up, at one point, Diana Nyad made it. 

Listening closely to her Talk, there's 6 essentials to learn which are a kick-ass mantra to succeed in what you want. Before you continue reading, keep in mind that her example doesn't only apply to sports. It applies to anything you have set your mind on, whether it's a passion or a career.
Never, ever give up
These words have been the first ones she said after reaching the shore. Incredible enough she was able to speak at all after a 50 hour plus swim, she chose her words wisely.
 No matter of her training being intense, she still failed four times before she finally managed the whole distance. Even though everyone around her told her that there was no chance to do it, experts as well as people close to her.
" When I turned 60, it wasn't so much about the athletic accomplishment, it wasn't the ego of "I want to be the first." That's always there and it's undeniable. But it was deeper. It was "how much life is there left?" – Diana Nyad
When you want something so bad, you have to fight for it, never lose track of your goal. You need to get back up after you failed. Stay bold and strong and believe in yourself, no matter what others say.
Find a way
One of the reasons, Diana made it through, was her playlist. Focusing her mind on "Imagine" from John Lennon helped her not to give up and endure hypothermia, muscle pain, jellyfish stings and much more. That was her way of doing it. 
Of course, there's much more to it – a team, capital, a lot of training, a great mindset. Still, the small things make the difference. 
So, find a way to achieve what seems impossible right now, be it because of insufficient resources or skills. For most problems, especially those in sports or jobs, someone already found a solution. Figure it out and adapt it to yourself – improve it through the little details that make your way different from others.
Discipline and preparation
It should be crystal clear that preparation and training are the key factor for a 100 mile swim. Diana was a professional swimmer until the 1970s. After a pause of 30 years, she started an intense training – not only of her body, but also of her mind. Every day for years. 
Without discipline, learning new skills takes a long time up to forever (maybe never). Endurance is important to run a marathon, it is also essential to get a promotion in your job.
You're never too old to fulfill your dreams
Obviously, chase your dreams no matter your age. There is no too old.
If you fail, it doesn't matter
Being afraid of failing is what keeps most of us comfortable at home, missing out on great opportunities. In life, but also in your career: a new job, your own start up or freelance career.
There's a well-known book called "The Journey is the reward". Sometimes you might not be able to succeed, because of outer or inner circumstances. Still, you put a lot of effort in it, developed yourself and became a better you. No one can ever take this away from you.
"And when you reach for the horizon, as I've proven, you may not get there. But what a tremendous build of character and spirit that you lay down; what a foundation you lay down in reaching for those horizons." – Diana Nyad
Your team has got your back
Remember, Diana Nyad was never alone. Not on the days of her expedition, nor on the days of her preparation. They did it together and alone she probably would not have done it.
Like we learned in "How to find a job you love", you are like the people that surround you. A team of mixed personalities can give you new views on how to succeed, stay by your side with expert advice. Or might even just motivate you enough to get up on a day where everything seems like it will fail. Whatever you want to achieve, you will need a great team.
To sum it up, the mantra to get what you want is: Believe in your dreams, work hard, never give up and surround yourself with a team which has got your back.
Photo by Gage Skidmore from Peoria, AZ, United States of America